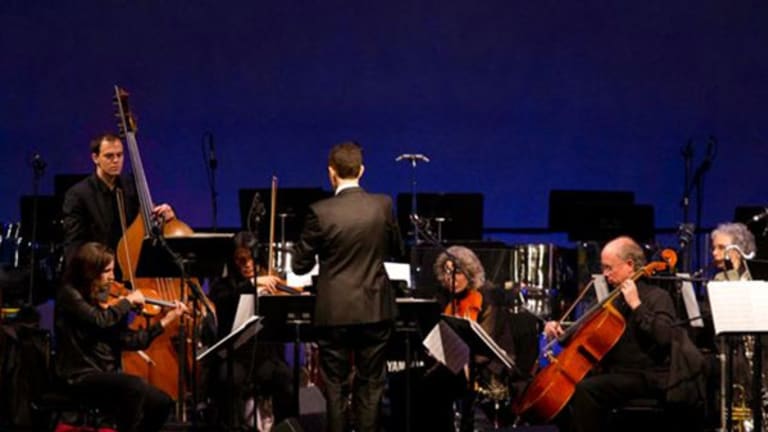 What Is Killing the Orchestras of the United States?
A number of factors are playing into what appears to be an epidemic of ensemble financial failures.
NEW YORK (
) -- Minneapolis,Philadelphia, Syracuse, Louisville, Albuquerque, Honolulu -- since 2008, each of those cities has been shaken by the financial troubles of its nationally known orchestra. Lately the Brooklyn Philharmonic Symphony Orchestra has joined those ranks.
According to a source close to the Brooklyn group, "the orchestra is in serious financial difficulty and the board is exploring options including a merger and an infusion of funding." From all evidence, the picture appears even more bleak. For now, no contracts with venues or with the group's celebrated artistic director, Alan Pierson, have been renewed for the 2013-14 season, the group's Web site has been taken down and its offices are not staffed.
WQXR
first broke this story in a series of articles last week.
There are similar problems with opera companies. Notably, in a story
TheStreet documented
, the New York City Opera suffered a very public financial crisis and humiliating end to its operations mid-season when a proposed fund-raising campaign sputtered and died at an early Kickstarter stage.
Orchestras and classical music organizations in general are not transient. Some have limited tours, some even depend on touring. But most are tied to a particular place, even a particular venue, and help raise generation after generation to new levels of culture, acting as schools and as dynamic symbols of the best we can do. As they fail, that identity is chipped away; the best we can do becomes just a little less.
The trend may have something to do with a flagging popularity of classical music. But there are two big flaws in that casual observation. First, listening trends at least indicate that, if anything, classical music's audience is growing. Second, orchestras don't necessarily limit themselves to classical music.
There are, however, trends in the way the groups function that can lead to such an epidemic. These groups are all nonprofit organizations with, on the whole, very little money held in reserve. Operating income consists almost entirely of ticket sales, which almost never entirely cover a group's expenses. That leads to predictable problems.
"I know of no orchestra in the world that carries an operating surplus," said author and Stanford University Professor Emeritus of International Labor Economics and Policy Analysis Robert Flanagan. "Worse, operating deficits increase over time."
The way orchestras fill that gap is through a combination of private and government support. That government support may take the form of direct sponsorship, through grants from the National Endowment for the Arts or through state organizations, or it may come indirectly through tax incentives that bolster charitable giving.
In Flanagan's research, documented in his 2012 Yale University Press book,
The Perilous Life of Symphony Orchestras: Artistic Triumphs and Economic Challenges
, the reliance of direct sponsorship from the government has dropped dramatically in the last 30 years, hovering now below 4% of revenue for most orchestras. At the same time, the rise of the music over the Internet has helped undermine ticket sales. Subscriptions in particular, historically the lifeblood of performing organizations, have fallen through the floor, forcing groups to rely more on guesswork when it comes to estimating revenue for a season.
With those elements in place, the Great Recession worsened the situation by cutting into revenue from charitable contributions. Many high-net-worth individuals, who account for most charitable giving, budget their giving from their investment income. During the recession, that income took a major hit and individual giving dropped.
Giving USA, a group that monitors charitable giving, finds that national charitable contributions to the arts and culture fell 8.2% during the two-year recession of 2008 and 2009 from a high of $13.7 billion in 2007. While it has increased since then, it remains below pre-crisis levels when adjusted for inflation.
The Brooklyn Philharmonic gets more from government grants than most orchestras, but that was still insufficient to stop the pinch of the recession.
"We have four sources for contributions: foundations, government, individual and corporate. All four fell dramatically," the orchestra source said. "It had a huge impact on us."
While it continued with smaller events and outreach, the group held no full orchestra concerts for two seasons, from 2009 to 2011. In 2011, a new administrator, Richard Dare, and new artistic director, Alan Pierson -- a young conductor and director of the New York-based new music ensemble Alarm Will Sound -- gave the Brooklyn Phil a new lease on life. Dare's aggressive leadership, including a flashy presence as a blogger on cultural business issues with the
Huffington Post
, seemed perfect for the orchestra's challenges, both in fundraising and in cultivating an audience among the diverse and changing communities of Brooklyn.
But more trouble came when Dare left the group abruptly in December of 2012 for a post at the New Jersey Symphony Orchestra. Once there, Dare was forced to resign amid accusations of fabrications on his resume.
The Brooklyn Phil board recalibrated for life without Dare, cancelling two smaller events in favor of one Brooklyn Academy of Music concert in June of 2013, featuring pop singer Erykah Badu. The concert was a huge success, gaining headlines and an encore performance on a second night.
But financially, it wasn't enough, leaving the organization roughly half a million dollars in the hole at the end of last season, the source confirmed.
Across the country, similar financial challenges have hit some likely suspects, including the Detroit Symphony Orchestra, and some unlikely ones, such as the grand Philadelphia Orchestra. After nasty and very public labor disputes and, in the case of Philadelphia, a chapter 11 bankruptcy, both of those groups appear to have weathered the storm. The Detroit held a hugely successful fundraising campaign, making it now appear an important symbol for that struggling city's potential for rebirth.
Others, like the Honolulu Symphony Orchestra, the New Mexico Symphony Orchestra and the Syracuse Symphony Orchestra, were forced to cease operations and reform under different names. Still other organizations have simply vanished.
Survival of the Fittest
While depressing, those headlines aren't necessarily a clear picture of classical music performance across the country, according to Jesse Rosen, president and CEO of the League of American Orchestras.
"In the orchestra field there are 350 to 400 professional orchestras and the vast majority were able to navigate turbulence without labor disputes and bankruptcy," Rosen said in an interview last week. "If you entered the recession in a weak place, you got hammered. If you had some reserves and could be more flexible, and could find more income streams, you got through it OK."
Flanagan concurs with that assessment.
"There are many more that have experienced troubles than you read in the newspapers," Flanagan said. "But in some of them the management, the board and the musicians get together and they strike a deal. The musicians accept pay cuts. Nonartistic personnel accept parallel pay cuts."
In his research, Flanagan proved over and over that for orchestras, a single cost-saving move or the targeting of one area for raising revenue is not sufficient.
"Out of 63 orchestras about two would have eliminated their operating deficits if they had filled their hall" for each concert, Flanagan said. "It'll help, but it's not going to solve the problem."
On the other hand, a coordinated effort on all fronts -- ticket sales, private contributions, government sponsorship, cost-saving measures -- can save an orchestra, Flanagan says, but it requires engaged leadership from an orchestra's board of directors.
"Nobody has completely clean hands," he said. "It's not that there's corruption but there's a lack of diligence on the part of boards. People have a variety of reasons for joining
nonprofit boards -- a lot of them are just trying to expand their social networks."
Rosen agrees that at least some of what has gone wrong at groups like the Brooklyn Philharmonic are a function of mistakes made by the group's leadership.
"To some extent that's a leadership problem -- being prepared, being able to be prepared for risk before you encounter it," he said. "Having said that, the nonprofit performing arts as a whole don't live with a lot of margin. They're not likely to live with a lot of reserves. For too many of them, the mindset is to break even. What's necessary is a really strong balance sheet to build strong reserves
to weather these changes and to mitigate risk."
If there is a trend among the fragile institutions across the classical world, Rosen says, it's one of a chronic failure to look beyond the immediate needs.
"I think one of the patterns of financially fragile organizations is an unwillingness to confront what the fiscal reality is and to push off into the future the underlying problems," he said. "If you have successive persistent operating deficits, when not addressed and allowed to grow in scope,
they begin to weigh down an organization and make it hard to put sufficient resource into their mission delivery."
The author Flanagan pointed out that as far back as 1958, one of Rosen's predecessors wrote, "The story of a successful orchestra is, in reality, the story of an effective orchestra board."
That appears to be never more true than now.
-- Written by Carlton Wilkinson in New York