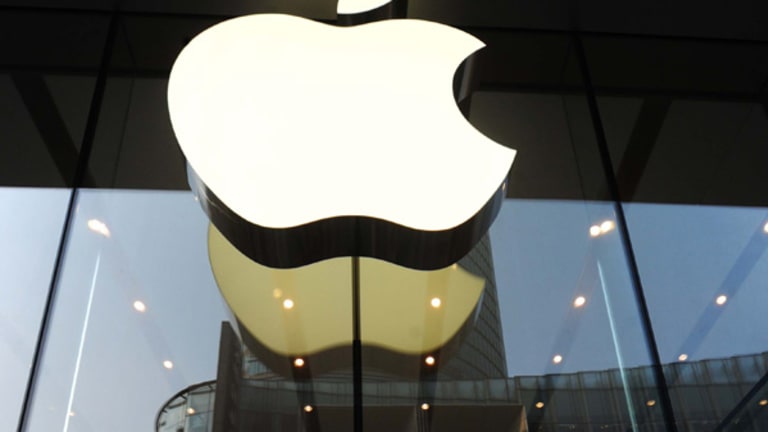 What Is Apple's Implied Move Post Earnings?
The "implied move" is the expected move of a stock after a binary event, like earnings or the announcement of a new product.
NEW YORK (TheStreet) -- The market is on fire. I don't mean to make that sound like a good thing. The markets are screaming upward for sure, people are profiting, but the move feels contrived, it feels unnatural ... fake. But that's just me. I don't mean to imply that something improper is going on; all is good, except that it doesn't seem right.
I get this way when the market enters into periods of becoming overextended. These are the times when we stay oversold or overbought for what seems like forever. And the contrarian philosophy starts to weaken, you keep trying to sell into that strength, but the strength seems endless. You know it will reverse at some point, so you keep selling, and selling, until it hurts.
It's a universal truth of both stocks and gravity: What goes up, must come down, unless the laws have been altered or suspended. No one ever said the markets must follow the rules. That's the first lesson most traders learn the hard way. The problem is we want to be right in knowing how things should behave. But let's get real, do you want to be right, or do you want to make money?
This brings us to the concept of implied moves. The expected move of a stock after a binary event, like earnings or the announcement of a new product. In this case,
Apple
(AAPL)
earnings on Monday afternoon.
Implied moves are calculated by adding the ask price of the At The Money (ATM) Put and Call, then divide by the ATM strike. This will give you a percentage. This is how you price an ATM Straddle. In fact, you could do this visually with a risk profile using Think or Swim, just create a simulated ATM straddle and take the debit price divided by the Strike. This is most accurate if done right before the event, and done with weeklies.
All's good, but there's no certainty that the move after the event will be anywhere close to the implied move. So, if you're swearing at the trading goddess for screwing up your
Google
(GOOG)
earnings trade last week, after the implied move was completely blown away, then you have to revisit this needing to be right concept.
So, case in point. Google's implied move for it's earning event was 7%, but the actual move ended up being 14%. That's huge! Some might even call it a Black Swan. Then soon after,
Amazon
(AMZN)
had earnings and blew away it's implied move, and then Microsoft exceeded it's implied move ... so what of Apple coming up on Monday?
If the market is at fever pitch, and all these companies are crushing it, shouldn't we expect the same from Apple? The implied move for Apple is about 6.4% or about 34 points. That would imply a range between 491 and 559. But if Apple has Google power, then the range could be 452 and 598. Are you prepared to handle that?
--
Written by Ernie Varitimos, author of the Apple Investor blog.
At the time of publication the author had no position in any of the stocks mentioned.
This article was written by an independent contributor, separate from TheStreet's regular news coverage.
Ernie Varitimos has a long history with Apple as an investor, trader and consumer of its technology. He started his career as a rocket scientist and has spent the past 25 years driving, controlling and influencing technology in the financial industry. Ernie is a former hedge fund manager and current futures trader.