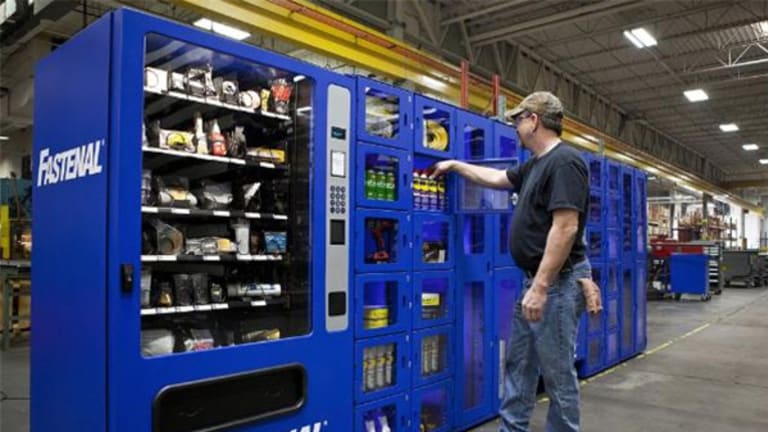 What Is an Industrial Vending Machine and Why Are Sales on Fire?
Industrial vending machines are on fire. Why? Corporate America continues to restructure to save costs. Brian Sozzi, CEO of Belus Capital Advisors, sits down to interview the chief financial officer of Fastenal, a company that is leading the charge in industrial vending machines.
NEW YORK (TheStreet) -- What has been the one constant in the post-recession U.S. economy? Yes, silly goose, beyond a government agency with no real checks and balances system pumping zillions of digital dollars into digital bank vaults, the one constant is restructurings. The voracious appetite of companies to extract efficiencies in their business, whether through layoffs (which frighten those remaining employees into working harder) or fine-tuning a production process, to more than compensate for sluggish sales has continued virtually unabated. Sure, there are mass layoff announcements, recently from Hewlett-Packard (HPQ) - Get HP Inc. Report (seeking to slash 16,000 more employees on top of 34,000 previously announced), Siemens (SI) - Get Silvergate Capital Corp. Class A Report (analyzing a possible 12,000 mass layoff plan), and Caterpillar (CAT) - Get Caterpillar Inc. Report that garner significant attention as human lives are prepared to be upended even as the stock market surges and employment reports leap over 200,000 on the headline. General Electric (GE) - Get General Electric Company Report, too, could be viewed as a company in perpetual restructuring mode.
However, at the core, I feel that many large companies are beyond mass layoffs and have their thinking caps on as to how to shave costs further among their remaining operations. It's your job as an investor not to be necessarily panicked by ongoing corporate restructurings as in the near-term they could bolster earnings, but rather to develop an attack plan to profit from this embedded theme inside of companies.
As an exampleon what to be searching for, enter the industrial vending machine, which is increasingly being installed on the work floors of major manufacturers. Here is what these machines are designed to do:
Make employees aware, and accountable for, the amount of corporate resources consumed.
Keep track of wasteful employees on the job.
Limit the amount of capital tied up in worker-related inventory.
To discuss this further, I talked with Dan Florness, chief financial officer of industrial vending machine maker, Fastenal (FAST) - Get Fastenal Company Report.
What Is an Industrial Vending Machine?
No, this isn't a machine that spits out a Costco-sized mustard jar for a cool $1.50! As Florness summarized, the industrial vending machine tracks a company's "nuances in life," or the products that are vital to delivering expectations to customers. The machine has risen in popularity as it's not financially sound to pay an individual $15 an hour to oversee a stockroom of safety goggles, hammers and aerosol cans.
Here is the essence of the industrial vending machine:
The machine takes product out of the stock room and brings it over to the employee. Quicker into the place of employment, quicker onto the job site.
Through the machine's software functions, a manager is able to track who is removing a first-aid kit at 2 a.m., for example. If that transaction seems weird, the manager can reach out to the employee to investigate the matter. Did a worker get hurt on the job? Should that answer prove to be a "yes," it has worker's compensation implications. In this regard, the machine improves worker safety and health. Or maybe the worker grabbed the first-aid kit to take home to tend to an injured puppy. If so, that employee needs to be reprimanded for improper use of a company's resources.
According to Florness,  a company, on average, that installs its vending machines reduces supply consumption by 40% to 50%.
The capability to track and measure is an important tool for managers to help fight hidden costs that eat into profits.
4 Fun Stat Type Things, Industrial Vending Machine Edition
Fastenal had 42,000 industrial vending machines in operation at the end of the first quarter of 2014. As of late last year, Fastenal had a goal to bringing online 2,000 new machines a month in 2014, or adding 24,000 into service by year-end.
A typical industrial vending machine costs $15,000 to $20,000, highly uneconomical given the nature of the low-priced products being dispensed. Fastenal didn't share the exact pricing of its industrial vending machine, but in talking to Florness it sounded as if it was priced well below $10,000.
Yes, Fastenal has industrial vending machines stationed on a few Air Force bases.
The company's top vending machine holds 40 or so items, though Fastenal has 140,000 to 150,000 stock-keeping units available online.
Store of the Future?
Amazon (AMZN) - Get Amazon.com, Inc. Report continues to receive buzz for its locker system that is now appearing inside of retailers and being tapped to ship cars. Twitter (TWTR) - Get Twitter, Inc. Report can't get enough of spreading these yellow locker photos. Four years ago, I recall putting forth an idea to clients of a 50,000-square-foot store that only contained lockers from top consumer brands and fresh food. Fastenal and I briefly touched on this topic, and this much was confirmed: The businesses of the future may be nothing more than a locker in a storefront or outside.
Here is how to think through this simple, tech-friendly business model:
Customer walks into a store to pick products ordered earlier in the day from an Apple (AAPL) - Get Apple Inc. Report iBand 12.
The customer walks up to a Fastenal vending machine, waves the iBand 12, opens the door, removes product, leaves. The wave of the iBand12 paid for the product.
An email is sent to the business owner alerting him the product has been consumed by the customer and paid for, and that a new piece of inventory needs to be supplied.
Business in the palm of your hand all with significantly lower fixed and variable costs.
-- By Brian Sozzi CEO of Belus Capital Advisors, analyst to TheStreet.
This article represents the opinion of a contributor and not necessarily that of TheStreet or its editorial staff.
At the time of publication, Sozzi had no positions in any stocks mentioned, although positions may change at any time.
Sozzi is the CEO and Chief Equities Strategist of
. He is responsible for developing and managing an equities portfolio of mid- and large-cap positions, in addition to leading the firm's digital content initiatives. He is also a personal finance columnist for
Men's Health
magazine.