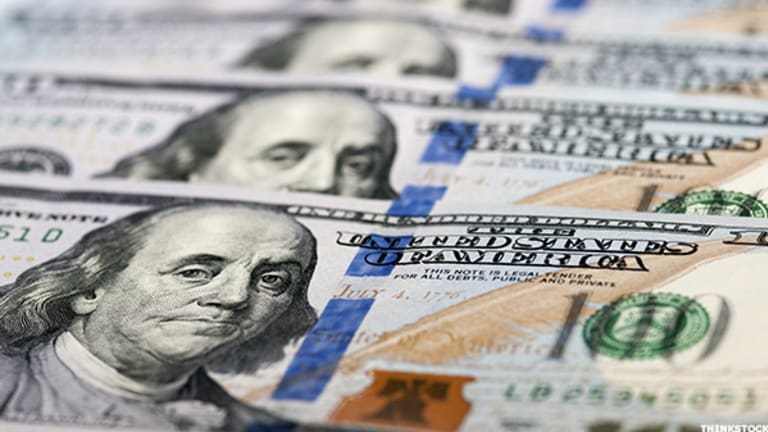 Publish date:
What Investors -- and Fed -- Should Do After Weak GDP Report
For investors, the path is fairly clear for now: bet on sectors that are getting economic tailwinds and against those battling the tide. And watch company valuations when you buy.
For investors, the path is fairly clear for now: bet on sectors that are getting economic tailwinds and against those battling the tide. And watch company valuations when you buy.
The news on fourth-quarter U.S. economic growth is in, and it's about what we expected. The economy grew at an annual rate of just 0.7%.
But it's not really one economy right now. It's two, with a domestic economy growing at the 2%-plus rate we've gotten used to in this expansion, and a manufacturing-led export economy that is actually shrinking.
The split changes everything for a Federal Reserve that has only really been making monetary policy with that relatively healthy domestic economy in mind.
U.S. companies -- and U.S. stock markets -- have been taking it on the chin because of the other part, the export economy that sells oil or depends on foreign markets to buy a hefty share of what it makes.
There's a risk that the decent domestic data won't be reflected in the part of the U.S. economy that depends on investment decisions made by U.S.-based global companies. The performance of those companies may instead reflect the shaky news overseas.
Or, even worse, consumers may eventually catch the same confidence bug.
Here's how the numbers lay it out. Consumer spending rose at a 2.2% annual rate, down from an average of 3.3% in the middle two quarters of 2015. Investment fell at a 2.5% annual rate, the largest chunk of which represents the continued shriveling of energy-related investment due to the falling price of oil.
Exports dropped at a 2.5% clip. Put another way, exports and slower stocking of inventories shaved 0.92 percentage points off of growth, turning a nearly-average quarter into one that has investors calculating odds of a new recession.
For investors, the path is fairly clear for now: Subject to the valuation of specific companies, bet on sectors that are getting economic tailwinds and against those battling the tide.
Since housing investment rose at a very nifty 8.1% rate, home builders like D.R. Horton (DHI) - Get Report and PulteGroup (PHM) - Get Report are worth a look. (Each reported earnings this week. Horton beat forecasts, but its 12% gain in orders for future delivery disappointed the market, while Pulte beat expectations cleanly.)

Since consumer durable goods grew at a 4.3% rate even amid the market's indigestion, companies that sell those goods could be interesting. Home Depot (HD) - Get Report and the upcoming IPO of Vizio come to mind.
Companies that are selling any kind of business equipment (down 2.5%), or that get big chunks of their sales from exporting goods (though exports of services are much healthier, rising 3.6%) or that touch oil are not going to get much succor from this report.
And then you have Caterpillar (CAT) - Get Report , the Dow Jones Industrial Average's piñata recently, with a 44% drop since August 2014. But Caterpillar had an uptick after its earnings report this week. While it eventually will hit a bottom and does pay a 5% dividend, it exports capital equipment, much of which is used in the energy and mining industries, and construction in China. Triple play!
For the Fed, and bond investors, the report is a not-surprising argument for caution in raising rates further. Reversing December's hike would likely be taken as a sign of panic, however. Futures markets are now positing a 55% chance that the Fed doesn't raise interest rates again this year, according to the Chicago Mercantile Exchange's FedWatch, but its data show no sentiment for a rollback.
So count on 10-year Treasuries to stay near where they are, since their yields have fallen since the Fed moved in December. Home mortgage rates have barely budged.
But the central bank is going to come under pressure to find ways to bolster the export sector.
Apple's (AAPL) - Get ReportDecember-quarter report illustrates why. The rise in the dollar, prompted partly by the Fed's emerging divergence from the policy loosening coming out of other major central banks, turned Apple's 8% gain in constant-currency sales into a mere 1.7% advance that slashed Apple's market value overnight.
Put another way, everything looks different because of the strong dollar. It turned Apple's quarter -- which looked much like the 6% sales gain it got two years ago, the last time it went into Christmas without a new iPhone model -- into one that has markets wondering aloud whether Apple will ever grow strongly again.
It won't be easy to restore more-normal spreads between the dollar and other currencies, especially since the full extent of China's growth slowdown isn't yet clear. There are still solid reasons to expect the yuan, yen and/or euro to fall further. But for the sake of the U.S. jobs and wages the Fed cares about the most, it's going to need to be done.
This article is commentary by an independent contributor. At the time of publication, the author held no positions in the stocks mentioned.