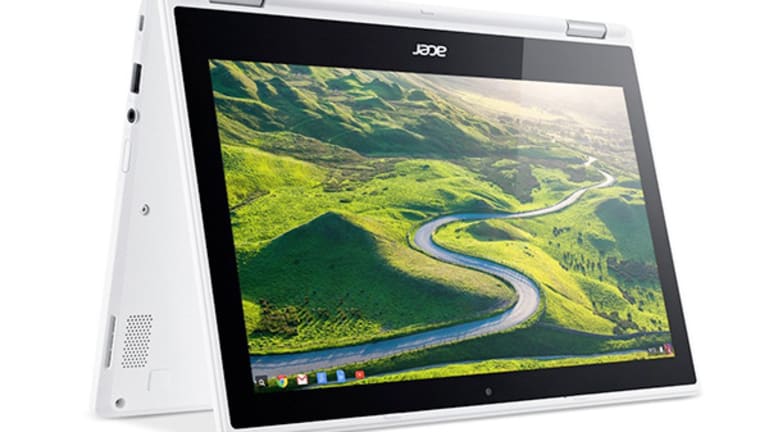 Publish date:
What Happens When You Cross a Google Chromebook with a Lenovo Yoga?
Acer's Chromebook R11 has some new display tricks and is an ideal laptop for children, the elderly and those who type on airplanes.
Acer's Chromebook R11 has some new display tricks and is an ideal laptop for children, the elderly and those who type on airplanes.
Ever since I started to write about Google (now Alphabet) (GOOGL) - Get Report Chromebooks in December 2010, their market share has grown dramatically, especially in the education market, where Chromebooks now make up more than half of all devices deployed in U.S. classrooms.
Teachers, IT administrators and parents alike love that the time they spend on tech support has fallen to close to zero. Those responsible for budgets love that they are saving money. Students love that their computers are secure, boot up in less than 10 seconds, and are easy to use with no downtime for tech support.
Google even made its own laptop, the Pixel, starting in early 2013. This computer's price started at $1,299, but a 2015 second-generation model was priced lower, starting at $999. The Pixel is what I recommend for professionals who make a living working on a computer and are switching to a Chromebook from a Windows or Apple computer.
A computer that costs as much as the Pixel is not what you want your kids touching, however, particularly since it has such a slippery metallic finish (read: easy to drop). When you're shopping for shared family laptops or a laptop for your child to take to school, you obviously want something that's less expensive and easier to handle.
There are now more Chromebooks available than I can count, available from various outlets, including Google's own Web store: https://store.google.com/category/chromebooks. Prices vary mostly from $150 to $300.
Of these numerous laptops, the Acer Chromebook 11 has been the best seller for several years in a row now. It's a straightforward 11.6-inch white plastic laptop. Google's Web site says it's $249, but Amazon has it available for typically $169 or less ($95 last Black Friday).
Recently, Acer made available a version of this best-selling Chromebook that's got a touch screen and bends backward all the way to form a tablet -- just like the famous LenovoYoga series laptops. It's called the Acer Chromebook R11, and it's available starting at $280 with 2 gigabytes of RAM. For a limited time, an upgraded 4-gigabyte version is available for only $290 at Costco; it would normally be $330.
So is it worth it, to get this touch-screen version of the market's best-selling Chromebook, for $290, when you can buy the "regular" non-touch-screen version for less than $170? Is the extra functionality worth $120?
There is no objective answer to this question. If you are not going to use the touch-screen functionality, and if you are not going to bend the screen back to use it as a tablet, the answer is no. You would be better off saving $120 by going with the regular Acer Chromebook 11.
However, if you think you will use it as a tablet or otherwise use the touch screen, I can report that the touch screen works just fine. It's a nice extra to have that gives you some options, such as when you're sitting in an economy seat on an airplane and don't really have the space to use a laptop comfortably.
To use it as a tablet, however, is really no fun, even though it works. It feels clumsy given that it's thick and somewhat slippery to hold. Again, perhaps someone can find a use case for it, but it was not for me personally.
The processor power is adequate for basic tasks and most Web surfing. I do run into problems sometimes when scrolling down very long Web pages, such as those in user forums and comments sections. For me, that's the biggest limit on the usability of these basic Chromebooks. However, it's not as bad when you're using a device with 4 gigabytes of RAM instead of 2 gigabytes.
Battery life remains very good. I had no problem getting approximately 10 hours under most circumstances, another attribute which makes it very good to use on an airplane. It also provided a dozen free in-flight GoGo Internet connectivity passes, arguably making the first $150 of the purchase price free.
The keyboard is good, but not great. And the trackpad is average at best, but with "average" meaning "good enough" these days, I'll give it a pass here.
Considering that the various versions of this Acer Chromebook 11 cost nearly nothing -- from less than $170 to around $300 -- and require no tech support or learning curve, it's hard to give anything but a very high recommendation. They're the ideal laptops for your kids and the elderly, and could even be the ideal laptops for a certain type of professional worker as well -- especially one who types a lot while on airplanes.
Chromebooks such as the Acer 11 and R11 are available from Google directly, from the manufacturer directly, and from physical and online retailers alike. Shop around for the best prices and overall terms.
This article is commentary by an independent contributor. At the time of submitting this article for publication, the author held shares of AAPL and GOOGL.