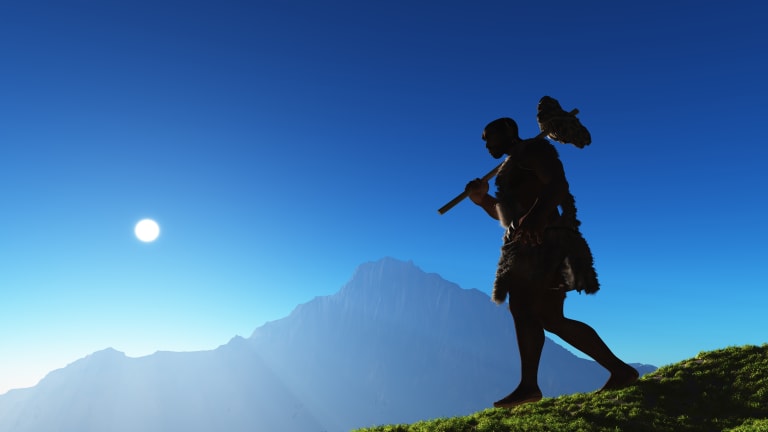 What Happened to American Society Is Happening to the Stock Market, Too: Market Recon
The S&P 500 has returned 10% year to date, while the top half of it, around 16%.
"Adapt yourself to the things among which your lot has been cast and love sincerely the fellow creatures with whom destiny has ordained that you shall live." -- Marcus Aurelius
The Band Played On
What if the Dow Jones Industrial Average hit 22,000 and nobody cared? What if there were too many other factors, some of them not quite so positive, that drew investor attention away from the rousing success of the biggest stocks with the most international exposure? We all know that these lofty heights that those of us that live and breathe the stock market find ourselves at are largely due to earnings. What if we did not have the recent performance of, oh, I don't know... let's say Boeing (BA) - Get Boeing Company Report , Verizon (VZ) - Get Verizon Communications Inc. Report , McDonald's (MCD) - Get McDonald's Corporation Report and Action Alerts PLUS charity portfolio holding Apple (AAPL) - Get Apple Inc. Report to figure in. The top half of the S&P 500 (or should we just call it the S&P 250?) has returned a rough 16% year to date. The entire S&P 500 has returned 10%, suggesting that exactly what has happened to American society has also reared its ugly head in our marketplace. The Nasdaq Composite has returned 18% this year. The Dow Jones Industrials, on the year, have produced an 11% gain, in line with the broad S&P 500.
Apple CEO Tim Cook Says He Isn't Terrified of WeChat, but How Do You Explain the Drop in China Sales
This One Chart Reveals That Yes, Apple Is Headed Straight to $1 Trillion
It is what's going the other way that should scare us. That tells a story in itself. While both the ability to do business internationally and being visible enough to draw foreign investment has produced glorious results for "haves", thanks to the weaker U.S. dollar, there are "have nots" that now stick out like a sore thumb. There are no more broad statements proclaiming the general direction of the equity markets, largely because there is now significant divergence in performance. There is no broad stroke that can describe the equity markets.
Iceberg!
It's easy to pick on the Transports, so let's go there. That's the domain of Dow Theorists. They are not crazy. The beat-down taken by that group suggests a weaker second half for the domestic economy. No gains for personal income. Sputtering retail sales. Very little capital investment. A central bank bent on tightening monetary conditions. I don't know, gang, what could they possibly see? While the DJIA has picked up nearly 2% over the last 10 trading sessions, the Dow Jones Transports have surrendered 3.3%, and the small-cap Russell 2000 more than 2%. What does this mean to the average kid trying to figure it all out? I'm not sure I'm an average kid, but I've got two fists, and I'll tell you what it means to me.
The Dow Transports sliced through their 50-day simple moving average just last week, and closed squarely on their 200-day SMA last night, despite the two averages existing a whopping 288 points apart. That means investor hopes for commerce in itself are starting to sag. Auto sales? Coal? Crude? Has the need to move resources from point A to point B peaked for the time being? Is saturation a problem? How about the small caps? The Russell 2000, though trailing the pack all year, has really started to turn the wrong way of late. That index also cracked its 50-day SMA from the upside yesterday.
More of What's Trending on TheStreet:
Could this mean that investors are losing hope in seeing any eventual tax reform? Unlike those larger corporations, the small-caps do not benefit from the weak U.S. dollar. These firms are for the most part domestic in nature. They also, as a group, pay very close to the headline 35% corporate tax rate that the larger firms find ways to effectively reduce. Infrastructure spending, another initiative for the current administration in Washington, would also be helpful for this group. So close, yet so far. What a shame.
Don't Get Picked Off
Now, tech stocks will also come under the watchful eye of scared money. I am not about to bail on that group. That sector, at least at the top, still has plenty of international exposure. You don't have to run, but this is where the profits are going to be for traders who might need to raise cash to address problems elsewhere in their portfolios. This is also a group where at least the slice of any tax reform package known as "repatriation of cash at a reduced rate" may have been partially priced in. If there's no tax reform deal, then that money is staying put. Technology, I think is still the place to be if you're running a fly pattern, but that does not mean that there won't be opportunity to get in, or stressful periods that will try to shake you out. Depends how you look at any pullback. It's the "harmless" pass in the flat that turns into a pick six when you allow discipline to lax.
Badge 986
OK, so maybe I am biased here. If you know anything about me, you know that I made my career at the point of sale, the centralized last meter of price discovery. The spot where the ongoing, two-sided auction market resulted in transaction. The open-outcry marketplace. Yes, I have strong feelings here. Yes, I believe that there has never been as fair a market as one that resulted from face-to-face trading, where every order had to be verbally presented, and a trader's word was his or her bond.
Didn't think that market was very fair? Do you prefer a fractured marketplace, where electronic orders do things in microseconds? Maybe you were using the wrong trader.
Yesterday, Box Options Exchange received approval from the SEC (Securities and Exchange Commission) to proceed with the creation of an open-outcry trading floor in Chicago. Box has stated that they should be ready to open this floor later in August. Why? Why, you ask, in this day and age do we need floor traders? The answer comes loud and clear from backers of this grand idea. Because options orders can be complicated. They sometimes have a lot of hair on them, and require a human touch, rather than that of a computer.
To be sure, Box has only captured a rough 2% market share of the volume in options contracts across the 15 or so venues that trade them, but this is a step in the right direction. Like I said, I have a bias here.
On That Note
You may have also noticed that the CBOE is preparing to launch a market for Bitcoin futures contracts. Is this the end, or merely the beginning? The data will come from Gemini Trust in an exclusive deal with the exchange, and it will only cover the original "Bitcoin". Actual trading of these derivative products will not likely take place until later this year, but if this does indeed expand the playing field for traders and investors who otherwise would not have access to Bitcoin, then how far behind can other crypto-currencies be from joining the fray? How soon 'til this is mainstream investment? How soon until central banks and Treasury departments consider currencies without border as rivals? Oh, there is such a long tale to tell here, and most of it remains to be told.
Macro
08:30 - Initial Jobless Claims (Weekly):Expecting 243,000, Last Week 244,000. This series has missed to the upside in four of the last five weeks. You would not know it, given how tight the range of expectations has been for every one of those prints, and none of those misses actually missed badly. Today's consensus range is the widest that I have seen here in quite some time, spanning a whopping 12,000 people from 235,000 to 247,000. The four-week moving average is now running at 244,000. This item does not impact the marketplace.
09:45 - Markit Services PMI (July-rev):Flashed 54.2. If that 54.2 flash manages to hold, this will be end up being the second-strongest headline print in the space of this year on the strongest New Orders component seen here in two years. This matters little to the market though, as traders will wait for the ISM number to act with any conviction regarding the service sector.
10:00 - ISM Non-Manufacturing Index (July):Expecting Expecting 56.9, June 57.4. This data-point has been strong. Trending in the mid-to-higher $50s at the headline level for about a full year. The strength here, as it has been in the related series offered by Markit has been in New Orders. You can't ask for more than that. This will likely be the macro event of the day.
Tesla CEO Elon Musk Has These 7 Other Revolutionary Ideas Besides The Boring Company
Tesla CEO Elon Musk: I Just Felt Like Hell, but Am Now Feeling Awesome
10:00 - Factory Orders (June):Expecting 2.8%, May -0.8% m/m. It seems safe to expect an outsized gain for this series today in the wake of June's robust print for durable goods orders. That was largely due to aircraft purchases. Remember those? Durable goods were up 6.5% with them, and up 0.2% without. That will be enough to disguise weakness elsewhere here as well.
10:30 - Natural Gas Inventories (Weekly):Expecting 26 billion, Last Week 17 billion cubic feet. Natural gas appears headed for an 18th consecutive weekly inventory build. The growth of said builds is slowing, but they are still growing. The commodity is feeling it. Natty Gas is putting up the fight close to $2.80 this week. Should that spot not hold, there really is nothing on the chart all the way down to the 2016 lows in the mid $2.40s. Let's not get ahead of ourselves, though.
Sarge's Trading Levels
These are my levels to watch today for where I think that the S&P 500, and the Russell 2000 might either pause or turn.
SPX: 2492, 2483, 2477, 2467, 2459, 2449
RUT: 1428, 1421, 1415, 1408, 1399, 1391
Today's Earnings Highlights (Consensus EPS Expectations)
Before the Open: (AET) ($2.35), (AGN) - Get Allergan plc Report ($3.92), (APA) - Get APA Corp. Report ($0.02), (AVP) - Get Avon Products, Inc. Report ($0.07), (BLL) - Get Ball Corporation Report ($0.55), (BDX) - Get Becton, Dickinson and Company Report ($2.44), (CHK) - Get Chesapeake Energy Corporation Report ($0.15), (DUK) - Get Duke Energy Corporation Report ($1.01), (GCI) - Get Gannett Co., Inc. Report ($0.17), (K) - Get Kellogg Company Report ($0.92), (NBL) - Get Noble Energy, Inc. Report (-$0.13), (PH) - Get Parker-Hannifin Corporation Report ($2.31), (TEVA) - Get Teva Pharmaceutical Industries Ltd. Report ($1.07), (YUM) - Get Yum! Brands, Inc. Report ($0.61)
After the Close: (ATVI) - Get Activision Blizzard, Inc. Report ($0.30), (ED) - Get Consolidated Edison, Inc. Report ($0.62), (FLR) - Get Fluor Corporation Report ($0.59), (GPRO) - Get GoPro, Inc. Class A Report (-$0.25), (KHC) - Get Kraft Heinz Company Report ($0.96), (TIVO) - Get TiVo Corp. Report ($0.26), (VIAB) - Get Viacom Inc. Class B Report ($1.05), (WTW) - Get Weight Watchers International, Inc. Report ($0.51), (YELP) - Get Yelp Inc Report ($0.21)
Get Morning Recon delivered directly to your inbox each market day. Click here to sign up for e-mail delivery of Stephen "Sarge" Guilfoyle's Morning Recon, Jim Cramer's Daily Booyah! or other great free newsletters from TheStreet.
Watch More with TheStreet:
At the time of publication, Stephen Guilfoyle was long AAPL, APA, although positions may change at any time.