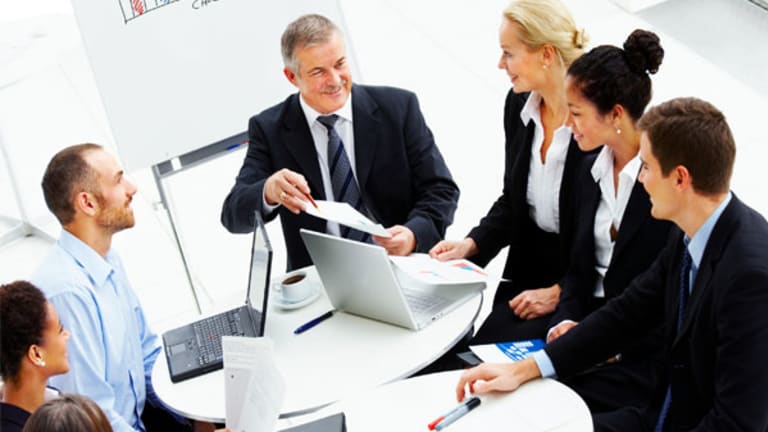 What Google Lost When Mayer Left
That can be summed up in one word: Humility.
NEW YORK (
) -- When Marissa Mayer was hired as
Yahoo!
(YHOO)
CEO from
Google
(GOOG)
there was a lot of talk about her sex, her youth and her engineering credentials.
That was a little over a month ago. Since then Yahoo! stock has declined 6.2%. It really fell out of bed when, as
, Yahoo! announced it would not be passing the gains from selling
Alibaba
and
Yahoo! Japan
on to shareholders, that it would invest that in the business.
Google, meanwhile, has powered ahead. It's up nearly 14% since Mayer left. Put that into perspective. Since Mayer joined Yahoo!, Google's value has gained by about twice Yahoo!'s market cap.
While a lot of people think they know what Yahoo! got in Mayer, there has been little talk about what Google lost with her departure. That can be summed up in one word.
Humility.
Google is now putting ads for its tablet on its formerly clean, Mayer-designed home page,
Its reaction to the loss by its leading OEM,
Samsung
, in Apple's patent lawsuit is
summed up in one word by Insider Monkey -- defiance.
Google's executive suite is now a lot more
testosterone-driven than it was.
Of the three women in top management, two do "woman stuff" -- PR and non-profit work. The exception is Susan Wojcicki, who is senior vice president for advertising.
Jared Newman of
Time
says Google is now more focused
But it's also focused on creating a GoogleWorld for GoogleHeads, tying Gmail accounts to its Google Plus social network, and using knowledge from those networks in searches by default.
Then there's the Googlization of
Motorola
. The workforce has been cut 20% and the product line pared to just a few phones and tablets,
What of Yahoo!? Except for a few key hires, most of them female, including new Chief Marketing Officer Kathy Savitt, an entrepreneur and former
Amazon.com
(AMZN)
executive,
we haven't heard much.
Business Insider writes the staff is getting iPhones
. But what are they doing with them? Are they working on apps, on cloud, are they charting new horizons in media, product marketing or branding? It's been pretty much radio silence. Reporters and analysts are getting antsy.
I think that's deliberate. My guess is Yahoo! won't be making a big splash for several months. My guess is it will start launching new apps and new features slowly, building first on the Yahoo! Apps now found in the
But I also think that when you look at Yahoo! a year from now, you'll see a very different company, one focused on technology rather than media or branding, on users rather than analysts, on programmers rather than programming, and on context rather than content.
I am long both Yahoo! and Google, but to gain 10% on my Google investment from here I need to see a price of nearly $750/share, while to gain 10% on my Yahoo! stake I just need to get over $16 again.
I suspect the latter is more likely, because under Marissa Mayer I see a company that talks softly but carries a big stick, more like what Google was than what Google is.
At the time of publication, the author had positions in YHOO and GOOG
.
This article is commentary by an independent contributor, separate from TheStreet's regular news coverage.