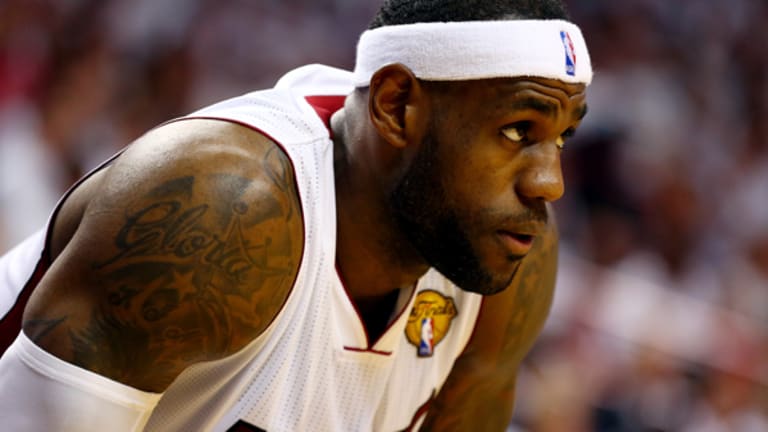 What Free Agency Means for LeBron James, the Marketing Machine
Will the NBA player remain an endorsement star even if he goes to yet another team?
NEW YORK (TheStreet) -- To those who follow the NBA, LeBron James' move to opt out of his contract with the Miami Heat to become a free agent wasn't a surprise.
The move was redolent of James' "Decision," his much maligned announcement in the summer of 2010 that he was joining the Heat and leaving his hometown Cleveland Cavaliers.
Although he took a big hit to what had been a relatively untarnished reputation, the move didn't hurt James' marketability, outside of Cleveland at least.
James' sponsors include Coca-Cola (KO) - Get Free Report, Dunkin Brands (DNKN) - Get Free Report, McDonald's (MCD) - Get Free Report, Nike (NKE) - Get Free Report, Samsung (SSNLF)  and sports-card company Upper Deck, and his endorsement value has been pegged from $35 million to $50 million dollars last year, according to various estimates.
In another off-the-court coup, James has reportedly made a profit of $30 million in cashing out of his stake in Beats, the headphone maker that has agreed to be acquired by Apple (AAPL) - Get Free Report for $3 billion. James received his stake in 2008 in return for promoting the headphones.
Steve Rosner, a partner at 16W Marketing, a sports-marketing firm,  said he doesn't expect that James' free agency will have much of an effect on his reputation, noting that the player may end up in another major market such as Chicago, Los Angeles or New York if he does leave Miami, because so few teams will be able to afford him.
The one downside Rosner does see is that James's overall brand could take a hit as he could move to his third team before the age of 30.
"Michael Jordan played for Washington at the very end of his career, but no one really thinks about that time," Rosner said. "But any time an athlete begins to move around too much, there is the possibility of people questioning his loyalty and credibility which are both very important to the consumer."
Still, any impact would be only temporary because it doesn't involve an embarrassing off-the-court issue, Rosner noted.
Ultimately, James' free agency may be much ado about nothing, because he may resign with Miami for more years at a smaller annual salary in order to give the Heat flexibility to bring in another player, perhaps Carmelo Anthony, who exercised the same opt-out clause in his contract with the New York Knicks.
Rosner also said that James' status as the marquee player in the NBA may protect his image from any backlash.
"We've never seen anyone at this level," Rosner said. "He may be beyond any of this with what he's already accomplished."
Here's Why Rates Will Rise Sooner Than Investors Anticipate
If Apple Focused on iTV, It Could Be as Big as iPhone and iPad
A Refresher on Defensive Investing
At the time of publication, the author had no position in any of the stocks mentioned.
This article represents the opinion of a contributor and not necessarily that of TheStreet or its editorial staff.