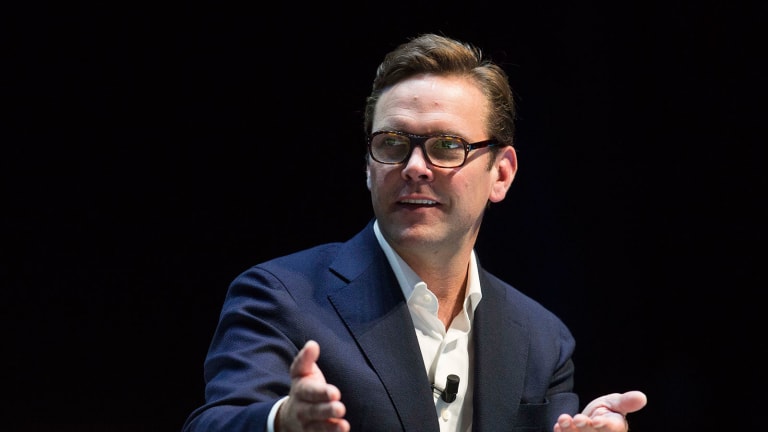 What Fox Talking to Disney Says About Fox and the Global Media Business
If the Murdochs are contemplating the end via a sale of Fox's TV and film studios and other assets, what does that mean for the rest of the industry?
Even if a far-reaching deal between 21st Century Fox Inc. (FOXA) - Get Fox Corporation Class A Report and Walt Disney Co. (DIS) - Get Walt Disney Company Report  doesn't occur, the premise of the talks reflects a sobering reality for the traditional television and film companies that have dominated media and entertainment for the past 50 years.
"Everybody is trying to figure out, 'What's my company look like, and how do I compete with Google and Facebook and Amazon and Netflix and Apple?'" said Mike Kelly, CEO of media consultancy Kelly Newman Ventures LLC and a former president of AOL Media Networks. "And being more competitive with those guys means you need a direct relationship with the consumer."
And a direct-to-consumer business isn't something that Fox possesses. Then again, neither does Discovery Communications Inc. (DISCA) - Get Discovery, Inc. Class A Report  despite efforts to acquire Scripps Networks Interactive Inc. (SNI)  for $11.9 billion. The same goes for AMC Networks Inc. (AMCX) - Get AMC Networks Inc. Class A Report  and Viacom Inc. (VIAB) - Get Viacom Inc. Class B Report . Time Warner Inc. (TWX) didn't have one either until CEO Jeff Bewkes convinced his board a year ago that the company needed to sell to AT&T Inc. (T) - Get AT&T Inc. Report .
(CBS Corp. (CBS) - Get CBS Corporation Class B Report is building that relationship with All Access and Showtime, though even the path to lasting salvation for broadcast networks is paved with questions about demographics and the future of TV sports rights.)
But back to Fox.
If CNBC's reporting of the potential transaction was a trial balloon to gauge investor sentiment, the verdict is clear: The market likes this deal. Fox shares had sunk 5.4% this year before CNBC reported on Monday, Nov. 6, that Fox officials had spoken with their Disney counterparts about selling their TV and film production studios, cable networks such as FX, the Star India networks and the company's 39% stake in European satellite TV operator Sky plc.
Since then, Fox shares have surged 13.% to $28.25, and while Disney hasn't gained as much, the shares have advanced. Disney is up 3.4% this week.
Disney also would acquire Fox's stake in Hulu LLC, the subscription platform jointly owned with Comcast Corp. (CMCSA) - Get Comcast Corporation Class A Report and Time Warner, riding recent momentum built off "The Handmaid's Tale." Fox and Disney representatives declined to comment on the deal talks.
So, let's get into the details:
Fox, in the above scenario, would retain its broadcast network, its regional sports networks, the fast-growing FS1 sports channel, the Fox News Channel and its TV broadcast affiliates, in short, a trimmed-down company built around news and, especially, sports. If this transaction did occur, the Murdochs would also have a lot of cash that could be used to build something new, unencumbered by pay-TV or brick-and-mortar movie theaters.
The premise of the deal, though, is both astounding and sobering.
If Disney initiated the talks, as some have reported, CEO Bob Iger is essentially admitting that his company as currently constructed needs more content if it's to roll-out a truly dynamic streaming service in 2019 that can compete and even surpass Netflix. That's quite an admission.
If the Murdochs went knocking, the family has apparently determined that Fox, a company with $28.5 billion in annual revenue, doesn't have the scale, or a logical path to scale, to compete in this next chapter of the global media and entertainment business. It failed three years ago to buy Time Warner for $89 billion and lost out back in 2011 in its bid to acquire the remainder of Sky it doesn't own. U.K. regulators may ultimately reject its latest bid as well.
Both companies are at a crossroads. Cord-cutting is putting the squeeze on cable networks while technology players are fast entering the content business, proving that anyone can make TV serials if they have a few extra billion dollars. And many do. Amazon.com Inc. (AMZN) - Get Amazon.com, Inc. Report already has jumped into the film and TV business, and Apple Inc. (AAPL) - Get Apple Inc. Report is building some kind of production studio. Facebook Inc. (FB) - Get Meta Platforms Inc. Class A Report  just launched its Watch tab, and Alphabet Inc.'s (GOOGL) - Get Alphabet Inc. Class A Report Google just started YouTube TV, its digital television platform.  
"Big media companies are in this enormous transition between linear, where they controlled their own distribution, to a nonlinear, digital world where they have the opportunity at least to have a direct relationship with the consumer," Kelly said. "But that costs a lot of money."
And money is something that Big Tech has, in spades. These companies have already built direct-to-consumer platforms, leveraging their talent for technology in ways that Disney and Fox have been (very) slow to embrace. Amazon, Facebook, Apple and Google all have direct relationships with consumers. So does Netflix Inc. (NFLX) - Get Netflix, Inc. Report , of course. 
Fox, despite its enormous TV and film production studios, remains beholden to pay-TV operators and movie theaters. That paradigm is slowly changing as Fox pushes more of its content to Hulu and 20th Century Fox president Stacey Snider calls to shorten the window between a film's release and its availability for streaming.
If Disney is willing to take cable networks FX, FXX and National Geographic in a deal headed by 20th Century Fox and its television studios, that would free the Murdochs of trying to figure out how to sustain a business under pressure from fewer subscribers and advertiser migration to Google and Facebook. 
The deal essentially would cut Fox in half, according to Bernstein Research's Todd Juenger. Roughly $40 billion in assets would be sold to Disney, and roughly $40 billion in assets would remain at a slimmed-down Fox. (A related question is whether a reduced Fox would then re-merge with News Corp. (NWSA) - Get News Corporation Class A Report )
Of course, there's a very real possibility that this transaction never occurs. Companies talk all the time. It's the fiduciary responsibility of top executives to forever contemplate mergers and acquisitions.
What is clear is that the Murdochs appear open to selling some of their businesses. There are lots of moving pieces in a company as larger as Fox, but apparently many of those pieces are in play. There's no reason an Apple or Amazon, or even CBS, wouldn't consider acquiring the 20th Century Fox film studio or its television studios. 
It's very possible that these talks finally spark the M&A wave that media industry observers have been expecting for years. Facebook, Apple, Amazon, Netflix and Google already have crashed the party.
More of What's Trending on TheStreet:
Comcast, Apple, Facebook and Alphabet are holdings in Jim Cramer's Action Alerts PLUS Charitable Trust Portfolio. Want to be alerted before Cramer and the AAP team buy or sell CMCSA, AAPL, FB and GOOGL? Learn more now.