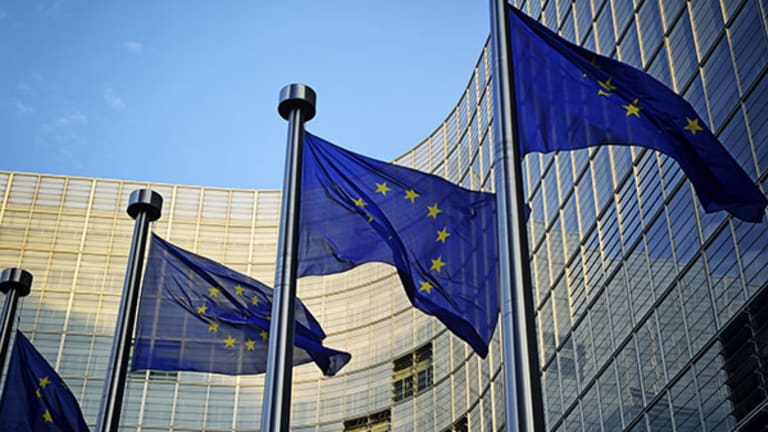 What ETF Investors Should Do About the Selloff in Europe
Here are some funds that could pay off for investors who want exposure to Europe.
NEW YORK (TheStreet) -- It's not just Greece that's feeling the fallout from Sunday's "no" vote.
Exchange-traded funds that track the other PIIGS countries -- Portugal, Ireland, Italy and Spain -- also got slammed Monday after Greek voters rejected the latest bailout package from creditors.
Shares of the Global X FTSE Greece 20 ETF (GREK) - Get Global X MSCI Greece ETF Report, the only U.S.-listed ETF dedicated to Greek stocks, skidded 7.5% on volume that is already more than double the daily average.
Shares of the iShares MSCI Italy Capped ETF (EWI) - Get iShares MSCI Italy ETF Report fell more than 5%, and the iShares MSCI Spain Capped ETF (EWP) - Get iShares MSCI Spain ETF Report was off 3%.
Despite those declines, analysts don't think the other PIIGS members face the same kind of threat as Greece does. Still, they urged investors to look for ETFs with broad exposure to Europe rather than one or two countries.
"We think that while risks remain the Greece credit issues will not spread throughout Europe, we would encourage investors to use more diversified ETFs ties to EMU or Pan Europe," said S&P Capital IQ Research Director Todd Rosenbluth said.
Investors can maintain exposure to European equities while minimizing PIIGS exposure with an array of funds, including well-known products such as the Vanguard FTSE Europe ETF (VGK) - Get Vanguard FTSE Europe ETF Report and the iShares Core MSCI Europe ETF (IEUR) - Get iShares Core MSCI Europe ETF Report
VGK charges just 0.12% per year, making it less expensive than 92% of rival funds. Better yet, the fund features minimal exposure to the PIIGS. For example, Spain and Italy combine for 8.7% of the fund's weight, and Greece is just 0.1%. VGK devotes nearly 47% of its weight to British and Swiss stocks.
IEUR -- which is also cost-effective with an annual fee of just 0.14% -- also minimizes investors' exposure to Europe's problem areas. The ETF allocates a combined 9.3% of its weight to Spanish and Italian stocks, and that is easily trumped by the U.K., Switzerland and Germany controlling 60% of the fund's geographic weight.
Flows data suggest investors did not depart PIIGS funds in earnest last week even as the Global X FTSE Greece 20 ETF plummeted. For example, the iShares MSCI Spain Capped ETF did not lose any cash last week despite falling 5.3%. Investors pulled nearly $4.6 million from the iShares MSCI Italy Capped ETF last week, according to ETF.com data, a small sum relative to the fund's over $1 billion in assets under management.
On a year-to-date basis, investors have been bullish on PIIGS ETFs, pouring almost $683 million combined into GREK, EWP and EWI, according to ETF.com data.
"Risk is more tied to European banks that are common in Spain and certain country ETFs. We don't see another country in the same state as Greece is," Rosenbluth said.
For Spain and EWP, an ETF with a financial services weight of 46.5%, there is good news for the country's banks. Bad loans in the Eurozone's fourth-largest economy have fallen for three consecutive months, and in June, Moody's Investors Service boosted its outlook on Spanish banks to positive from negative. That represents the ratings agency's first upgrade of Spanish banks in seven years.
At the time of publication, the author held no positions in any of the funds mentioned.