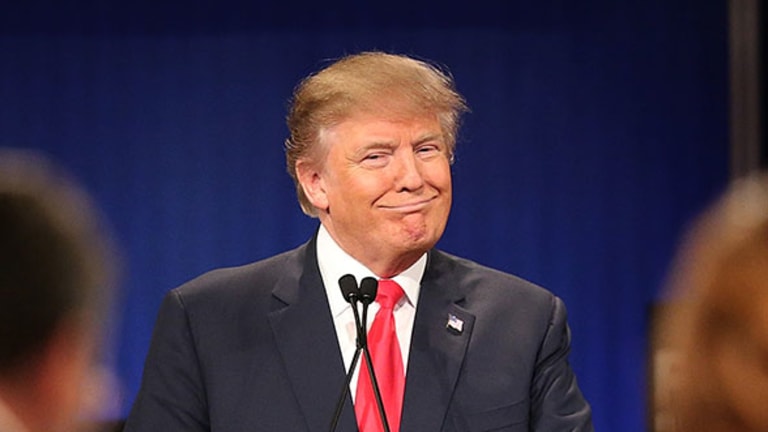 What Doesn't Kill Donald Trump Makes Him Stronger, Despite Media Speculation
It appears that virtually nothing GOP candidate Donald Trump says or does can deter his followers, no matter how outlandish, untrue or offensive it is.
Editors' pick: Originally published Jan. 19.
Trump fumbled a Bible reference during a speech at Liberty University over the weekend, mentioning "Two Corinthians" as opposed to "Second Corinthians," the book's more common name among the faithful. The mini-gaffe was just one in a long line of flubs and challenges that haven't hurt Trump's candidacy, despite media speculation to the contrary. 
When it comes to Trump, what doesn't kill him makes him stronger. 
It appears that virtually nothing Trump says or does can deter his followers, no matter how outlandish, untrue or offensive it is. That's certainly been the case so far. According to a RealClearPolitics national average of polls, the billionaire businessman leads the GOP primary field with 34.5% support. Exactly six months ago, during the supposed "Summer of Trump," he was barely trailing Jeb Bush, polling at 15% nationally compared to the former Florida governor's 15.5%.
Yet, onlookers have been predicting the demise of Donald Trump since the day he announced his intentions to run for the White House from Trump Tower in New York last June.
In August, New York Daily Newsdeclared that Trump's defense of his sons' hunting trip "may finally doom" his campaign. Citing photos uncovered in 2012 of Donald Trump Jr. and Eric Trump posing alongside dead exotic animals they killed during a safari trip to Africa in 2011, the publication suggested outrage over the killing of Cecil the lion by a Minnesota dentist over in 2015 could boil over to Trump.
No such thing happened. In fact, that month, Trump's support surpassed 25% in a national average of polls.
Later in the Summer of Trump, prominent figures like New Hampshire Governor John Sununu, conservative pundit and humorist P.J. O'Rourke, and FiveThirtyEight founder Nate Silver all predicted the GOP frontrunner's imminent collapse. His comments about Mexican immigrants cost him business deals with Macy's, NBCand Univision, and The Guardianwarned that his anti-immigrant rhetoric could lose his entire party the election in 2016. His poll numbers continued to rise.
Trump's debate performances led pundits to predict his demise as well.
Some mused whether his attack of Fox News' Megyn Kelly in the wake of the first debate would bring an end to his presidential bid. After the second debate, CNBC contributor and former George W. Bush aide Sara Fagen wrote that the event had been "the beginning of the end of Donald Trump's grip atop the GOP field." The National Reviewasked whether Carly Fiorina's rise would mean Trump's fall.
But the first day of fall, September 23, the billionaire's support still hovered above 25%.
Throughout the rest of 2015, the pundits continued to write Trump's campaign obituary as his rhetoric heightened and would-be gaffes continued.
2012 Republican nominee Mitt Romney told an audience at Georgetown University's McDonough School of Business in late September that Trump "will not be the nominee." The Washington Post's Dana Milbank days later declared, "Trump will lose, or I will eat this column."
Conservative-leaning media outlet RedState announced Trump's "first real crisis" on the campaign trail when the former reality television star fell second to Ben Carson in Iowa. The Postdescribed an event in the Hawkeye state in which Trump appeared unusually disheveled, arriving nearly 40 minutes late and launching into a "95-minute long rant that at times sounded like the monologue of a man grappling with why he is running for president." U.S. News pondered, "Is this how it ends?"
But it wasn't.
Carson fell in the polls. Trump's barrage of attacks on Muslims, including the assertion that he would "certainly implement" a national database of U.S. Muslims and widely discredited claims that he saw thousands of Muslims celebrating the 9/11 attacks in New Jersey, were widely panned by both parties, his GOP rivals and the media. Yet his apparently public opinion dominance largely persisted.
Trump's standing among Republicans did drop 12 points in less than a week in late November. His dip in the polls came soon after his Muslim claims as well as his mockery of a New York Times reporter's disability and retweet of racially-charged propaganda, suggesting he may have begun to alienate supporters.
But in December, Trump's poll numbers began to rise again, even when he made perhaps his boldest claim yet: a call for a ban on all Muslim immigration to America.
White House spokesman Josh Earnest asserted that the proposal "disqualifies" Trump to be president. Secretary of State John Kerry warned that it "endangers national security," and even the Pentagon weighed in, with spokesman Peter Cook cautioning that "anything that bolster's ISIL's narrative and pits the United States against the Muslim faith is certainly not only contrary to our values but contrary to our national security."
And still, Trump's support held. He closed 2015 with 35.6% support, according to a RealClearPolitics national average of polls.
In 2016, the end to the bombastic billionaire's presidential campaign still appears nowhere in sight, even though many continue to write -- and hope -- otherwise.
Some argue that if Trump loses in Iowa (where he is basically tied with Ted Cruz in the polls) or anywhere, his campaign will simply implode. Others have suggested that as other competitors drop out, it will be especially hard for the real estate magnate to pick up their votes, or that his supporters won't actually turn out when it comes time to vote. Cruz appears to believe Trump's "New York values" will do him in.
Perhaps Vox's Ezra Klein put the Trump downfall theory conundrum best:
It's the Underpants Gnomes theory of Trump's loss. Step 1: Trump leads the polls for month after month. Step 2: ??? Step 3: He loses! Even if you think that's likely, it sounds a bit ridiculous when you say it aloud.