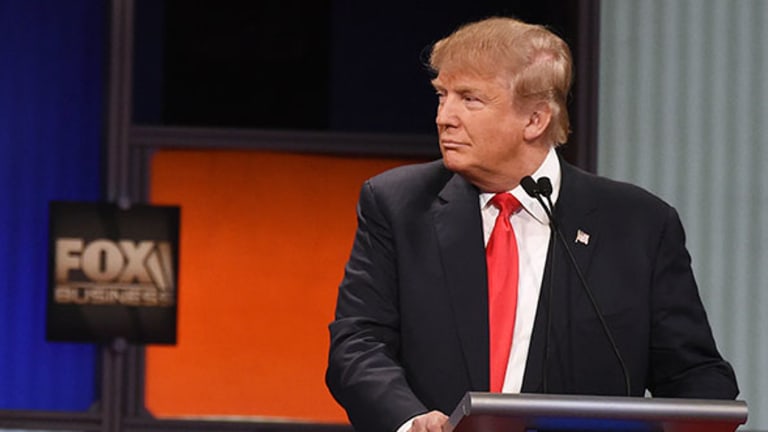 What Does Donald Trump's Tough Talk on China Mean for the U.S. Economy?
Donald Trump really likes to talk about China, and if he makes it to the White House, he's gunning for the Asian nation.
Donald Trump really likes to talk about China, and if he makes it to the White House, he's gunning for the world's second-largest economy.
The bulk of the billionaire real estate magnate's trade proposal is dedicated to dealing with China. He has pledged to immediately declare it a currency manipulator, force it to uphold intellectual property laws, bring an end to its export subsidies and low labor and environmental standards, and bolster the U.S. military presence in the East and South China Seas, all in the name of reasserting America's strength and protecting companies and jobs in the U.S.
During the sixth presidential debate this week, he took another line of attack on China, blaming it for what's happening in North Korea, which at the start of the year claimed to have tested a hydrogen bomb.
"They don't like to tell us but they have total control -- just about, of North Korea," he said. "They can solve the problem of North Korea if they wanted to but they taunt us."
Still, the bulk of Trump's China grievances are economy-related, and the debate was no exception. When asked about a New York Times interview in which he proposed a 45% tariff on Chinese exports, he returned to his money-focused message on the country -- even though he said the Times quote wasn't true (the publication has released an audio recording confirming its account).
"They're devaluing their currency and they're killing our companies," he said.
The GOP frontrunner contended that the U.S. has lost between four and seven million jobs because of China and would have a $505 billion trade deficit with the country in 2016.
And while he balked on owning up to the 45% figure, he did say that he is "totally open to a tariff."
Senator Marco Rubio warned that such a tariff would be a burden not for China but instead for U.S. buyers. Others agree.
"American consumers would end up paying more for things, and that hurts the economy if you're putting tariffs on those other things," said Merrill Matthews, resident scholar at the Institute for Policy Innovation, a Texas-based, right-leaning think tank, in an October interview discussing Trump's tariff proposals.
In fact, many of Trump's China proposals might actually work against the U.S. economy.
"The reality is that when China devalues its currency, the goods that they produce become cheaper, and as a result, while we may lose some manufacturing jobs, the rest of the population gets to buy things a lot cheaper than they would if the products were made [in the U.S.]," said Michael Busler, professor of finance at Stockton University. "The jobs he would bring back are yesterday's jobs."