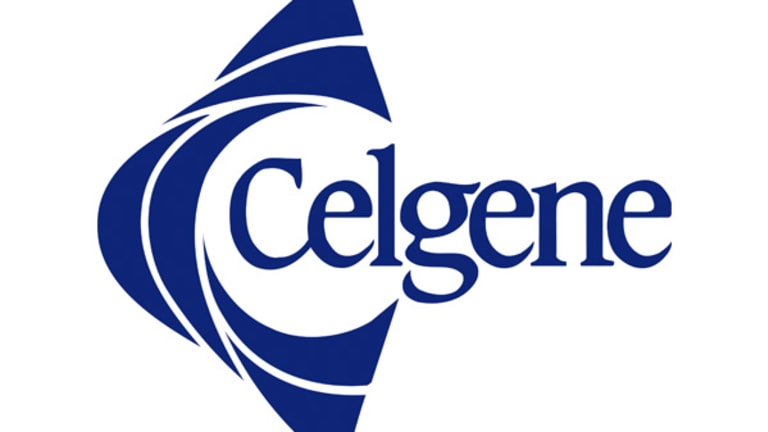 What Does Celgene's May 15 Markman Hearing Mean to You?
Celgene faces a big hearing over patents on its franchise product. Here's what investors need to know.
NEW YORK (TheStreet) -- Recently, TheStreet.com's editors published this contributor's article entitled Celgene To Rise Like a Phoenix: Opinion.
Afterward, TheStreet co-founder Jim Cramer emailed, questioning my level of concern about the potential fallout from next week's Markman hearing. Cramer's comments got me turning on some additional due diligence. Let's share it together.
But first remember the case involved regards patents on Celgene's franchise product -- Revlimid, a cancer drug. Shares of Celgene -- which closed Tuesday at $146.70 -- have fallen 13%, partly over patent concerns.
In deciding whether Celgene now represents a buying opportunity, investors need to understand the Markman hearing and its possible ramifications.
What Is a Markman Hearing?
A Markman hearing is a pretrial hearing in a U.S. District Court in which a judge examines evidence on the meanings of relevant key words used in a patent claim, after patent infringement is alleged.
Holding a Markman hearing in patent-infringement cases has been common practice since the U.S. Supreme Court ruled in a 1996 case Markman v. Westview Instrument Inc. that the language of a patent is a matter of law for a judge to decide, not a jury.
This court decision was grounded upon the view that juries are typically asked to rule on facts, but judges are to rule upon law.
Patent law is complex and nuanced, much of it built around words. A combination of the inherent ambiguity of the English language and high stakes makes a Markman hearing the first step in a chain of events when parties disagree on what constitutes a valid patent.
What Celgene Patents Were Challenged and by Whom?
Revlimid patents are in play, including exclusivity for composition of matter and associated polymorph patents. The drug is by far the largest product in the Celgene (CELG) stable. Revlimid sales make up two-thirds of Celgene's total revenue.
The drug has multiple patents around it that, among other things, protect composition of matter (the base compound formula) through 2019, and the polymorphism (various substance forms) through 2027. So it's a big deal.
Natco Pharma, an India-based subsidiary of Actavis PLC (ACT) , wants to manufacture and sell a generic form of Revlimid.
Although Celgene has a strong pipeline of new compounds and products on tap, losing Revlimid exclusivity would hurt the company's growth.
My view is that Revlimid may still represent half Celgene's 2017 sales, and a third of 2019 sales. The drug is a huge contributor to net earnings.

What Happens After the Markman Hearing?
The Markman hearing begins on May 15. Some kind of ruling should be rendered between 60 to 180 days later.
Although the ruling is only preliminary, it will color the narrative. The judge's opinion will very likely determine which party has a better position.
Assuming the hearing ruling doesn't lead to a settlement, legal discovery and related formalities will follow, with a trial date probably set for some time in the first or second quarter 2015.
What Range of Outcomes Are Most Likely?
While anything can happen in court, let's keep it simple. The most probable range of outcomes look like this:
Celgene wins on all counts; its patents are upheld and Revlimid is protected until 2027. Celgene cleans up.
Celgene has the upper hand, but to avoid more litigation risk, time and an overhang on its stock, it decides make the problem go away by forfeiting a couple of years of exclusivity on the product. Solid outcome for Celgene.
Celgene finds itself looking at an uphill battle, seeing a reasonable chance of losing the 2019 polymorph patents, and settles upon several years of exclusivity, thereby affecting the company's growth trajectory. Not-so-good result.
Celgene loses its exclusivity to sell Revlimid in 2019; generic forms are permitted. Bad news for Celgene.
While this writer is no patent specialist, I suggest the likelihood Celgene will lose Revlimid matter composition rights is low.
So....how to handicap this? Well, investing is about probabilities, not certainties. This patent issue has that investment concept written all over it.
What Does It Mean for Celgene Shareholders?
One reason the stock looks cheap now is that traders have baked the patent issue into the price. If the Markman hearing results in a positive ruling for Celgene, or better yet a quick settlement via apparent legal leverage, the overhang is lifted and the stock should get an immediate boost.

Celgene says it has a fortress of patents around its No. 1 selling drug.
Here's a remark by CEO and Chairman Bob Hugin from the Celgene first-quarter earnings conference call:
We have spent a long time building expensive intellectual property estate for REVLIMID. We intend to vigorously defend our rights. And we're confident about the outcome and we don't believe there is anything in the near-term that will be [dis]positive on the case through market hearing.
Importantly, Celgene has also filed an "unclean hands" defense against Natco/Actavis. Celgene has raised questions around how Natco obtained certain information about the product formulation to begin with, involving an ex-employee now working for Natco.
Citigroup has offered some commentary on that facet of the case here. Investors should not underestimate the power of this claim.
Bottom Line
Readers, Celgene management is noted for being smart, arguably among the best in the biotech industry. Revlimid is the company's franchise product.
The Markman hearing is coming up next week, and I encourage Celgene shareholders to watch what comes out of it.
Shares have been beat up on a one-two punch of market disdain for highflyers and this Revlimid issue.
I see asymmetrical risk: moderate downside if everything breaks against Celgene in a crash-and-burn scenario, but significantly greater upside if the issue simply takes a more pedestrian course.
My money is on sharp management and a ring fence of patents around a franchise product. An alleged "unclean hands" defense is an ace in the hole.
I envision Celgene settling for less than three years of exclusivity rights, a positive development.
>>Read More: Aegerion's Rare Disease Drug Launch Stalls
>>Read More: Will Crowdfunding Create the Next Martha Stewart?
At the time of publication, Merola was long Celgene.
Follow @RaymondMerola
This article represents the opinion of a contributor and not necessarily that of TheStreet or its editorial staff.