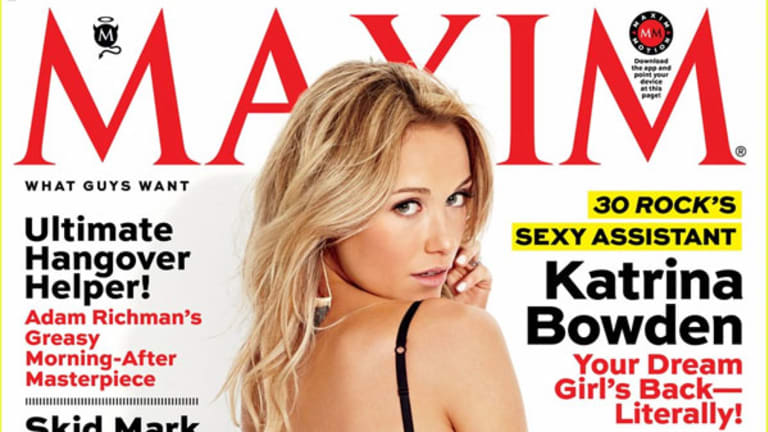 What Do Cracker Barrel and Maxim Have in Common?
Answer: Not much, except for a holding company.
NEW YORK (TheStreet) -- Last month, Yuengling ice cream returned to grocery-store freezers after a 28-year hiatus.
Yuengling -- long synonymous with beer -- went into the ice cream business in 1920 in order to remain solvent during Prohibition. While the businesses are no longer affiliated, the name recognition alone has resulted in strong demand for the ice cream, as well as some confusion. When I jokingly told the pastor of our church last week that I'd given our 15-year-old son some Yuengling, he gave me a strange, confused look. I, of course was referring to ice cream, not beer.
I experienced a similar confusion last week when Biglari Holdings (BH) - Get Report, which owns the Steak n Shake and Western Sizzlin restaurant chains, as well as 20% of Cracker Barrel (CBRL) - Get Report, announced its latest acquisition: Maxim magazine.
That's right, Biglari Holdings -- the capital allocation vehicle operated by CEO Sardar Biglari, and best known for rehabbing restaurants and taking the occasional stab at small insurance companies -- is now in the men's magazine publishing business.
As a long-time shareholder, and also former senior markets editor for a defunct personal-finance magazine who has experienced the challenges and perils of that business, I never saw this coming.
Biglari Holdings has been so embroiled in its shareholder activism efforts with Cracker Barrel -- it has tried three times to gain seats on the board and is now attempting to convince Cracker Barrel shareholders that the company needs to be sold -- that the Maxim purchase seems to be out of left field.
Shareholders, however, have come to expect the unexpected from Sardar Biglari. While the terms of the Maxim deal are not yet public, you can bet that Biglari believes that he got it on the cheap, and also that it will provide sufficient cash flow to fund other company initiatives and justify the purchase price.
Maxim has seen advertising sales plummet and had been for sale for the past year by owner Alpha Media Group. A reported $30 million deal for Maxim with Darden Media fell apart amid scandal in December, and so the sale to Biglari must have been thrown together very quickly.
Having difficulty understanding the logic of the purchase, I turned to Sardar Biglari's latest shareholder letter, dated December 6, 2013 and therein found the answers:
Because we operate differently from most public companies, we require shareholders of a different bent. Those seeking a traditional company, requiring predictability, are going to be disappointed with BH. It is an entrepreneurial enterprise accepting bumpiness in pursuit of higher returns. If you think this system is not in sync with your expectations, it would be best for you to exit now, not after a market shock. Our stock, in effect, rules out bureaucrats, who will not understand our dynamic approach. As 18th century poet and man of letters Samuel Johnson said, "Sir, I have found you an argument; but I am not obliged to find you an understanding."
BH is no stock for dummies.
I guess I may be just a dummy, but one who is not selling his shares just yet. I can't wait for the annual meeting next month in New York; there will be much too discuss, and the open forum of this meeting should make for an interesting day.
data by
At the time of publication, Heller was long Biglari.
This article represents the opinion of a contributor and not necessarily that of TheStreet or its editorial staff.