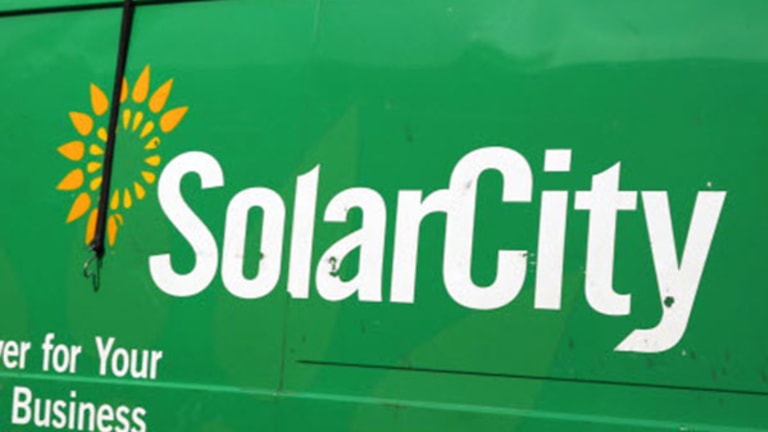 What Could Elon Musk's SolarCity Be Hiding?
Having filed several 'confidential treatment orders' with the SEC, what is SolarCity hiding? It's yet another shadow cast over entrepreneur Elon Musk's empire.
NEW YORK (TheStreet) -- If a company that you invested in had filed several requests with the Securities and Exchange Commission to treat its filings as confidential and not to disclose them to the general public, you'd probably be wondering what was going on at the company and why the management team wasn't sharing the latest developments with shareholders. 
Investors in renewable energy company SolarCity Corp. (SCTY) should be wondering just that given several "confidential treatment orders" filed with the SEC over the last few months. For those not familiar with the term "confidential treatment order" its something that may be granted by the SEC under Rule 24b-2 of the Securities Exchange Act of 1934 that allows a company to request that any filing with the SEC be treated as confidential and not disclosed to the general public. Reasons for the request tend to center around the view the information could cause material or financial harm to the company or a business partner. Given the nature of the request, a company must provide written reasons to support the request when making it. When granted, the information tends to be kept confidential for a certain period of time, which sounds like simply prolonging the inevitable. 
Facebook (FB) - Get Facebook, Inc. Class A Report was granted a "confidential treatment" order by the SEC and withheld potentially relevant investing information in a June 2012 earnings report filed in July of that year. The withheld information pertained to a portion of the earnings report detailing an agreement between Facebook and social game company Zynga (ZNGA) - Get Zynga Inc. Class A Report, maker of then-popular FarmVille series of Facebook games as well as Words With Friends. The confidential treatment order gave Facebook the legal right to withhold the information from the public and investors until at least the end of 2012.
As investors would eventually learn, the nature of the relationship between the two companies was falling apart. In November 2012, Zynga disclosed in a filing it had amended the terms of its relationship with Facebook so it could host its Web games outside of Facebook's platform. The new agreement also paved the way for Facebook to produce its own games and become a direct competitor to Zynga. With that filing, Zynga fell to $2.12, roughly an 85% drop from its post-initial public offering high of $14.69 in March 2012.
Turning back to SolarCity, the company was granted confidential treatment orders on March 18, June 23, July 7 relating to recent 10-Q and its 2014 10-K filings. Even thought it will be some time until we find out the nature of the confidential information and assess the impact on the company's business, we do know analyst expectations for the company's earnings have been falling deeper into the red over the last 90 days for both 2015 and 2016 and, subsequently, SolarCity shares have fallen 18% since mid-March.
There are several possibilities as to what could have led SolarCity to request these treatment orders, including the fallout from FBI and Oregon Department of Justice criminal and civil investigations following reports that projects should not have been eligible for state tax credits. Other possibilities include the findings of Federal investigators after spending nearly a year combing through the books of two solar energy companies tied to billionaire Elon Musk (SolarCity's Chairman) following claims the businesses overvalued sales contracts in order to claim millions in federal assistance. Prior to that, SolarCity was already in the cross-hairs of the U.S. Treasury and IRS, as those two institutions tried to determine if SolarCity deliberately cranked up the cost of products to cash in on the government grant program.
Depending on the period of time granted in conjunction with the confidentiality treatment orders, we'll find out before too long. And, as the saying goes, "where's there's smoke, there's fire" and given the number of confidential treatment orders by SolarCity there is apt to be far worse news ahead for SolarCity shareholders.
Given the growing skepticism over opportunities for Tesla Motors (TSLA) - Get Tesla Inc Report that led to a sharp drop in the company's market cap amid several downgrades, news of government investigations into SpaceX following recent rocket ship explosions and more potential bad news at SolarCity, one has to wonder if we'll someday soon be referring to Musk, who heads all three in one way or another, as a former golden child.
This article is commentary by an independent contributor. At the time of publication, the author held no positions in the stocks mentioned. Versace manages a portfolio that owns shares in FB.
Follow Chris Versace on Twitter and Facebook.