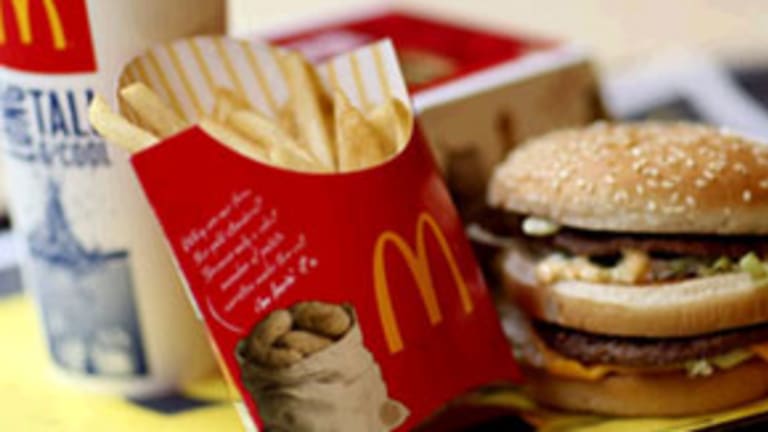 What Can Pandora Do For McDonald's?
Music as a marketing tool. Pandora can take that notion to a whole new level.
NEW YORK (TheStreet) -- Thanks to TheStreet reader David Scalzo who passed on the inspiration for this article in an email with the subject line: Pandora (P) needs to pay attention.
His words, not mine though I do agree with the sentiment.
I've badgered Pandora hard over the past couple weeks. In my view, I have no choice but to put heat on the company. I've been bullish for roughly 375% worth of upside. It would be irresponsible to keep questions regarding the potential of the company's business to myself.
I love the guys over there. And, for the most part, (I think) they still love me.
That said, I have made it clear that, until I have better sight lines on where Pandora expects to head with respect to data and, to a lesser extent, the live concert space, I have no choice but to maintain my critical stance. If I return to bullishness, rest assured I'm doing so on solid information.
If you've read my work on Pandora over the long haul, you might recall a period of criticismvis-a-vis the frequency of advertiser-backed Pandora Presents shows followed by a renewed call for calm.
About five months elapsed between criticism and calm there.
That could very well be the case with my reservations over how Pandora approaches what should be its burgeoning data business. But I just don't feel comfortable going on faith. Until I receive information that prompts me to change my stance, I'll continue working the angle both in articles and behind the scenes.
With that out of the way, the article Scalzo sent me on research being conducted at Northwestern on neuromarketing is absolutely worth your time.
While the piece did mention Twitter (TWTR) - Get Free Report, Facebook (FB) - Get Free Report and Pinterest, I was a bit surprised it didn't bring up Pandora, particularly because the researchers ...
seek to understand how music can be used as a marketing tool.
Music As a Marketing Tool
Too few people understand the power of music as a marketing tool. And those who do have barely begun to unleash that power. Based on what I know, outside of its advertising efforts, Pandora has yet to seriously step to the plate.
The following excerpt from the Northwestern news release resonates and applies to this conversation in a major way:
These psychological models of influence will help them to better understand what brands mean and how humans make choices ...
Musical preference tends to be a learned rather than innate preference and much of it is set by the age of 14, (Professor in the Integrated Marketing Communications Division of the Medill School at Northwestern University Martin) Block explains. Through the algorithms, database research and experiments, the researchers seek to explain why a person prefers one type of music over another. The next step is to predict what type of music a person might like. The music that you like has meaning, but also impacts other preferences, Block said. And the results of these studies will have practical application in the marketing field.
"There is a difference between people who like rap and people who like rock," Block said. People who like rap are much more likely to prefer McDonald's (MCD) - Get Free Report."
What does that revelation mean for McDonald's?
"It depends if [McDonald's] wants to maintain the customers they have or if they want to attract new ones," Block said.
The pieces of the puzzle should be fitting together quite nicely for you. But look at it this way ...
Pandora could put itself in a position where it's not only pitching McDonald's on traditional advertising (directly or, more likely, via an ad agency), but it's offering access to the mounds of data it has collected from listeners. The possibilities of what McDonald's (other brands) can do with data are absolutely endless. The cats at Northwestern scratch the surface along those lines.
Stay tuned. To be continued. Because we'll continue to dig deeper. If you still bookmark things, make it my article history here at TheStreet.
--Written by Rocco Pendola in Santa Monica, Calif.
Disclosure: TheStreet's editorial policy prohibits staff editors, reporters and analysts from holding positions in any individual stocks. Rocco Pendola is a columnist for
TheStreet
. Whenever possible, Pendola uses hockey, Springsteen or Southern California references in his work. He lives in Santa Monica.