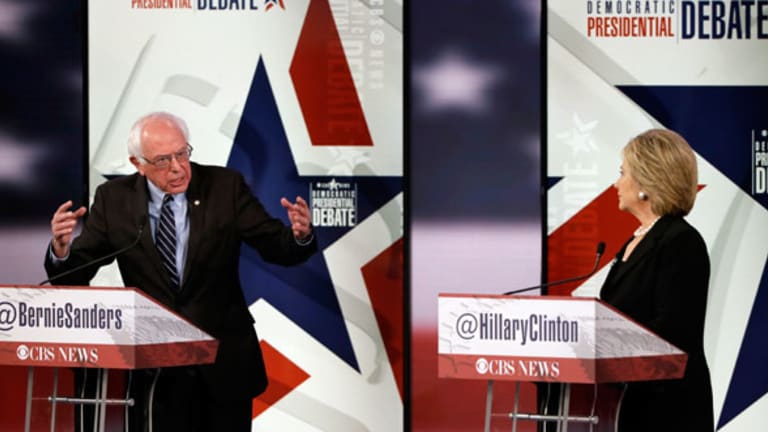 What Bernie Sanders Thinks Wall Street Can Expect If Hillary Clinton Is President
Hillary Clinton: Wall Street friend or foe? The question created some of the most contentious moments Saturday's Democratic presidential debate and highlighted Clinton's plans to take on big banks.
"Not good enough."
That was the pointed response from Vermont Senator Bernie Sanders when asked for his take on Hillary Clinton's defense of her approach to Wall Street. 
Delivered in his practiced, staccato rhythm, the line landed hard at this weekend's Democratic presidential debate, held in Iowa and hosted by CBS. It was one of the most contentious moments during an event that saw Sanders and Clinton clash several times.
He continued, "Here's the story. Let's not be naïve about it. Why over her political career has Wall Street been the major campaign contributor to Hillary Clinton? Maybe they're dumb and they don't know what they're going to get, but I don't think so."
Sanders was of course implying that Clinton is in the pocket of Wall Street interests and that the finance sector comprises savvy investors who know what they're getting for their money when they donate to Clinton's campaigns. Citigroup, Goldman Sachs, JP Morgan Chase and Morgan Stanley are four of the top five corporate donors to Clinton's campaigns over the course of her political career, according to OpenSecrets.org, a research group that tracks money in politics.
Clinton made headlines with her defense of the charge: 
"So, I represented New York, and I represented New York on 9/11, when we were attacked. Where were we attacked? We were attacked in downtown Manhattan, where Wall Street is. I did spend a whole lot of time and effort helping them rebuild. That was good for New York. It was good for the economy, and it was a way to rebuke the terrorists who had attacked our country."
Both Democratic and Republican rivals pounced on the moment, accusing Clinton of exploiting the 9/11 attacks to defend her connections to Wall Street. 
But those on Wall Street should ignore that scuffle for now and pay more attention to the rest of Clinton's tough talk about the finance industry. 
In a passionate response to the concept that bankers will run a Hillary Clinton White House, she laid out her plan to take on Wall Street: "I want to go further than that," she said, "that" being to reinstate the Glass-Steagall act, which separates commercial banking firms from investment banking firms, a favorite policy position of both Sanders and former Maryland Governor Martin O'Malley, the second remaining challenger for the Democratic nomination. She pointed instead to what she called "the shadow banking industry," i.e. hedge funds, a favorite target of both the right and the left in the campaign so far.
Clinton went on to say that "it's pretty clear" Wall Street knows she will up regulations. She pointed to billionaire hedge fund managers running ad campaigns against her through a super PAC.
In a proposal on banking reform laid out in October, she pledged to impose a risk fee on large financial institutions, close the Volcker Rule's hedge fund loophole (which allows banks to make risky trading bets through hedge funds), make financial executives accountable and impose a tax on high-frequency trading, among other things. She has also said that she will "implement fully and effectively Dodd-Frank," the banking regulation law passed in response to the 2008 financial crisis.
"I have a plan to build out the progress we've made under President Obama and do just that," she said in a statement at the time. "We can't go back to the days when Wall Street could write its own rules."
Sanders wasn't alone in criticizing this explanation. O'Malley called her approach to the banking industry "weak tea" and said, "We need to stop taking our advice from economists on Wall Street."
The Daily Beast and ProPublica pointed out recently that Clinton's record with Wall Street is mixed. Throughout her time in the senate, she did try to push reform. Before the financial crisis, she asked bankers to suspend foreclosures and freeze interest rates on adjustable subprime mortgages in 2007. She also introduced legislation to curb executive compensation and denounced a tax break for hedge fund and private equity executives.
But, in 2008, she voted in favor of the Troubled Asset Relief Program (TARP), a $700 billion bank stabilization plan and essentially a Wall Street bailout (Sanders voted no). Of course, many would argue that TARP helped save the U.S. from a complete financial collapse and a second Great Depression.
Regardless of record, rhetoric, and attack ads by hedge funders, big banks are still coming out to support Clinton. In the third quarter of 2015, Federal Election Commission data compiled by the Center for Responsive Politics shows her campaign received about $5.9 million from Wall Street.
Clinton defended the donations, saying it was simply a message from donors saying, "I like you. I want to support you."
Sanders, on the other hand, pointed out at the debate that he doesn't have a super PAC and doesn't generally get big donations, keeping him out of the influence of a sector of the economy that he doesn't seem to particularly respect.
"The business model of Wall Street is fraud," he said.
This article is commentary by an independent contributor. At the time of publication, the author held no positions in the stocks mentioned.