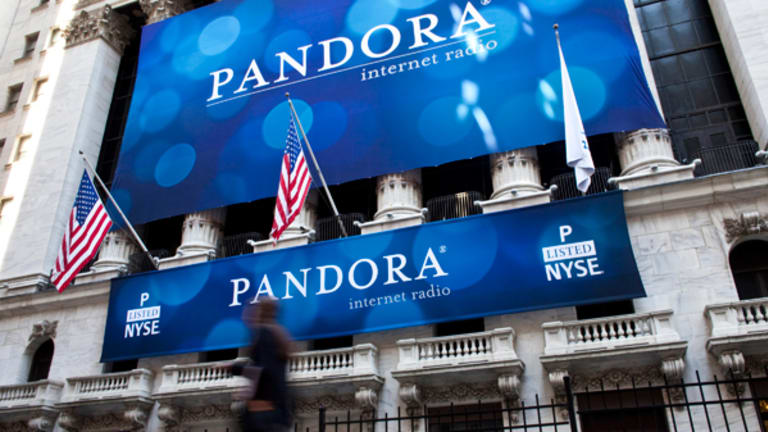 What Becomes of Pandora If It Doesn't Get Bought Out?
If Pandora doesn't sell out, it gets boxed out. It's tough to win with a static strategy against the big boys in technology and media.
NEW YORK (TheStreet) -- Or, I should say, what becomes of Pandora (P) if it refuses to sell? Because that's the situation the company finds itself in.
It's obvious any number of large tech and/or media companies would love to make Pandora part of their stable. For example, Google (GOOG) - Get Alphabet Inc. Class C Report, rumored to be looking at an acquisition of Songza, could do the best job of taking Pandora under its wing and helping it reach maximum potential. But is Pandora willing to succumb to a buyout?
From what I can ascertain, that question is the subject of intense debate within the company. People are taking sides. And, sooner or later, something's got to give. I have to think Pandora co-founder and former Chief Strategy Officer Tim Westergren holds considerable sway with respect to shaping sentiment. Based on nothing other than the sense I get from the formal and personal interactions we have had in the past, Westergren would be initially hostile to the notion of a buyout, however, he loves Pandora so much he would not let it go up in flames. So he's likely managing his emotional urge to remain independent and stay the present and relatively stale course against the rational choice to knock on Google's or somebody else's door.
Because, as I explained previously on TheStreet, Pandora absolutely needs somebody to buy it.
If Pandora calls, Google will listen. In fact, it would probably drop its reported pursuit of Songza in favor of M&A with Pandora. Though there's no reason why Google couldn't or shouldn't buy both. (For the record, I hit up Songza co-founder Elias Roman on Monday. He told me "Can't comment on any rumors, but always happy to catch up generally").
But, suffice to say, for as great as Songza is, Pandora would be more attractive to most tech/media companies. As I speculated in March, Songza belongs in Amazon's barn anyway. All that aside, there's an endgame taking shape here.
It's funny to read reporters and columnists speak of the need for and inevitability of consolidation in the streaming radio space ever since Apple (AAPL) - Get Apple Inc. (AAPL) Report bought Beats. I was tunneling that trajectory of thought more than a year ago. In fact, in March 2013, within the context of conjecture over a Pandora/Spotify merger, I wrote:
A united Pandora and Spotify . . . a unified front of Internet radio companies -- setting aside whatever meaningless differences they have -- is the way to go to win both the battles in Congress and against the labels. That's how they need to view this thing ...
... it would be pretty freaking powerful for the massive local sales force Pandora is building out to be able to sell complementary services like Pandora and Spotify side-by-side. The national ad agencies would love it as well.
Which circles us back (I want to poke my eye out when I hear that buzz phrase) to what becomes of Pandora without a buyout ...
A unified front with respect to royalties and sales. That's just the beginning, but it begins to answer the question of what Pandora looks like if it remains an independent company.
When you think about what Pandora looks like independent, it only lends support to what I bet happens. A buyout. Things have been oddly quiet at Pandora lately. For as bearish as I have been on the stock, this might the time to buy because, who knows (?), somebody could be preparing to spend a lot of money to take Pandora out.
If you buy Pandora, you can participate in the relatively small potatoes of the business it has built over the last several years and remains hyper focused on going forward -- the business of poaching dollars from traditional radio's $14 billion advertising market. Pandora has done a fantastic job generating what is approaching $1 billion in annual sales from that pie. But it's unrealistic to think Pandora can replicate previous growth rates, particularly as broadcast radio continues to do a better job chasing existing and creating its own digital dollars. So, as anybody with an ounce of vision can see, you have to diversify and extend your business.
That's something Pandora doesn't seem to want to do and might have a hard time doing even if the will existed. The will to build a lucrative data business the way Twitter (TWTR) - Get Twitter, Inc. Report is. The will to create and aggressively disseminate platforms to connect artists with their fans the way Apple and Beats will.
If Pandora really wanted to do these things -- and, via ultimately hollow words, it says it does -- it would realize that it's better off being part of a larger company. Just like the people at Beats Music realize they're better off being part of Apple. Just like the people at Twitter should realize they would be better off as part of Facebook (FB) - Get Facebook, Inc. Class A Report. It's much easier to execute righteous, not very profitable, but cash-intensive missions when you're subsidized by bigger, more financially sound companies.
Pandora's left unable to seriously execute initiatives that lie outside of its core. That's pretty much what it says (the official term Pandora trots is that they're "resource constrained" because of royalty payments), assuming it wants to do anything other than sell advertising in the first place. As an independent company -- based on the way things look now as per Pandora's public statements and actions -- Pandora will spend the next several years squeezing water out of what will look more and more like a rock. The $14 billion radio captures each year will not simply sit static because Pandora wants to keep poaching it.
The dynamics of that market will change considerably. They have already changed. And will continue to evolve. Not only has/will traditional radio worked/work harder and smarter to hang onto the sales revenue it considers its own, but other players will go after it as part of larger, more exciting strategies than the one Pandora remains married to. That makes Pandora -- simply put -- not very sexy anymore. On its own, Pandora's simply no longer a very sexy company. And, in tech, as the slump prior to AAPL's recent resurgence proves, you have got to have sex appeal to win with investors. 
That's one reason why investors have sold the stock off. They have come to understand what brought Pandora to the dance. But they also realize that narrative has become stale. They either want Pandora to explain to them why that narrative remains fresh and intact and/or start telling other stories that legitimately portend the type of growth and attendant stock price appreciation they have become accustomed to over the last 18 months (recent nosedive notwithstanding).
--Written by Rocco Pendola in Santa Monica, Calif.
>>Read More:
Pandora Trash Talks Apple, Is Google Ready to Back It Up?
Zynga Is Still a Buy No Matter What Other Investors Think
As Apple Stock Gets Sliced, It's Not Time for Investors to Split
Rocco Pendola is a full-time columnist for
TheStreet
. He lives in Santa Monica. Disclosure: TheStreet's editorial policy prohibits staff editors, reporters and analysts from holding positions in any individual stocks.