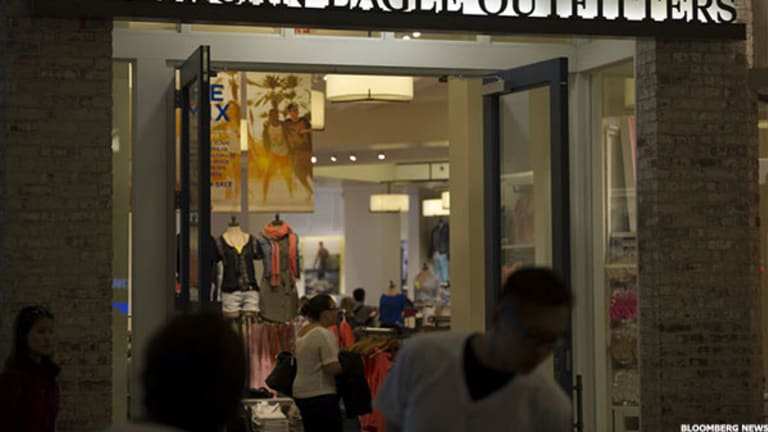 Publish date:
Wet Seal Bankruptcy Filing Leaves Experts Wondering Who's Next
News that Wet Seal filed for Chapter 11 has left market experts nervously wondering who might be next to fall in the teen retail sector.
News that Wet Seal filed for Chapter 11 has left market experts nervously wondering who might be next to fall in the teen retail sector.
NEW YORK (TheStreet) -- News that Wet Seal (WTSL) filed for Chapter 11 bankruptcy protection has left analysts and investors casting a nervous eye on the teen retail sector to see who might be next. They're particularly jittery about retailers with weak balance sheets who waited too long to start shuttering stores in the overcrowded niche.
Wet Seal isn't the first and won't be the last to enter the bankruptcy dungeon. In December, both Delia's and Deb Shops filed for bankruptcy protection.
A host of other retailers, ranging from Aeropostale (ARO) to Body Central  (BODY) - Get Report , have been frantically hunting for ways to deal with falling sales and rising store closures. Even companies with good balance sheets, such as Abercrombie & Fitch (ANF) - Get Report , have been closing poorly performing stores. It all comes down to how quickly they can shut stores and how much cash they have to weather through the retail storm.
Teen apparel retailers have been struggling with a seismic shift in the taste, lifestyles and "pocketbooks" of young customers, for several years.
During the go-go years leading up to the 2008 financial crisis, retailers were on a tear, opening stores in popular malls -- and not-so-popular malls -- across the country. Back then, retail chain CEOs puffed out their chests at retail conferences, boasting of 1,000-plus stores in their companies.
"In their minds, they had to keep expanding," even if the new stores were in weak locations, recalled Howard Davidowitz, chairman of Davidowitz & Associates, a retail consulting and investment banking services firm. "They expanded where they shouldn't have expanded."
All of this was fine when the economy was soaring. Sure, sales were slower in the weaker malls, but hey, they were still profitable, CEOs would argue. But once the music stopped in the financial meltdown of 2008, shoppers disappeared, and those sluggish sales turned into big declines that put the companies' financial health in jeopardy.
"Expanding into bad real estate pulled them downward," said Davidowitz.
Also, the surge in e-commerce took a toll on sales at bricks-and-mortar retail sites.
"U.S. retailing was over-stored and over-malled, and in the teen space, there was a lot of excess supply," said Adrienne Tennant, managing director and senior analyst at Janney Montgomery Scott LLC. 
Around the same time, a host of other problems were also dragging down sales. First, teens' tastes had changed. Suddenly, teens who used to loyally shop for the latest sweater or dress to wear on that big date, were now saving their money for iPads and sneakers. "Every teen is into gadgets -- iPads, iPhones -- they love gadgets," while clothing, aside from sneakers, has been put on the backburner, said Davidowitz.
Second, teens have less money these days. Many of the part-time jobs they used to get at McDonald's or small retail stores aren't there. "The person in their old part-time job is 44 years old and supporting a family," said Davidowitz. "Teen unemployment is close to 30%."
Third, retailers are facing stiff competition from a surge in so-called fast-fashion retailers, such as H&M Stores, Forever 21, Uniqlo and Zara. These international retailers have developed a way to change and deliver new and different fashion at lightning fast speeds compared with traditional U.S. retailers.
All of this knocked the financial wind out of U.S retail chains.
"The teen apparel sector has been very challenging for many of its participants and we're seeing evidence of it in the illiquidity of a number of retailers in this space," said Richard Jaffe, an analyst at Stifel Nicolaus.
Experts say retail chains that acted earliest and quickest to close unprofitable stores and revamp their mix of merchandise have the best chance of surviving and possibly even benefiting from the bankrupt companies.
Dorothy Lakner, managing director at Topeka Capital Markets, recalls Zumiez (ZUMZ) - Get Report telling investors back in 2007 that it was never going to open 800 or 1,000 stores as other retailers had done. It was a bold stand back then, but the retailer was already sensing the rise of internet sales and believed it would be a major force that would lessen the need for physical stores in the future. "Zumiez has done particularly well" since then, said Lakner.
Nevertheless, a flurry of companies have been slashing spending, shutting down stores and shaking up their merchandise mix in an effort to get back on track.
Companies with strong balance sheets, such as Abercrombie & Fitch and American Eagle Outfitters  (AEO) - Get Report , have the time and cash needed to pare back stores and change merchandise in a thoughtful way. The new "ideal" store count for a U.S. national chain is now between 600 and 700 stores, said Lakner.
However, companies with weaker balance sheets don't have the time and money to shift gears slowly - and those are the companies investors need to watch closely. Although Aeropostale, for example, got a cash infusion from Sycamore Partners to buy itself more time to close stores and reverse its hefty losses, the retailer isn't out of the woods yet, said Davidowitz. "They have giant losses and don't look too financially stable to me," he said. In the quarter that ended on Nov. 2, 2014, Aeropostale reported a loss of $52.3 million, which was significantly wider than the $25.6 million loss posted a year earlier.
Other companies that face significant headwinds include American Apparel (APP) - Get Report , Cache  (CACH) (which is currently exploring strategic alternatives), and Joe's Jeans (JOEZ) (which defaulted on about $94 million in debt last month).
On the flip side, those who do survive could benefit from the bankruptcies. Fewer stores and fewer retailers will mean less competition.
Bankruptcies can "take a competitor -- a significant one -- out of the equation, which makes room for higher quality companies to continue to do business," said Lakner. 'This, in effect, is a positive for the rest of the sector."
This article is commentary by an independent contributor. At the time of publication, the author held no position in the stocks mentioned.