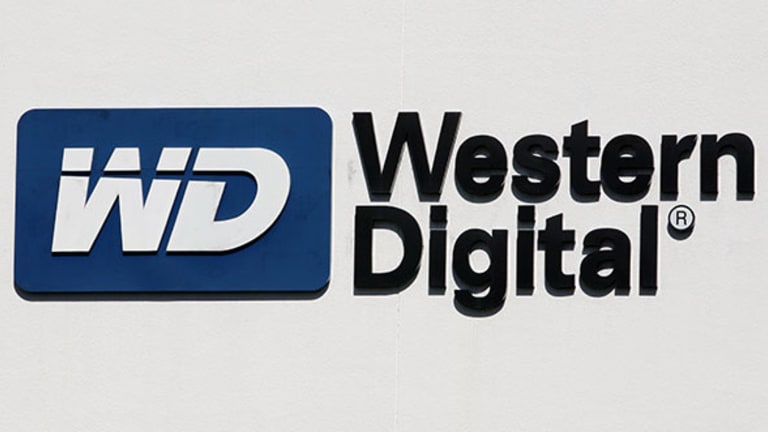 Western Digital Has Nifty Dividend, Rebound Potential
A cheap stock that pays a healthy dividend and is projected to climb some 40% in the next 12 months. Is it for you?
NEW YORK (TheStreet) -- Slumping sales of personal computers have put a whammy on shares of electronics hard drive manufacturer Western Digital (WDC) - Get Report. Its stock, which closed at $68.25 Monday, has plummeted over 38% this year and almost 30% over the past 52 weeks. Western Digital's disappointing performance mirrors rival Seagate Technologies (STX) - Get Report, which has lost nearly 37% of its value so far in 2015.
Western Digital, however, has some appealing qualities.
The Irvine, Calif.-based company, which makes computer hard drives and provides data storage services, pays a 50-cent quarterly dividend that yields 2.64% annually. That yield is 64 basis points higher than the average yield paid out by stocks in the S&P 500 (SPX) index. You should consider buying now because Western Digital shares will trade ex-dividend Wednesday.
That means to qualify for a dividend check, investors must own shares of the hard drive maker on or before Wednesday when Western Digital will finalize its roster of shareholders for getting those dividend checks. Investors of record as of Oct. 2 will receive their dividend payments on Oct. 15.
Many companies going ex-dividend can be bought and then sold once you get that dividend payment, about two weeks later, a strategy known as "buying dividends." It requires pinpoint timing.
Given Western Digital's quick payment date, investors who buy just for the dividend won't have to risk holding WDC stock longer than necessary. However considering where the stock is trading today, there's an implied 45% gain on the table based on the stock's average analyst 12-month price target of $100 and price to earnings ratio of 11, which makes the stock cheap compared to a P/E of 21 for the S&P 500 index as a whole.
In short, you have a cheap stock that pays a healthy dividend and is projected to climb some 40% in the next 12 months. What's not to like?
This article is commentary by an independent contributor. At the time of publication, the author held no positions in the stocks mentioned.