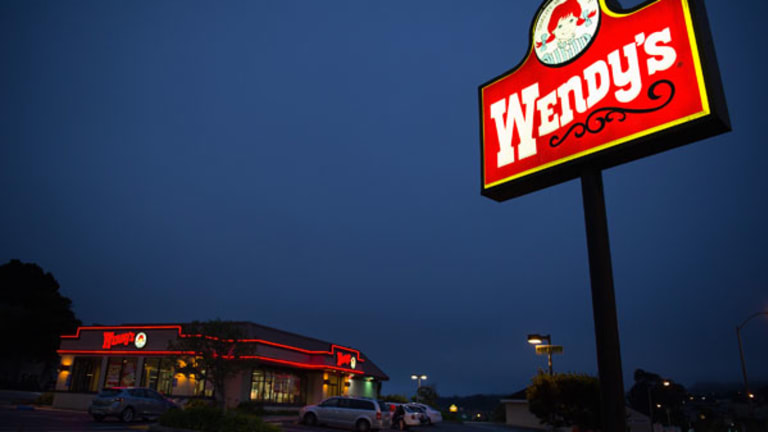 Wendy's, McDonald's, Denny's in Worker's Wages Dispute Spotlight
'Restaurant: Impossible' is an accurate description of what's one of the more competitive and tougher businesses to operate successfully.
NEW YORK (TheStreet) -- The big news this week on Long Beach Island, N.J., is the fact that Food Network show "Restaurant: Impossible" has been busily transforming the LBI Pancake House, one of the many businesses that was severely affected by Hurricane Sandy.
Host Robert Irvine has been working his magic not only on this LBI dining fixture, but also on the kitchen at the nearby Ship Bottom Volunteer firehouse; also destroyed by Sandy. The restaurant is scheduled to reopen tomorrow morning, and I hope to be there when it does.
Indeed the terms "Restaurant: Impossible" are an accurate description of what is one of the more competitive, and tougher businesses to operate successfully. Just take a look at what
Denny's
(DENN) - Get Denny's Corporation Report
went through several years ago, a bankruptcy, then a very long, difficult climb to its recent successes. It's easy to lose focus, as customers tastes change, and recipes become stale.
Domino's
(DPZ) - Get Domino's Pizza Inc Report
found that out a few years ago, but hit it head on with an imaginative advertising campaign admitting that its pizza needed much improvement. Since the recipe change, shares have prospered, having nearly quadrupled since 2011. Some chains are not so fortunate; and the road has been littered with failed restaurant ventures.
Read: Confronting Compulsive Spending: Ask Noah
The costs of running restaurants are high, with labor costs and food costs ranking either first or second, depending on the particular chain. Food costs are prone to inflation, and when combined with labor costs you have the makings of some potentially thin margins. That does not mean that's there's no money to be made; some chains are very profitable, but that can turn on a dime.
Read: This is Why Facebook is Soaring
All of which makes this week's employee strikes at fast food restaurants around the country all the more concerning. Striking workers, who are seeking $15 an hour, more than twice the current minimum wage, have forced some restaurants to shut down. It is doubtful, in my view, that they will be successful in obtaining the wage increase, and even if they did, customers would likely not pay the price increases that would come as a result.
Last quarter, for instance,
McDonald's
(MCD) - Get McDonald's Corporation Report
labor costs for company owned restaurants were 25.7%% of sales. For
Wendy's
(WEN) - Get Wendy's Company (The) Report
, labor costs were 29.1% of sales last quarter; for Denny's 40.1%. While it's not clear what the exact impact of $15 per hour wages would be, suffice it to say that it would be significant, and any resulting cost increases would be passed on to customers who hold the keys here. Either they will pay more for a burger and fries, or they won't.
Read: Will It Be a September to Remember?
The unfortunate thing is that many fast food employees have few other choices these days with the job market still in a terrible state. The organizations pushing for the $15 per hour wage are doing these workers a disservice because they ignore how free-markets work. While some fast food workers may be worth $15 an hour, those that can't produce at that level might find themselves unemployed if the demands are met. Setting an arbitrary price for hourly wages without regard to the level of skill each worker brings to the table would have unintended consequences, namely higher unemployment. The increased menu prices that would result would keep more customers at home, lowering the need for labor. You can't force consumers to patronize restaurants.
It is certainly the fast food workers' prerogative to go on strike in order to better their circumstances. But this is not the time to be demanding double wages. If the economy was booming, and labor markets were tighter, wages would rise naturally as there would be greater competition for labor. But not in this tepid economy.
Read: Confronting Compulsive Spending: Ask Noah
If you've been to Wendy's lately, you can easily drop $8 for a combo meal that includes my current favorite fast food burger, the pretzel bacon cheeseburger. That's expensive enough and I'm not sure how many consumers would be willing to pay $10 for the same meal.
Restaurant: Impossible!
At the time of publication the author held no positions in any of the stocks mentioned.
This article is commentary by an independent contributor, separate from TheStreet's regular news coverage.
Jonathan Heller, CFA, is president of KEJ Financial Advisors, his fee-only financial planning company. Jon spent 17 years at Bloomberg Financial Markets in various roles, from 1989 until 2005. He ran Bloomberg's Equity Fundamental Research Department from 1994 until 1998, when he assumed responsibility for Bloomberg's Equity Data Research Department. In 2001, he joined Bloomberg's Publishing group as senior markets editor and writer for Bloomberg Personal Finance Magazine, and an associate editor and contributor for Bloomberg Markets Magazine. In 2005, he joined SEI Investments as director of investment communications within SEI's Investment Management Unit.
Jon is also the founder of the
, a site dedicated to deep-value investing. He has an undergraduate degree from Grove City College and an MBA from Rider University, where he has also served on the adjunct faculty; he is also a CFA charter holder.