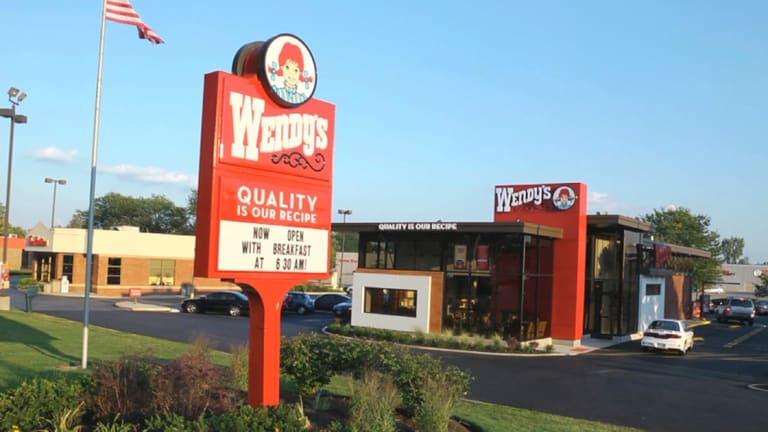 Wendy's Investors Should Eat and Run Ahead of Earnings Report
The fast-food chain has served up share price gains of 32% over the past quarter, but Wendy's likely can't maintain that pace. It's time to take your profits to go.
NEW YORK (TheStreet) -- Comparable-store or same-store sales growth has been hard to come by lately in the restaurant sector, a trend that doesn't bode well for fast-food giant Wendy's (WEN) , which reports fourth-quarter and full-year earnings before Thursday's opening bell.
While the Dublin, Ohio-based company announced preliminary results on Feb. 3, there is still too much implied risk in the stock, which has soared by 32% in just three months. Take a look at the chart.
WEN 3 Month Total Returns (Daily)
data by
Wendy's stock closed Friday at $11.26, just shy of its 52-week high of $11.50. The shares are up almost 25% year to date, dominating the 1.78% and 2.5% respective gains in the Dow Jones Industrial Average (DJI) and the S&P 500undefined . But whether these gains can continue -- or even be sustained -- is the more important question for investors.
For starters, at a trailing price-to-earnings ratio of 35, Wendy's is trading 14 points higher than the average price-to-earnings ratio of companies in the S&P 500. The market is rewarding Wendy's for what it did over the past 12 months, including posting 191% earnings growth last year.
To its credit, by achieving same-restaurant sales growth of 2.3% in 2014, Wendy's has done what rivals likeMcDonald's (MCD) and Yum! Brands (YUM) have been unable to accomplish lately.
But the past is already baked into the stock price: Investors now need to focus on the future -- particularly how Wendy's says it plans to outperform the competition over the next 12 to 18 months. It will need to take on the likes of Chipotle Mexican Grill (CMG) and Panera Bread (PNRA) -- two younger market darlings that are growing both customer traffic and average ticket per customer. Wendy's understands this. 
The company has begun to focus on lowering its costs, and has announced plans to sell an additional 500 company-owned restaurants to franchise operators. By the middle of next year, the company intends to own only 5% of its restaurants, with the rest being franchise-owned.
The sale, which the company expects will yield between $400 million and $475 million in pretax proceeds, is an aggressive move. But while this suggests improved long-term profitability, it doesn't address how Wendy's expects to get more customers into its restaurants and grow comps. This uncertain path is why investors are risking by not taking profits when they should. 
By comparison, investors should look at a beaten-up stock like McDonald's, which has traded flat thus far in 2015. Stock prices for suffering burger giant are not likely to get worse. While it is projected to grow earnings at 7% annually in the next five years, compared with 10.7% growth for Wendy's, McDonald's stock -- at a P/E of 19 -- is trading on par with the market. Not to mention, McDonald's dividend yield is 3.61% -- about 1.5 percentage points higher than Wendy's, and 1.7 percentage points higher than the average S&P 500 stock.
This article is commentary by an independent contributor. At the time of publication, the author held no positions in the stocks mentioned.