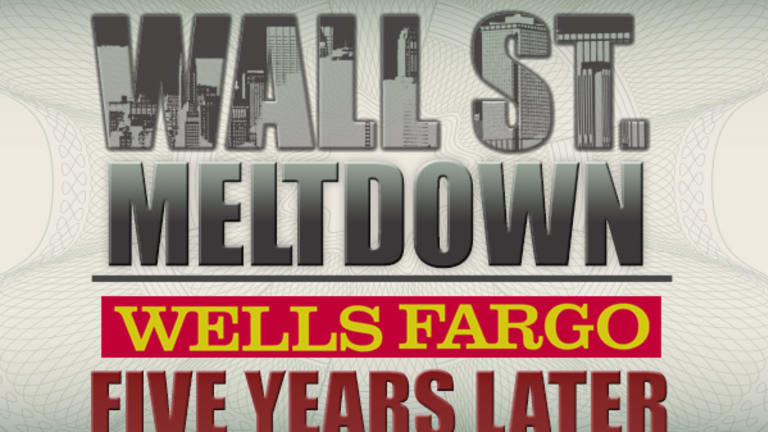 Wells Fargo Sails Through the Storm
It was a wonderful crisis for Wells Fargo, with the company more than doubling in size, followed by record profits.
NEW YORK (
) -- Five years from the peak of the credit crisis, it's clear that
Wells Fargo
(WFC) - Get Wells Fargo & Company Report
has gotten its cake and eaten it too.
The bank was able to double in size from its early 2009 acquisition of
Wachovia
, while avoiding the type of mortgage mess inherited by
Bank of America
(BAC) - Get Bank of America Corp Report
through its purchase of Countrywide in 2008. With a simpler balance sheet, Wells Fargo has also avoided the headline risk and drag on shares being suffered by
JPMorgan Chase
(JPM) - Get JPMorgan Chase & Co. (JPM) Report
from multiple federal investigations.
Wells Fargo on Oct. 3, 2008 announced an agreement to acquire Wachovia in an all-stock deal valued at roughly $15.1 billion at the time of the announcement. Wells Fargo's offer trumped a previous agreement by
Citigroup
(C) - Get Citigroup Inc. Report
in September 2008 to acquire Wachovia for $2.16 billion, in a deal facilitated by the
Federal Deposit Insurance Corp.
Under the Citigroup deal, the FDIC would have provided loss-sharing protection on $312 billion in mortgage-related Wachovia assets.
The Wells Fargo acquisition of Wachovia was naturally favored by the FDIC, which would no longer be on the look for any losses on Wachovia's assets. Citigroup later sued Wells Fargo, which settled by paying Citi $100 million in November 2010.
The acquisition was an amazing success, with Wells Fargo greatly increasing its earnings power, expanding its branch network to a national scope, becoming the nation's leading mortgage loan originator, and also a major competitor in retail brokerage.
When announcing the Wachovia deal, Wells Fargo said it would "record Wachovia's credit-impaired assets at fair value." The deal was completed at the end of 2008, with Wells Fargo recording $37.2 billion in credit write-downs on $93.9 billion in "high risk loans" acquired from Wachovia. Along with the credit write-downs, Wells Fargo wrote-off $1.2 billion in Wachovia's unfortunately named "pick-a-pay" option-payment adjustable-rate mortgage loans, and set aside $4.2 billion in reserves on the remaining Wachovia loans.
Wells Fargo during the fourth quarter of 2008 also took an aggressive approach to reserving for its own loan portfolio, for a total fourth-quarter 2008 provision for credit losses of $8.4 billion.
Wall Street Meltdown: Five Years Later:
Wells Fargo reported a net loss to common shareholders of $2.8 billion for the fourth quarter of 2008. With something of a "clean slate" following the Wachovia acquisition, the company has been profitable ever since.
"Because they had marked the acquired assets through purchase accounting, with a reserve that they thought would cover a worst-case scenario, the merger didn't really affect their earnings stream," says Guggenheim Securities analyst Marty Mosby. "It gave them a lot of flexibility to deal with those issues early on, versus other banks which had to juggle how fast to recognize losses."
While the company has had to address mortgage repurchase demands from investors, losses from putbacks have been nowhere near the scale they were for Bank of America. Both Wells Fargo and Wachovia had much lower volumes of loan securitizations than Countrywide, and neither Wells Fargo nor Wachovia had anywhere near the underwriting problems later uncovered in the securitized Countrywide loans.
"They've been able to kind of 'pay as you go,' versus having big pieces" of the serviced mortgage loan portfolio repurchased through large periodic settlements with investors, according to Mosby.
But the bottom line for investors is overall performance. Wells Fargo's total assets have increased to $1.4 trillion as of June 30, from $575 billion at the end of 2007. The company's annual earnings applicable to common stockholders grew from $8.1 billion, or $2.38 a share, in 2007, to $18.0 billion, or $3.36 a share, in 2012.
"The acquisition more than doubled the size of the company and its geographic reach, but if you look at the number of shares issued since that time, it only went from 3.4 billion to 5.3 billion, so the outstanding shares are up only about 50%," Mosby said. "And that includes the shares they had to issue through the credit cycle."
Wells Fargo received $25 billion in government bailout funds through the Troubled Assets Relief Program, or TARP in October 2008. The company in November 2008 issued 469.5 million common shares to raise $12.6 billion. Then in May 2009 the company raised $8.6 billion through an offering of 341 million common shares. In December 2009 Wells Fargo issued 489.9 million common shares to raise $12.25 billion, followed by the full redemption of government-held TARP preferred shares.
Since Wells Fargo only had to expand its capital base by roughly half the percentage increase in assets, "that is a tremendous amount of EPS being generated as a result of this acquisition," according to Mosby.
The Best Earner Among the Largest Banks
Wells Fargo has had the strongest and steadiest earnings performance among the "big four" U.S. banks in the aftermath of the crisis. From 2008 through 2012, the company's return on average assets (ROA) ranged from 0.44% (during 2008) to 1.41% (during 2012), according to
Thomson Reuters Bank Insight
. Its return on average tangible common equity (ROTCE) over the same period ranged from 7.15% to 16.32%.
Leaving aside the "bad year" of 2008, Wells Fargo's lowest ROA over the period was 0.97% in 2009 and its lowest ROTCE was 14.89% in 2010.
JPMorgan Chase's ROA over the past five full years ranged from 0.31% to 0.94%, while its ROTCE ranged from 6.55% to 14.92%. Leaving out 2008, the company's minimum ROA was 0.58% in 2009 and its minimum ROTCE was 10.66%, also in 2009.
Citigroup's ROA over the past five full years ranged from a negative 1.28% to 0.57%, while its ROTCE ranged from a negative 37.4% to a positive 8.61%. When leaving aside the "worst year" of 2008, the company's lowest ROA was a negative 0.08% in 2009 and its lowest ROTCE was a negative 1.5%, also during 2009.
Bank of America's ROA has ranged from -0.09% to 0.26% over the past five years, while its ROTCE has ranged from -1.62% to 5.59%. The negative figures are both from 2010, when the company booked a $12.4 billion goodwill impairment charge, set aside $6.8 billion to cover mortgage repurchases losses and also recorded $2.6 billion in litigation expenses.
Over the past five quarters, Wells Fargo has continued to be the earnings leader among the big four, with ROA ranging from 1.40% to 1.54%, while its ROTCE has ranged from 16.27% to 16.99%.
JPMorgan Chase runs second, with ROA ranging from 0.88% to 1.12% over the past five quarters, while its ROTCE has ranged from 14.24% to 16.82%.
Citigroup's ROA over the past five quarters has ranged from 0.10% to 0.88% and its ROTCE has ranged from 1.22% to 10.19%.
Bank of America has ranked last among the big four over the past five quarters, with ROA ranging from 0.6% to 0.73%, while its ROTCE has ranged from 0.85% to 10.16%.
"The large-cap banks in general, right now, are at roughly a 75% recapture" of their peak earnings prior to the recession, according to Mosby. "Where Wells Fargo is 50% greater
than its pre-recession peak earnings, the median for large cap banks 25% below their previous peak earnings."
Mosby rates Wells Fargo a "buy," with a $54 price target.
Wells Fargo's shares closed at $41.50 Thursday, returning 24% this year, following a 27% return during 2012. The shares trade for 1.9 times tangible book value, according to
Thomson Reuters Bank Insight
, and for 10.3 times the consensus 2014 earnings estimate of $4.02 a share. The consensus 2015 EPS estimate is $4.19.
data by
Interested in more on Wells Fargo? See TheStreet Ratings' report card for this stock.
-- Written by Philip van Doorn in Jupiter, Fla.
>Contact by
.
Philip W. van Doorn is a member of TheStreet's banking and finance team, commenting on industry and regulatory trends. He previously served as the senior analyst for TheStreet.com Ratings, responsible for assigning financial strength ratings to banks and savings and loan institutions. Mr. van Doorn previously served as a loan operations officer at Riverside National Bank in Fort Pierce, Fla., and as a credit analyst at the Federal Home Loan Bank of New York, where he monitored banks in New York, New Jersey and Puerto Rico. Mr. van Doorn has additional experience in the mutual fund and computer software industries. He holds a bachelor of science in business administration from Long Island University.