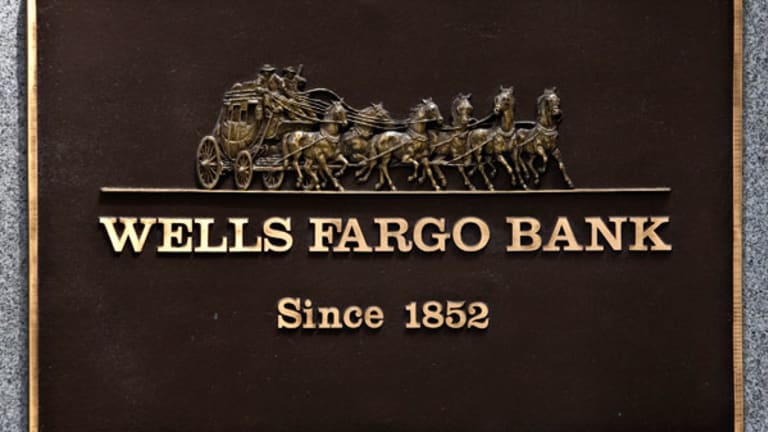 Wells Fargo Playing Hardball With New York This October
Wells Fargo has been the best-run of the big banks since the crash, and is defending its reputation in court.
Wells Fargo has been the best-run of the big banks since the crash, and is defending its reputation in court.
NEW YORK (
) -- Justice delayed sucks, if you think you got away with it.
Wells Fargo
(WFC) - Get Report
, which dominates the mortgage market and has sometimes taken one-third of it, must have figured it was past the market's problems after signing off on the $25 billion national industry settlement in 2011, dealing with charges against mortgage holders during and right after the Great Recession.
But ambitious New York Attorney General Eric Schneiderman wants the bank back in court, claiming it didn't meet obligations
, which included loan modifications, principal reductions and short sales.
Read: Banks Cling to TARP Five Years After the Crisis
To a banker, loan modifications and principal reductions are among the hardest words in the language to read. They seem like a violation, and the bank is always the victim.
This time, Wells Fargo is the only bank before the New York bar. Its co-defendant,
Bank of America
(BAC) - Get Report
, had its New York suit dropped after promising to do better. Wells Fargo disputes the new charges.
While Bank of America came out of the 2008 crash with low-grade assets like Merrill Lynch and Countrywide Financial, Wells Fargo was able to pick off Bank of America's healthier North Carolina rival, Wachovia, for a market price of $14.8 billion. Bank of America had tried to buy Wachovia for $2.1 billion, a good bank to make up for the bad banks it was taking.
History has shown Wells Fargo did some smart business there. Wachovia gave it a nationwide reach and put it into the money center major leagues.
Thus, among all the largest banks, Wells Fargo is the only one that has generally traded at a substantial premium to its book value since the crash. It currently trades at about 1.47 times book, which is more than double the ratio of Bank of America, still struggling to hold .70. (
JPMorgan Chase
(JPM) - Get Report
and
Goldman Sachs
(GS) - Get Report
trade at about their book value;
Citigroup
(C) - Get Report
at .77 times book.)
I like to call book value
, because it's a barely acceptable figure, like the Pirate shortstop Mario Mendoza, who hit .200 yet stayed in the show for a decade. (Go Pirates.)
Read: An Intelligent Investor's Response to Government Gridlock
Wells Fargo's value by this metric is closer to that of
like
Prosperity Bankshares
(PB) - Get Report
,
Athens Bancshares
(AFCB)
and
First Interstate Bank
(FIBK) - Get Report
. It's an indication of the respect investors have for how Wells Fargo does business, something our Jim Cramer has remarked upon repeatedly, even during the darkest days of 2008.
So you can see Schneiderman's suit as an attack on this reputation, or you can see Wells Fargo's vigorous defense of itself as a defense of that reputation, depending on which side of the bank counter you're on.
It's not that Wells Fargo is unwilling to settle. It's giving Freddie Mac $780 million over charges dating back to before 2009. The bank estimated in August its losses on charges against its handling of mortgages could total $2.2 billion. It is due to report earnings again next week.
What investors will be focusing on with earnings are not the charges per se, but the bank's dominance in mortgages, which it says it's trying to reduce as the housing market cools with higher rates. The bank was especially big in refinancings, which have come way down this year.
We reported just this week that Wells Fargo has laid off 4,800 mortgage bankers
during the third quarter
and that its efficiency in this area makes it
Read: Peer-to-Peer Lending as an Investor
Lean's great. Mean can still get you sued, even years afterward. That's the lesson Schneiderman is trying to bring home. The question is just how hard it will hit a stock that's up 20% for the year -- it was down to $40.39 premarket -- and if so, whether it might turn Wells Fargo into a bargain stock again.
At the time of publication, the author owned 200 shares of BAC and 235 shares of PB.
This article is commentary by an independent contributor, separate from TheStreet's regular news coverage.
Dana Blankenhorn has been a business journalist since 1978, and a tech reporter since 1982. His specialty has been getting to the future ahead of the crowd, then leaving before success arrived. That meant covering the Internet in 1985, e-commerce in 1994, the Internet of Things in 2005, open source in 2005 and, since 2010, renewable energy. He has written for every medium from newspapers and magazines to Web sites, from books to blogs. He still seeks tomorrow from his Craftsman home in Atlanta.