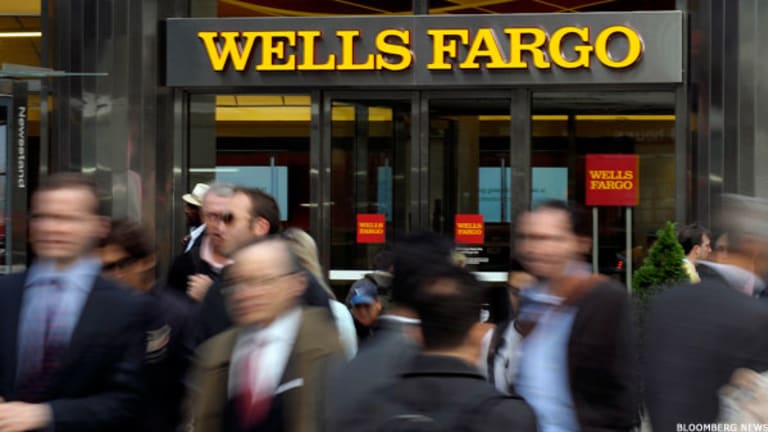 Wells Fargo Is Making Shareholders Rich
Wells Fargo crushed the earnings and is now building a position in London.
NEW YORK (TheStreet) -- The house is rocking and shareholders are busy popping corks almost daily while celebrating new 52-week highs in Wells Fargo (WFC) - Get Wells Fargo & Company Report.
CEO John Stumpf and team have already gone far, and the stagecoach is headed even higher. Wells Fargo is topping $220 billion and is only $1.89 from the all-time high of $44.52.
In my earnings preview article
"Two Banks Are Reporting Earnings and One Is My Top-Five Dividend Pick For 2013,"
I advised readers the analyst target price was too low for
JPMorgan Chase
(JPM) - Get JPMorgan Chase & Co. Report
and Wells Fargo.
I believed Wells Fargo's price target should be higher to reflect the improving economy, sector performance and the bank's own outstanding performance. The average analyst price target was $41.77 while I wrote $48 was more realistic. Now analysts are moving in my direction.
The Street's
Philip van Doorn
analysts raising the price target for both banks as expected. With only two analysts raising their targets so far, the mean target is $42.70 and investors should expect more upgrades to come.
Wells Fargo has the goods, and you're going to be hard pressed to find a better one at its scale. It has the nationwide footprint to absorb regional shocks, and more importantly, it was one of the few that didn't require government capital to keep the house of cards standing as some have.
Wells Fargo's balance sheet is "Kevlar" strength and enabling the bank to acquire
Commerzbank's
Hypothekenbank Frankfurt (formerly Eurohypo) U.K. commercial real estate portfolio, according to a
released today. The deal is worth about $8 billion and includes Wells Fargo financing $1.96 billion to Lone Star Funds for the purchase of Commerzbank's Hypothekenbank Frankfurt non-performing assets.
The purchase places Wells Fargo in the heart of London's commercial real estate space and increases the bank's reach across the pond. It's hard to find fault anywhere in the company, and it's far from too late to get on board the stagecoach.
With a river of dividends paid and a currently highly attractive rate of 2.8%, this could turn into your lowest-risk, best stock in the next 12 to 24 months. Even during the dark depths of the financial crises, after several financial institutions failed and with rumors running wild of which bank casualty would be next, Wells Fargo continued paying a dividend, albeit reduced.
Now the dividend rate is almost at the price 2009 level of 34 cents. At the current increase trajectory, shareholders will receive the highest dividends ever by the bank within two years. Most of the financial institutions don't have the stability yet to follow.
It's rarely correct to chase stocks higher, and Wells Fargo is no exception. If you want exposure or to increase your position, watch for three down days in a row. After a quality stock retreats three days, you improve your odds of success of gaining a opportune entry.
Options also give investors the tools they need to mitigate risk and remove some of the pressure in timing your entry. For example, take a look at the $42 strike price August put options. They're currently trading for about 65 cents. We want to keep the powder dry until we have a dip in price, which puts our entry price near $1 as a good price to sell at.
Remember, selling an option gives the other party buying the put the right but not the obligation to "put" the stock to you at $42. If Wells Fargo is trading below $42 on the option's expiration day, you should anticipate buying the shares at $42. After the option premium received, your cost basis is only $41 though.
If the shares continue strong, you only make $1, and that's the limit of your profit opportunity. But a return of 2.4% isn't bad for 32 days.
At the time of publication the author had no position in any of the stocks mentioned.
This article was written by an independent contributor, separate from TheStreet's regular news coverage.
Robert Weinstein is an active trader focusing on the psychological importance of risk mitigation, emotion and financial behavior of market participants. Robert co-founded the investing blog
, where he writes a journal about his trading activity and experiences.
In addition to
TheStreet
, Robert also contributes to
Real Money Pro
, providing real-time trading ideas for stocks, options and futures.