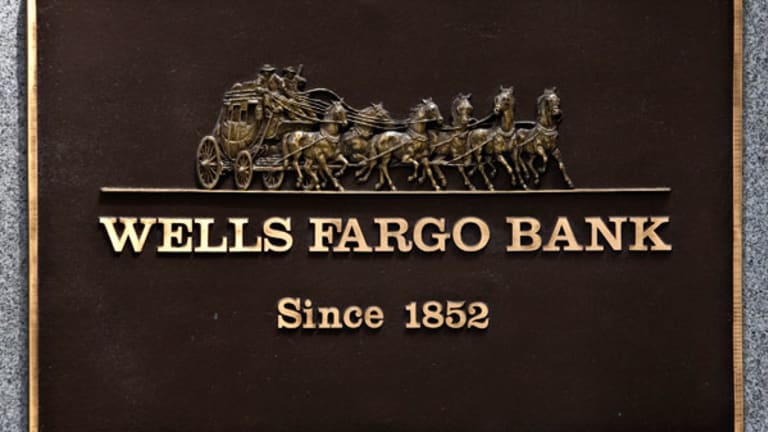 Wells Fargo Is Boring. That's Fantastic
Wells Fargo has become America's best bank by staying out of the headlines.
NEW YORK (TheStreet) -- For bank investors, boring is good. Boring is the new black.
Citigroup (C) - Get Citigroup Inc. Report suffers from its Banamex scandal, Bank of America (BAC) - Get Bank of America Corp Report faces another mortgage lawsuit from the SEC and JPMorgan Chase (JPM) - Get JPMorgan Chase & Co. Report continues to suffer from the London Whale.
Meanwhile, Wells Fargo (WFC) - Get Wells Fargo & Company Report just goes from strength to strength. 
Wells became the country's largest bank by market cap last year, even though, when ranked by assets, it was barely two-thirds the size of JPMorgan Chase at the end of 2012. 
The big news at Wells this week is about as boring as bank news gets. It's shuffling its top executives so there will be a deep bench whenever CEO John Stumpf, 59, decides to retire.
During the current economic recovery, Wells Fargo has become the money-center bank that's traded like a regional bank. Its price-to-book value at the start of the month stood at 1.7, against 1.145 for JPMorgan Chase, 0.83 for Bank of America and 0.74 for Citigroup.
The price to book is better than any of the top regional banks which our Philip van Doorn highlighted last week. 
The ratio is even higher than that of Prosperity Bancshares (PB) - Get Prosperity Bancshares, Inc.(R) Report, which is located in the center of the Eagle Ford shale oil play in Texas. Prosperity trades at a 1.57 price-to-book ratio.
So far this year the price of Wells Fargo stock is up nearly 10%, and it should go higher. The Federal Reserve recently approved its capital plan, under which it will return up to $24 billion to shareholders in the form of higher dividends and stock buybacks. 
What's going on?
Wells Fargo simply avoids stupid. It focuses its energy on making good mortgages, on credit cards, on banking services that people use. It takes lots of deposits and makes loans.
Wells grew its mortgage portfolio rapidly from 2009 to 2012, with its market share topping out at nearly 34% in the middle of 2012. But as the housing market has heated up Wells has retreated, laying-off mortgage bankers and selling off some servicing rights. 
Right now the bank sees better prospects in credit cards. It recently signed a deal to fund, issue and service Dillards' (DDS) - Get Dillard's, Inc. Class A Reportprivate label credit cards and has quietly become the nation's eighth-leading issuer.
Part of the reason for Wells' prosperity is that while its bigger brethren were struggling during the 2008 crisis with acquisitions like Countrywide Finance, Merrill Lynch, Washington Mutual and Bear Stearns, Wells Fargo's only big acquisition that year was Wachovia, which it bought without government help.
The price of Wells' shares plunged to a low near $12 at the start of 2009, and the dividend was cut to 5 cents per share. Still, the dividend remained intact, and within a few months of the low the price of shares was back above $28.
Since then, the shares' rise has been relatively steady, to their present level of almost $50. The dividend has risen 600% to its present level of 30 cents per share.
It's pretty boring. Most investors couldn't pick CEO Stumpf out of a lineup.
But who wants their banker to be a rock star? Wouldn't you prefer they just make you money? I would.
At the time of publication the author owned shares of WFC, BAC and PB but held no position in any of the other stocks mentioned.
This article represents the opinion of a contributor and not necessarily that of TheStreet or its editorial staff.