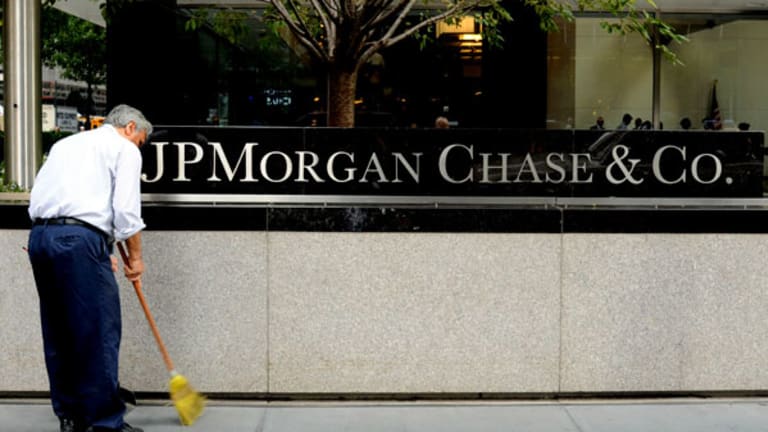 Wells Fargo Could Triumph From JPMorgan Chase Troubles
With JPMorgan Chase under continuing fire from the Justice Department, Wells Fargo could benefit.
NEW YORK (
) -- Our fearless leader, Jim Cramer, was on the TV last week bemoaning the huge settlements
JPMorgan Chase
(JPM)
is now facing over the scandals preceding the 2008 economic collapse.
He was particularly upset that
Bank of America
(BAC)
, which bought just as many bad assets as Morgan during the crunch, seemed to come out better.
It's true that we've reached the stage of finance where $8.5 billion starts to look cheap. That was the size of the settlement Bank of America signed with institutional investors in 2011, covering the bad bonds issued by
Countrywide Financial
, which Bank of America bought in 2008.
(In 2011, Bank of America also reached a much smaller settlement -- $335 million -- with the Justice Department over allegations of discriminatory lending practices at Countrywide.)
The $8.5 billion settlement's exact size is
, and it could still cost another $16 billion to $22 billion,
according to one analyst we interviewed last month.
Read: How Deutsche Bank Trust Investors Could Profit From JPMorgan's Legal Woes
That would hurt. Bank of America earned $2.5 billion in the third quarter, and has earned $8.6 billion for the year so far. The proposed settlement would wipe out 2013, and the risk remaining is substantial.
But it wouldn't destroy the bank. Bank of America has more than $2.1 trillion in assets. JPMorgan Chase, the largest U.S. bank, has more than
What's most upsetting about the proposed Morgan hit isn't so much the number, although $13 billion is more than half a quarter's worth of revenue. It's that it doesn't lift the threat of criminal litigation down the road.
The Obama administration has, since it took office in 2009, faced huge criticism from voters over its failure to prosecute any of the people who caused the 2008 meltdown. The excuse given by administration supporters was triage. Getting the system operating had to come first, investigations would follow.
Read: JPMorgan Agrees to Tentative Deal
Such investigations take time. The cases are complicated. All those involved have excellent lawyers. Now, with banking profits at record highs across the board, is a great time for the legal system to do its thing.
There still may be more pain ahead for Bank of America, too. The Federal Housing Finance Administration, one of several agencies involved in the latest talks, wants to use the $4 billion it's getting from Morgan to extract another $6 billion from Bank of America.
The crimes of the last decade were truly massive, and although we might want to send them down the memory hole, they don't wash off that easily. In addition to the mortgage and trading scandals, the LIBOR scandal has barely been approached.
Last month, after Morgan offered $3 billion on the mortgage issue, analyst Dick Bove said the government is involved in
"extortion"
. I think that's a common view among stockholders.
Read: Cramer Learns Digital Detox
Another view is that the government, by hammering the largest banks for past crimes of subsidiaries, many acquired under duress, is making our banks less competitive against overseas rivals.
Morgan and Bank of America are now barely in the global top 10, which is headed by Germany's
Deutsche Bank
(DB)
. The question to these critics isn't whether our banks are too big to fail, but whether our largest banks are too small to succeed.
What we may be seeing, instead, is a changing of the guard at the top of U.S. banking, engineered by law enforcement. My favorite banking ratio, the price-to-book ratio, holds the key here.
, most of the biggest banks are selling for less than their book value.
Wells Fargo
(WFC)
is an exception.
Wells Fargo settled its mortgage discrimination charges more than a year ago
It's selling at almost 1.5 times its book value, and it may be a bargain at that price. Wells Fargo has bought a host of brokerage companies over the years, with the ambition of making
Wells Fargo Securities
a top-five investment bank.
Wells Fargo is now the fourth-largest bank in the U.S., by assets, and is just two-thirds the size of its New York rivals with $1.44 billion in assets, but it could be moving up the standings.
At the time of publication, Blankenhorn held shares of BAC.
This article is commentary by an independent contributor, separate from TheStreet's regular news coverage.
Dana Blankenhorn has been a business journalist since 1978, and a tech reporter since 1982. His specialty has been getting to the future ahead of the crowd, then leaving before success arrived. That meant covering the Internet in 1985, e-commerce in 1994, the Internet of Things in 2005, open source in 2005 and, since 2010, renewable energy. He has written for every medium from newspapers and magazines to Web sites, from books to blogs. He still seeks tomorrow from his Craftsman home in Atlanta.