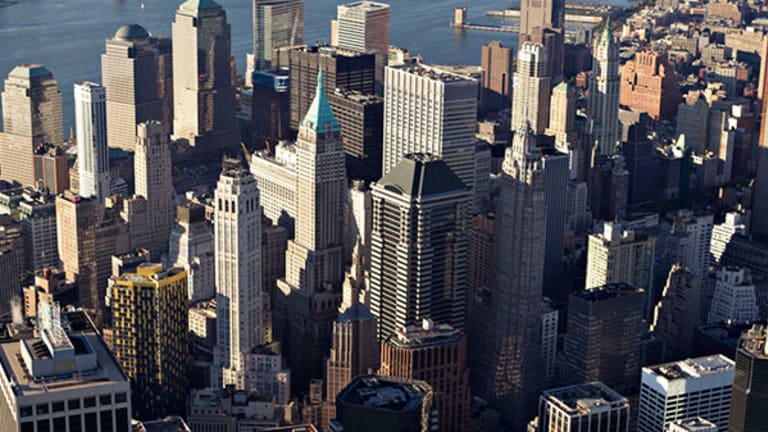 Wells Fargo, Bank of America Shut out of New York Luxury Real Estate Boom by Foreign Investors
Foreign lenders are bankrolling New York's lucrative luxury real estate bonanza as U.S. banks are left outside looking in.
NEW YORK (TheStreet) -- Global lenders are quietly bankrolling the New York City luxury real estate bonanza, keeping domestic banks out of the New York out of the action, real estate publication The Real Deal revealed in an investigative report. 
According to the report, not a single one of Manhattan's seven largest luxury condo towers under construction or pre-development is being bankrolled by domestic banks. Firms like Wells Fargo (WFC) - Get Report and Bank of America (BAC) - Get Report are being shut out in this latest New York real estate boom, the report said.
"What's happening is that they [domestic banks] have become a little more restrictive, they don't really compete with overseas banks," Kevin Swill, COO of the Carlton Group, a real estate investment banking firm, said in the report.
The Carlton Group has arranged the financing of some major luxury projects, including 432 Park and 125 Greenwich Street, two New York cornerstones of ostentatious wealth. The crown jewel of the uber-rich "Billlionaire's Row" on Manhattan's 57th Street, 432 Park is currently the tallest building in the Western Hemisphere, boasting 400,000 square feet of space spread across just 104 units with asking prices as high as $95 million. Meanwhile, 125 Greenwich Street, a $240 million property, stands to be the tallest residential tower Downtown.
In the past, Manhattan residential construction projects have been financed by groups led by large domestic players like those mentioned above, typically with interest rates in the 5% range.
A number of factors are causing developers to look abroad for capital. For one, there's a level of concern after the 2008 financial crisis, leaving foreign lenders to finance projects domestic banks won't touch. 
"Dodd-Frank rules limit their exposure to risky assets, such as construction loans," said Konrad Putzier, the author of the report.
Moreover, domestic banks will often syndicate the loans to subsidize the risk of getting in the market, a hassle for developers if and when they want to renegotiate loan terms.
"The number of players involved makes renegotiating a loan very complicated," Putzier said. "Some foreign lenders don't have the same constraints and can offer developers a loan that they keep on their books in its entirety. This is the major advantage of foreign lenders, and the reason why developers often pick them over domestic banks."
While U.S. banks appear to be out, overseas institutions continue to get skin in the game with both cheaper capital and less restrictions, a major incentive for U.S.-based developers.
"Many key players are seeking this capital because it carries a lower return threshold or cost to capital," said Zach Ehrlich, CEO of the Mdrn Group, a New York City-based luxury real estate marketer. "Since these institutions don't see good enough opportunities domestically in their own markets, they need to undercut competitors and accept a lower return threshold to put out money."
One of the more surprising players is the UK hedge fund The Children's Investment Fund (TCI), a group that's committed over $1.7 billion in loans to Manhattan real estate developers in the past four years.
Two of the seven tallest projects under construction in New York City (432 Park and 30 Park Place) are financed by TCI through an affiliate, Talos Capital Limited, according to the report.
TCI poured $450 million into the construction of 520 Park Avenue, one of the most anticipated developments, which hit the market with a $130 million penthouse.
The fund also granted a generous $660 million loan to Silverstein Properties -- the developer behind the World Trade Center -- for the nearby condo and hotel prize, 30 Park Place, set to feature $1 billion worth of condos.
When asked by TheStreet, a TCI spokesperson declined to share any details, "We do not comment on specific investments in the endowment."
According to the report, TCI is making a sizable profit, racking in 10% in interest, twice the traditional interest rates for major projects.
On the other end of the spectrum, overseas banks are pushing out U.S. competition by supplying low cost of capital, far cheaper than TCI.
According to financial records, the Bank of China is financing Vornado Realty Trust's (VNO) - Get Report 220 Central Park South with senior and mezzanine loans totaling more than $1 billion, chipping in with $600 million loan at a 2.92% interest rate. The bank also gave the developer a mezzanine loan for the project with an even lower interest rate of 2.5%.
Singapore's United Overseas Bank is bankrolling the MoMa Tower at 53 West 53rd Street and 125 Greenwich Street.
"The flight of capital to NYC deals with institutions needing strong enough yield in a growing market," Ehrlich said. "Most of the world has seen a significant slowdown in economic activity and New York offers a deep demand pool and safe haven for institutions to invest capital."
Despite the increased risk of new developments pushing U.S. banks out, the luxury market continues to impress.
In an early May conference call, Vornado chairman Steven Roth said that the real estate investment trust had sold $1.1 billion worth of condos at 220 Central Park South in a limited pre-sale alone, breaking even on its $1 billion debt commitment.
"We are doing beyond well there," Roth said of the development, which will have one unit for sale at a whopping $175 million. "We are thrilled."
This article is commentary by an independent contributor. At the time of publication, the author held no positions in the stocks mentioned.