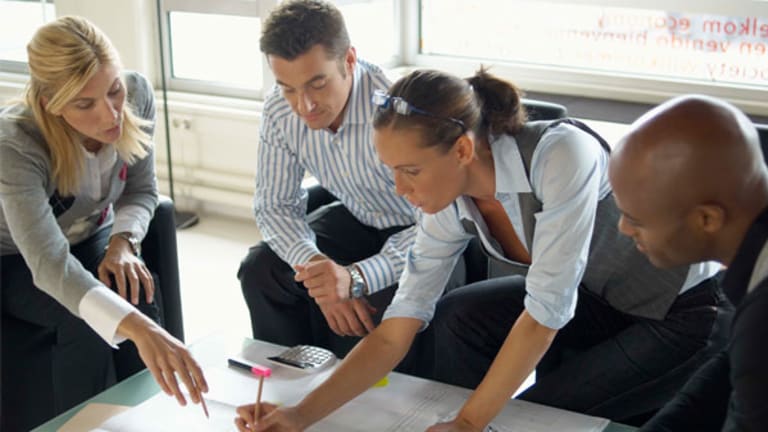 Welcome to the Asynchronous Economy
The change you need to believe in from the last 4 years? That smartphone in your hand.
NEW YORK (TheStreet) -- I was watching an episode of USA Network's "Burn Notice" from 2008 and it suddenly seemed antique.
Star Jeffrey Donovan was talking on a flip phone with that 10,000-mile stare that was such a feature of the last decade. (That and the "Bluetooth Crazy" -- someone on the street motioning wildly and talking loudly into the air while you walk by -- good times.)
Point is people don't do that much anymore. Now we're all hunched over smartphones like vultures, heads stuck out and down, bumping into things while our two thumbs peck madly at the screen.
It's not just how we use technology that has changed, but how we deal with one another. A telephone call is synchronous -- both parties on the same line at the same time. A smartphone interaction is asynchronous -- you play with your machine and later I play with mine.
News that the "device revolution" of smartphone and tablets is advancing at 10 times the rate of the PC era, twice the rate of the Internet era,
, adds to the urgency of what I need to say today. Because that device isn't a phone at all. It's a computer, a full-fledged broadband-connected PC, with everything that implies.
It used to be, back in the 2000s, that at least when a merchant had a customer in the store, they had them. They could make their pitch, they could reassure on price, they had some control. No more. Now we can double-check every claim you make standing in front of you, even order it from Amazon for a few dollars less while you watch helplessly.
Want to know why
Best Buy
(BBY) - Get Best Buy Co., Inc. Report
is in such a world of hurt? The big boxes no longer control their own destiny. We can bypass them with our thumbs.
Or consider business communication. No one calls anymore. They send email. The boss writes when he wants to, and I read it some time later. I don't follow up that email with a phone call, because I don't know where the boss is.
This gives a lot more power to your correspondent. If your instructions aren't clear, they're not going to do a back-and-forth to make them clear, they're going to take their best guess. Clarity and brevity in what you put online are key to your personal growth as a businessperson today. Practice your tweeting.
Or consider advertising. There's a dentist in New York named Ed Zuckerberg who grew his practice at half the cost of advertising in the Yellow Pages, mainly by using social media. (You may have heard of his son Mark.) He explained it all
in June.
Retailing, marketing, and business process are all being transformed before our eyes, as devices become ubiquitous. It's happening at double the rate of what we used to call "Internet Time" back in the 20th century. (You remember the 20th century? Well, none of your employees under the age of 30 worked in it.)
How are you adapting? Have you noticed, as I have, that your printer is becoming a place to put your hat and excess papers?
How is your portfolio adapting? Did you remember to sell your
Lexmark
(LXK)
stock before they got out of the inkjet printing business,
this week?
I'll bet you have your own anecdotes to share. Put them in the comments. We would all like to know.
At the time of publication, Blankenhorn had no investments in the companies mentioned here
.
This article is commentary by an independent contributor, separate from TheStreet's regular news coverage.