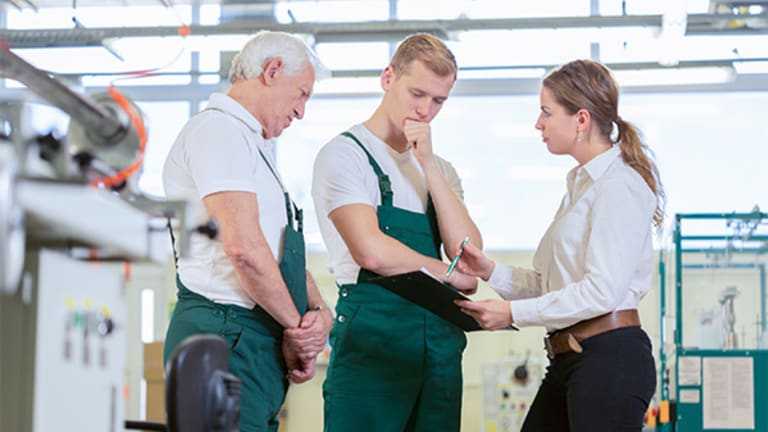 'Weird' Jobs Report Transforms Landscape for Fed's Rate Decision
The economy added only 38,000 jobs in May, the fewest since consistent job growth began in 2010, but the unemployment rate fell to 4.7%, the lowest since November 2007.
The U.S. jobs report on Friday offered a truly weird bundle of contradictions -- and it scrambles the outlook for everything from the Federal Reserve's interest-rate plans to the race for the Presidency.
The economy added only 38,000 jobs in May, the lowest since consistent job growth began in 2010, but the unemployment rate fell by 0.3 percentage points to 4.7%, the lowest since November 2007.
It was a report that contradicted virtually every analyst's forecast. Average estimates projected a gain of 155,000 jobs, according to a Dow Jones survey, and for the unemployment rate to dip 0.1 percentage point to 4.9%.
The number of jobs created is far below the 200,000-plus that economists said would be needed to prod the Fed to raise short-term interest rates at the June 16-17 meeting of the central bank's Open Market Committee. Instead, the data might even force a reappraisal of the case for a July hike if it isn't revised significantly next month.
Wages rose 0.2% during May and increased 2.5% over the past year, a tenth of a point below expectations as well.
"It feels like a fluke," Moody's Analytics chief economist Mark Zandi said, who pointed out that no other data -- from payroll processor ADP's estimate of job gains to unemployment insurance claims, search firm Challenger Gray's monthly report on mass layoffs, or even manufacturing data -- suggested such a weak number.
The response rate to the employer survey "was only 74%, compared to an average of 82% in the past three years," Zandi said. "This suggests there will be some sizable revisions to the data. The big decline in unemployment, especially long-term unemployed, and labor force participation also adds to the narrative that there are data issues."
The most obvious asterisk in the report was the 35,000 jobs the Labor Department counted as lost because of a strike at Verizon Communications (VZ) - Get Free Report , which has since been settled. But even factoring out that loss, the 25,000-job gain in the private sector is far below the gains ADP estimated in its report Thursday. Both reports are based on surveys, and are subject to margins of survey error.
"Still, trend job growth has slowed noticeably over the past few months," said Ryan Sweet, an economist at Moody's, which prepares the ADP report. Economists have expected the rate of job growth to slow from 200,000 a month to as few as 125,000, but it's "occurring more quickly than we anticipated," Sweet said in an email.
If the job gains are accurate, it could mean that productivity has suddenly picked up so sharply that employers need fewer new hires, former Obama administration economics adviser Austan Goolsbee speculated on CNBC.
But if not, the numbers would suggest that industries like construction, which lost 15,000 jobs in the Labor Department's estimate but gained 13,000 in ADP's report; manufacturing, which the Labor Department said lost 13,000 jobs compared with ADP's figure of 3,000; and others are not as healthy or optimistic as previous economic data indicated. 
These contradictions make it tougher to figure out the short-term pace of job losses in beleaguered industries like retail, which includes department store Macy's (M) - Get Free Report and railroads, which include Berkshire Hathaway's (BRK.A) - Get Free Report  Burlington Northern.
The 10,200 lost jobs in mining will also cloud the outlook for a recovery in energy stocks like Exxon Mobil (XOM) - Get Free Report and Chevron (CVX) - Get Free Report .
The Labor Department lowered its previous estimates of job growth in March and April by a total of 59,000, making the outlook even more negative for a rate hike and for the economy. The average gain in the last three months is now believed to have been 116,000, or about 128,000 without the Verizon strike, the Labor Department said.
"The payroll numbers were weird," said Joel Naroff, president of Naroff Economic Advisers. "But the downward revisions to March and April are what really worry me. They point to slowing job gains, and that is not good."
Politically, Democratic Presidential candidate Hillary Clinton is sure to seize upon the low unemployment rate, which is at or below the range that has long been considered full employment. At the same time, presumptive Republican nominee Donald Trump will surely argue that the low reported job creation calls for a change in policy direction.
The Labor Department reported no move in the so-called U-6 rate, which combines the unemployment rate with the number of people who are working part-time but want full-time work, or who are out of the labor force because they are discouraged about their prospects. That rate remained at 9.7%.
Futures markets have been pushing the odds of an interest-rate hike by the Fed lower this week, and now indicate less than a 50% chance of a rate hike even as late as September, according to CME FedWatch. The odds of a June rate hike are less than 6%. 
For investors, the main takeaway is that the jobs report adds uncertainty -- about both rates and profit growth. And that's likely to hamper both policymakers at the Fed as well as CEOs making investment decisions. 
See full coverage on the Fed's upcoming interest-rate decisions.
This article is commentary by an independent contributor. At the time of publication, the author held no positions in the stocks mentioned.