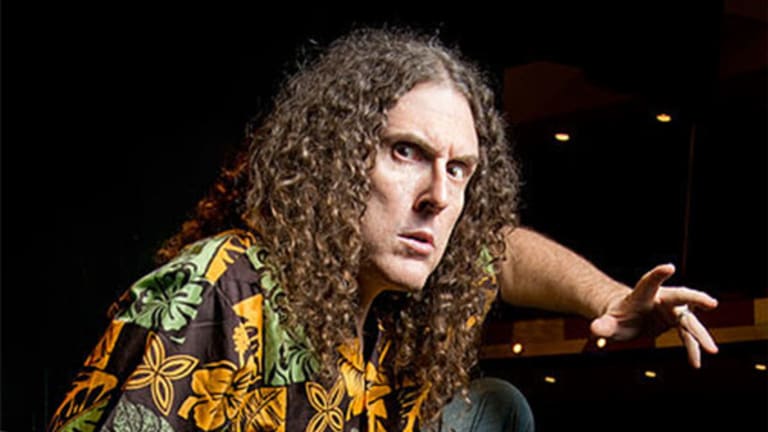 Weird Al Yankovic Just Made a Joke of the Music Industry
When pop artists like Yankovic can get sites to fund videos and earn royalties each time they play, it's silly to keep releasing albums and signing with labels.
PORTLAND, Ore. (TheStreet) -- Weird Al Yankovic is perhaps the only member of the music industry's old guard who actually understands the digital future of that industry. Now he's leaving it.
Yankovic's 14th album, Mandatory Fun is his last in a 32-year deal with Sony's SNE RCA Records label. Sony didn't seem too broken up about the end of their relationship, as RCA execs outright refused to fund videos for Yankovic -- whose entire career was propped up by MTV-era videos for Eat It, Fat, Amish Paradise and I Lost On Jeopardy. As a result, Yankovic went hat-in-hand to any partners he could find and asked them to chip in and produce eight music videos.
College Humor, Nerdist, Will Ferrell's Funny Or Die, Yahoo!'s (YHOO) Yahoo! Screen, Google's (GOOG) - Get Alphabet Inc. Class C Report Vevo and even News Corp's (NWS) - Get News Corporation Class B ReportWSJ.com answered the call and rolled out eight videos from July 14 through July 21. By the end of the run, Mandatory Fun was No. 1 on the Billboard 200 and became the first comedy album to debut there since Bob Newhart's The Button-Down Mind of Bob Newhart in 1960. It wasn't just the parodies of Pharrell's Happy, Robin Thicke's Blurred Lines or Crosby, Still and Nash's entire catalog that propelled Yankovic that far, but the realization that the old ways just don't work anymore.
Read More: Amazon Prime Music Just Set Streaming Music's Price
As Yankovic told participants in a Reddit Ask Me Anything earlier this month "I really don't think the album format is the most efficient or intelligent way for me to distribute my music anymore." He's not kidding. According to Nielsen, album sales of any kind plummeted from 755 million copies in 1999 to just 290 million last year. Compact disc sales have fallen steadily from 730 million in 2000 to just 165 million last year, but digital album and track sales saw their first decline in 2013 and just kept falling through the first half of 2014.

Meanwhile, interactive streaming like that offered by Spotify and Beats Music increased volume to 34.28 billion streams in the first quarter of the year from 25.44 billion streams during the same period in 2013. With music executives putting 1,500 streams at the equivalent of a full digital album, streaming equivalent albums have increased by 10.1 million units so far this year as download sales dropped by roughly 9 million units, according to Nielsen.
Basically, a whole lot of people are streaming music through services like Vimeo, Google's YouTube, Pandora (P) and Spotify, and savvy artists are making it pay. Google CEO Larry Page watched Psy's now-ubiquitous Gangnam Style rake in $2 per 1,000 pageviews on its way Ito a $1.2 million payday by November alone. Page called Gangnam style "a glimpse of the future" as Psy was able to make a bonafide bankable hit through a video/download approach that had since been reserved for novelties like The Bed Intruder Song or Rebecca Black's Friday. Songs no longer need airplay, major label backing or televised videos to be hits: They just needs to catch people's attention and hold it as Yankovic has done for years.
If you applied that $2 per 1,000 to the 20 million views Yankovic's four videos received during their first week of airplay, that's $40,000 in one week alone. Not $1.2 million, but still not shabby for a week's work.
But how does a company monetize that, you ask? Most of Yankovic's partners do so through advertising: A concept that's lost on many companies trying to make a dime off of streaming. Pandora has been leaning more heavily on advertising, adding more commercials to its free service while raising the monthly cost to Pandora One subscribers from $3.99 to $4.99 earlier this year. Both Pandora (with 31% of the streaming market) and ClearChannel's iHeartRadio (9%) have made their free services work with help from advertisers. Newcomers like Apple's iTunes Radio, with just 8% of the total streaming audience, haven't been so quick to embrace that strategy. Apple's (AAPL) - Get Apple Inc. Report been trying to make iTunes Radio pay off by coaxing users into purchasing downloads of the songs they're hearing. That strategy has backfired spectacularly, with only 2% of users ever pushing the "buy" button.
Apple has since tried to shore up its streaming offerings by buying Beats Music, but even a partnership with AT&T (T) - Get AT&T Inc. Report and its more than 100 million subscribers hasn't helped Beats in its struggle to eclipse the 1 million user mark. Amazon (AMZN) - Get Amazon.com, Inc. Report, meanwhile, worked its Prime Music streaming service into the $99 annual price of Amazon Prime -- which also includes free video streaming and two-day deliveries from Amazon's online marketplace.
Artists don't really have the time to sit around while Amazon and Apple figure it out. Google's YouTube royalty offer isn't much, but it's one of the best available right now and it's an avenue artists are taking whether the labels are with them or not. When you can send links and post clips though social media, the services delivering those clips can either make it easy on both artists and users by monetizing around them or they can make it difficult. Forcing old mediums and old methods on a new generation of fans that consumer music much differently than the generations before them can only end in disaster.
If Weird Al Yankovic understands that after more than 50 years on Earth and more than 30 in the music industry, why don't his former bosses?
-- Written by Jason Notte in Portland, Ore.
>To contact the writer of this article, click here: Jason Notte.
>To follow the writer on Twitter, go to http://twitter.com/notteham.
>To submit a news tip, send an email to: tips@thestreet.com.
Jason Notte is a reporter for TheStreet. His writing has appeared in The New York Times, The Huffington Post, Esquire.com, Time Out New York, the Boston Herald, the Boston Phoenix, the Metro newspaper and the Colorado Springs Independent. He previously served as the political and global affairs editor for Metro U.S., layout editor for Boston Now, assistant news editor for the Herald News of West Paterson, N.J., editor of Go Out! Magazine in Hoboken, N.J., and copy editor and lifestyle editor at the Jersey Journal in Jersey City, N.J.