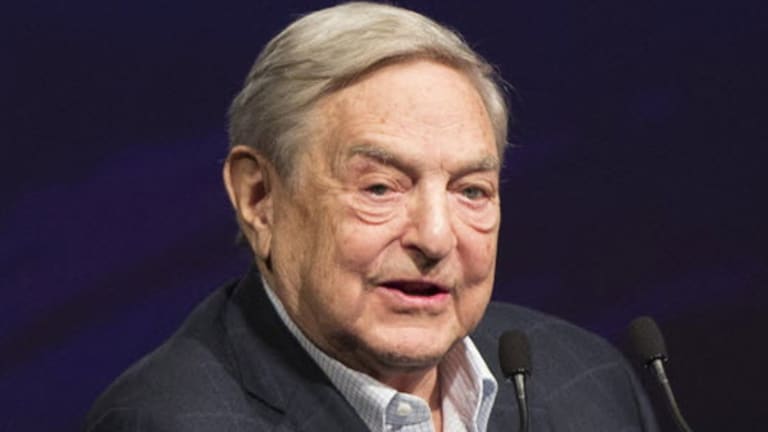 Week Ahead in Energy: Does George Soros Know Something We Don't?
Key earnings and economic reports in coming days will shed light on whether the billionaire 'super-investor' Soros made the right move by recently dumping major energy stocks.
George Soros didn't become a billionaire by making bad investment decisions, so it should capture your attention to learn that Soros Fund Management in the last quarter dumped all of its shares in Chevron (CVX) , Chesapeake Energy (CHK) and NRG Energy (NRG) .
The best way to invest like a billionaire is to, well, start with a billion dollars. For the rest of us non-billionaires, the next best way is to observe their buying and selling decisions. Should you sell energy stocks, in favor of more promising growth opportunities in other sectors? The week ahead will provide major clues as to whether Soros is acting prematurely or seeing the writing on the wall.
Energy prices this year have been wildly swinging on even the flimsiest of news, in turn driving intra-day volatility in the equity markets. Oil prices surged last week, after Saudi Arabia and Russia reached a surprise accord to freeze oil production in an effort to boost oil prices. However, prices quickly tumbled again after Iran rejected the freeze. Sitting on one fifth of the world's proven reserves, Iran vows to seek revenge for sanctions by dumping more oil onto the already severe global glut.
Investors are continually left guessing as to which way the troubled and unpredictable energy sector will drive stocks. U.S. crude closed Friday at $29.64 a barrel, a decline of more than 73% from midsummer highs in 2014 of $110. The broader markets have been caught in oil's downdraft, with the S&P 500 down 5.82% year to date.
To be sure, low energy prices are putting more disposable income into the pockets of consumers, which partly explains the resilience of consumer confidence so far this year. But keep in mind, the U.S. spends $1.4 trillion annually on energy, accounting for 8.2% of gross domestic product. In the U.S., the energy industry supports more than nine million jobs directly and indirectly, which is over 5% of the country's total employment.
According to recent statistics from Goldman Sachs (GS) , the energy sector accounts for roughly one-third of S&P 500 capital expenditures and roughly 25% of combined capex and research and development spending. When oil prices are this low for this long, the pain spreads beyond just energy companies.
A slew of earnings reports are due this week from major energy companies, including Chesapeake (which is continually compelled to deny bankruptcy rumors), McDermott International (MDR) , Holly Energy Partners (HEP) , HollyFrontierundefined , Carrizo Oil & Gas (CRZO) , Linn Energy (LINE) , SandRidge Energy (SDOC) , Sunoco (SUN) , Transocean (RIG) , and others. Some of these companies (notably Chesapeake, McDermott, Linn, and Transocean) are deeply distressed and they're expected to report dismal earnings results and guidance this week.
In addition to petroleum and natural gas reports due this week from the U.S. Energy Information Administration (EIA), the Baker-Hughes Rig Count (set for release on Friday) will be of special interest. The latest rig count also is expected to deliver grim news. Baker-Hughes data from last Friday showed that the rig count plummeted for the ninth week in a row, down to 514 from 541 the previous week.
Making matters worse, the World Bank recently slashed its forecast for the average price of a barrel of oil in 2016 to $37 from the $51 it had projected just last October.
Getting back to George Soros: This uncannily prescient billionaire is known as "The Man Who Broke The Bank of England" because of his short sale of $10 billion worth of British pounds, generating him a profit of $1 billion during the 1992 "Black Wednesday" currency crisis in the U.K. His net worth currently stands at $24.4 billion. When it comes to energy, maybe he knows something we don't.
Energy sector operating reports and data this week will provide more evidence as to whether investors should stick with this beleaguered industry, or follow Soros' lead and look to other sectors (notably biotech) for stocks with demonstrable growth momentum.
Earnings Reports
Monday, February 22: Alliant Energy (LNT) , Allergan (AGN) , C&J Energyundefined , Carrizo Oil & Gas, McDermott International, Stone Energy (SGY) , Tenet Healthcare (THC) . Tuesday: Holly Energy Partners, Macy's (M) , Pacific Drilling (PACD) , Rex Energyundefined , SM Energy (SM) , Scripps Networks Interactive (SNI) , Westlake Chemical (WLK) . Wednesday: Advantage Oil and Gasundefined , Alon USA Energy (ALJ) , Alon USA Partners (ALDW) , Chesapeake Energy, Energy Transfer (ETP) , Energy Transfer Equity (ETE) , HollyFrontier, Lowe's (LOW) , Shell Midstream Partners (SHLX) , SunEdison (SUNE) , Sunoco, Target (TGT) , Transocean, Vermilion Energy (VET) . Thursday: Apache (APA) , Best Buy (BBY) , Dollar Tree (DLTR) , Linn Energy, SandRidge Energy, W.P. Carey (WPC) , Windstream (WIN) , Zoe's Kitchen (ZOES) . Friday: Berkshire Hathaway (BRK.A) , Broadwind Energy (BWEN) , J.C. Penney (JCP) , Hilton Hotels (HLT) , Sempra Energy (SRE) .
Economic Data
Monday: PMI Manufacturing Index Flash
Tuesday: S&P Case-Shiller HPI; Consumer Confidence; Existing Home Sales
Wednesday: MBA Mortgage Applications; New Home Sales; EIA Petroleum Status Report
Thursday: Durable Goods Orders; Jobless Claims; Bloomberg Consumer Comfort Index; EIA Natural Gas Report
Friday: Gross Domestic Product; Consumer Sentiment; Baker-Hughes Rig Count
Best biotechnology stock under $10:
We've found a small-cap biotech "rocket stock" that's about to take off. UCLA researchers are stunned by a Nobel Prize-winning cancer breakthrough that's proven in clinical trials to eliminate lethal forms of cancer with a single dose. One small company owns the patent to this life-saving treatment. Now trading at about $5 a share, the stock of this innovative company is projected to surge 2,700% on an imminent FDA announcement. To download the full report, click here.
John Persinos is editorial manager and investment analyst at Investing Daily. At the time of publication, the author held no positions in the stocks mentioned.