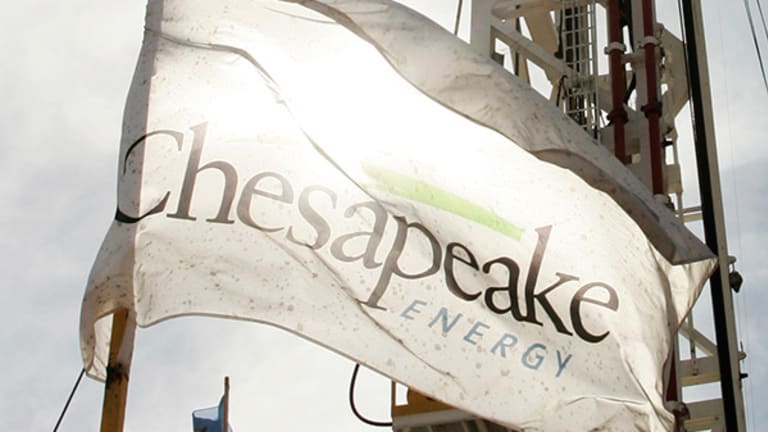 Week Ahead: Energy Sector's Debt Bomb Ready to Explode
We spotlight the energy and bank stocks to watch in the week ahead, as their distressed balance sheets come to the fore amid a renewed decline in oil prices.
The clock is ticking ever louder for heavily indebted oil and gas companies, as well as for the banks with the highest ratios of energy loans. Many of these energy and financial services stocks are so deeply in the hole, they'll remain toxic investments throughout the year, even if oil prices rebound.
After a brief rally that fueled hopes of a lasting turnaround in the energy patch, oil prices tumbled again last week as supply glut fears returned. On Friday, West Texas Intermediate (WTI), the U.S. benchmark, closed at $39.46 and Brent North Sea Crude, the international benchmark, closed at $40.44. Both were down about 2.4% for the week, though still substantially higher from levels below $30 per barrel posted earlier in the year.
The main culprit: the U.S. Energy Information Administration reported that crude oil reserves rose for the sixth consecutive week last week, marking another new record. Exacerbating oversupply concerns was a report from Baker Hughes (BHI) showing that the U.S. lost 12 rigs during the week ending March 24, as drillers cut oil and gas rigs for the 14th straight week.
Not surprisingly, energy sector operating results in the fourth quarter were ugly across the board. Exemplifying the earnings carnage this month was Petróleo Brasileiro S.A. - Petrobras (PBR) , which reported its biggest ever quarterly loss of $10 billion in the fourth quarter of 2015, due to asset write-downs and massive debt.
With refining overcapacity likely a problem for the next half-decade, energy companies that over-expanded at the most reckless pace are now paying the piper. If prices stay low and economic indicators turn sour, the energy industry will see a wave of defaults and bankruptcies that will weigh on the broader markets.
The following energy companies, listed with their one-year stock declines, are among the most distressed stocks on the market right now, as they get caught in a tightening vise of plummeting revenue and rising debt obligations:
Linn Energy (LINE) (-96.03%); Chesapeake Energy (CHK) (-70.11%); SeaDrill (SDRL) (-67.50); Marathon Oil (MRO) (-60.99%); Anadarko Petroleum (APC) (-44.39%); Transocean (RIG) (-38.81%); and ConocoPhillips (COP) (-36.69%). Over the past year, the Energy Select Sector SPDR ETF (XLE) has fallen 19.72%.
Analysts expect at least 500 energy companies to go bankrupt in 2016, as meeting debt obligations becomes impossible. Indeed, troubled companies such as Chesapeake are compelled to continually deny rumors that the company is about to go belly up.
The number of energy loans that are in danger of default could soar above 50% this year, posing huge problems for several major banks. The total debt in the entire oil and gas sector reached $3 trillion in 2014, or about three times the amount in 2006.

Indebted energy companies are getting clobbered by a doubly whammy, as credit lines offered to the sector are being reduced by 20%-30%. The upshot: indebted energy companies are among the most dangerous stocks around.
When oil prices hovered at $100 a barrel, many banks were keen to lend money to thriving energy players. When prices started to collapse in mid-2014, the party came to a crashing halt and many big banks are now suffering massive hangovers, making them highly toxic investments. These three banks are among the most vulnerable to the coming energy debt explosion:
Bank of America (BAC) is carrying $21.3 billion in energy loans, or 2.4% of total wholesale revenue, which constitutes the largest exposure to the energy sector of any big U.S. bank, in terms of revenue.
Citigroup (C) is holding roughly $20.5 billion of energy sector loans, or 3.3% of total loans. JPMorganChase (JPM) has $13.8 billion in loans to the oil and gas industry, for 1.6% of the bank's total wholesale revenue.
Keep your eye on these and other energy and bank stocks in the week ahead; they'll serve as bellwethers for the broader markets. The sustainability of the economic recovery will play a major role in their fortunes this week and beyond. The most salient clues will be found within U.S. Energy Information Administration (EIA) and Baker-Hughes reports that are on the docket.
If weak indicators are released, on top of new reports of a worsening supply glut and further rig losses, expect the most indebted energy companies and their suffering lenders to post sharp declines.
Key reports to watch in the week ahead:
Monday, March 28: Personal Income and Outlays; Pending Home Sales Index. Tuesday: S&P Case-Shiller HPI, Consumer Confidence. Wednesday: ADP Employment Report, EIA Petroleum Status Report. Thursday: Jobless Claims, Bloomberg Consumer Comfort Index, EIA Natural Gas Report. Friday: Motor Vehicle Sales, Employment Situation, PMI Manufacturing Index, ISM Mfg Index, Consumer Sentiment, Construction Spending, Baker-Hughes Rig Count.
As we've just explained, the energy sector is a ticking debt bomb. Do we face a repeat of a 2008-style debacle? You need to prepare now, by dumping distressed stocks that are poised to collapse in 2016. We've done the homework for you, by putting together a report on the world's most dangerous stocks. If you own any of these terrible investments, you should sell them now! To download your free copy of our eye-opening report, click here.
John Persinos is editorial manager and investment analyst at Investing Daily. At the time of publication, the author held no positions in the stocks mentioned.