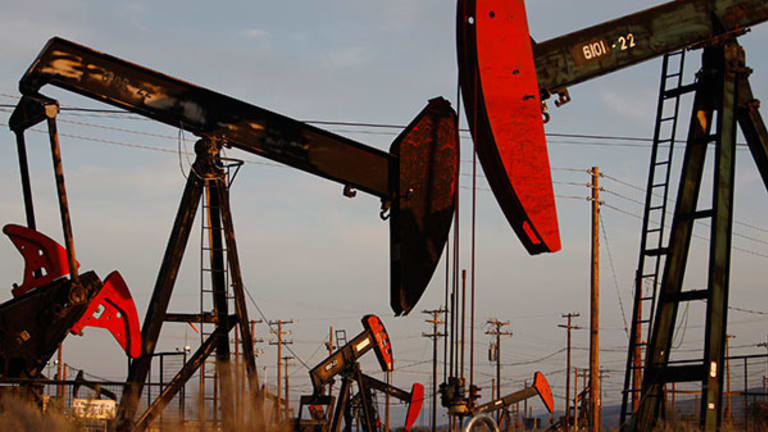 In their projections about the direction of energy prices, analysts are commonly proven wrong -- laughably so. That's why the inevitable attempts this week to call the time and level of a bottom in energy prices should be greeted with healthy skepticism (if not outright mockery).
As screenwriter William Goldman once wrote about Hollywood's attempts to gauge box office trends: "Nobody knows anything."
To be sure, oil prices have been showing new signs of life, but the energy patch this year has frequently dashed the false hopes of investors who prematurely decided it was time to jump back in. Before you join the energy bulls, first consider sturdier growth stock opportunities in other sectors. And you should closely watch this week's latest earnings reports and economic indicators related to energy.
Oil prices have fallen about 70% since mid-2014 due to an enormous oil glut caused by slowing economic growth and the ill-fated decision by OPEC in late 2014 to refrain from reducing output to buoy prices, as it had done for decades. The Saudi-instigated price war has been a disaster for energy producers around the world.
Last week provided positive signs in the U.S. for job creation, construction, manufacturing, and consumer spending. The good economic news helped push up oil prices, suggesting that maybe, just maybe, the long-suffering energy patch had finally turned the corner.
On Friday, the price of West Texas Intermediate (WTI), the American benchmark, rose $1.35, or 3.9%, to $35.92 per barrel. Brent North Sea Crude, the international benchmark, rose $1.65, or 4.4%, to $38.72 barrel.
Oil prices soared about 10% last week, the third consecutive week of gains. Oil hasn't enjoyed a winning streak that long since May 2015. In fact, the price of Brent is now higher that it was at the start of the year. But can this momentum last?
One hopeful signal for oil's rebound: Baker Hughes (BHI) reports that the total oil rig count is now falling below that needed to sustain oil production and consequently production levels are beginning to decline. This trend is expected to be confirmed when Baker Hughes releases its next rig count on Friday.
Also heartening are recent reports that OPEC will convene in early March to discuss cutting the cartel's production.
Several energy companies are scheduled to report earnings this week, but for most of them, the recent spate of encouraging news comes too late. As a whole, operating results this week in the energy sector are expected to be quite grim. A particular worry for these companies, regardless of the recent rally in energy prices, is the rising level and cost of servicing their onerous debt, which in turn is putting pressure on the banking sector. Energy earnings reports on the docket this week include:
Monday: Jones Energy (JONE) , Rex Energy (REXX) . Tuesday: Resolute Energy (REN) , Ocean Rig UDW (ORIG) - Get Ocean Rig UDW Inc Class A Report , Renewable Energy (REGI) - Get Renewable Energy Group, Inc. Report , SunEdison Semiconductor (SEMI) , W&T Offshore (WTI) - Get W&T Offshore, Inc. Report . Wednesday: FuelCell Energy (FCEL) - Get FuelCell Energy, Inc. Report , SandRidge Energy (SDOC) , Vivint Solar (VSLR) - Get Vivint Solar Inc Report . Thursday: Canadian Solar (CSIQ) - Get Canadian Solar Inc. Report , Energy Focus (EFOI) - Get Energy Focus, Inc. Report , Ferrell Gas Partners (FGP) - Get Ferrellgas Partners, L.P. Report , Fuel Systems Solutions (FSYS) , Natural Gas Services (NGS) - Get Natural Gas Services Group, Inc. Report , Penn West Energy (PWE) , Crescent Point Energy (CPG) - Get Crescent Point Energy Corp. Report, Emerald Oil (EOX) , FutureFuel (FF) - Get FutureFuel Corp. Report .
Meanwhile, new clues as to the sustainability of the economic recovery and the resultant uptick in oil prices will be found on the economic calendar this week:
Monday, March 7: Gallup U.S. Consumer Spending Measure; Labor Market Conditions Index. Tuesday: NFIB Small Business Optimism Index. Wednesday: EIA Petroleum Status Report. Thursday: Jobless Claims; Bloomberg Consumer Comfort Index; EIA Natural Gas Report. Friday: Baker Hughes Rig Count.
As we've just explained, growth stock opportunities still abound, even amid this volatile market. In fact, we've found a small-cap biotech "rocket stock" that's about to take off. UCLA researchers are stunned by a Nobel Prize-winning cancer breakthrough that's proven in clinical trials to eliminate lethal forms of cancer with a single dose. One small company owns the patent to this life-saving treatment. Now trading at about $5 a share, the stock of this innovative company is projected to surge 2,700% on an imminent FDA announcement. To download the full report, click here.
John Persinos is editorial manager and investment analyst at Investing Daily. At the time of publication, the author held no positions in the stocks mentioned.