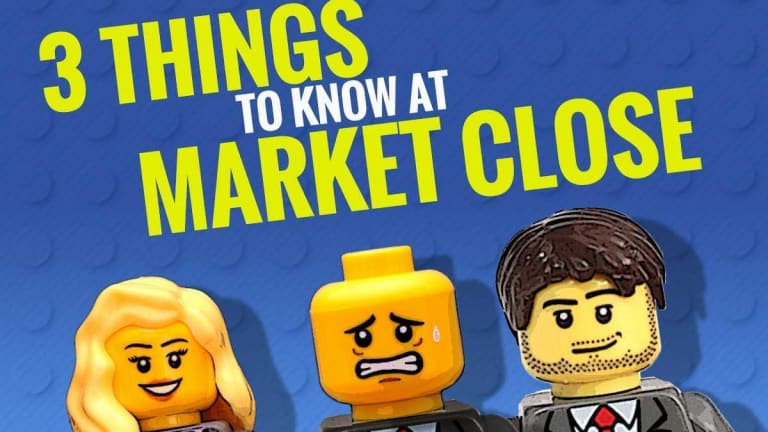 Wednesday Wrap-Up: The Final FANG
Here's what you're missing on TheStreet.
Happy Halloween!
The good news is that the market isn't spooked by the scariest day of the year. 
The bad news? Even this rally can't save the market from a dark month. 
But I like to think of myself as an optimist, so let's focus on what you need to know before you go Trick or Treating. Or, as we're all adults here, Boo-zing. 
The Apple of Your Eye
Sorry, couldn't help myself there. 
Jim Cramer previewed Apple (AAPL) - Get Apple Inc. Report earnings ahead of the release Thursday, Nov. 1. 
The company will be the final FANG to post earnings. 
"On average, analysts polled by FactSet expect Apple to post September quarter (fiscal fourth-quarter) revenue of $61.43 billion (up 17% annually) and GAAP EPS of $2.78 (up 34%). The revenue consensus for the seasonally big December quarter (Apple provides quarterly sales guidance in its reports) stands at $92.74 billion (up 5%)," wrote TheStreet's Eric Jhonsa in his walk up to earnings.
Cramer explained that he thinks the company is a key for the market. 
Guess we'll have to wait and see how Apple performs. 
Don't Get Spooked...Just Yet
Jim Cramer thinks that the weight Apple has on the market could hurt if the company posts earnings that don't meet estimates. 
He also took a look at two other companies that are set to report this week. Kraft-Heinz (KHC) - Get Kraft Heinz Company Report will be reporting along with Apple Thursday afternoon, and Alibaba (BABA) - Get Alibaba Group Holding Ltd. Report -- will report before the market opens Friday, Nov. 2. 
FactSet estimates that Alibaba will be reporting earnings per share of $1.07.
TheStreet's Annie Gaus is covering what investors should be looking at when it comes to Alibaba.
Here's what she thinks investors should keep an eye on when the company reports.
Cloud updates and core commerce
Merger and acquisition plans
Commentary on the Chinese economy
For more insight, you can check out Gaus's article here.
General Electric Is in for a Frightening Halloween
TheStreet's Anders Keitz reported that General Electric (GE) - Get General Electric Company Report was downgraded by Moody's Wednesday afternoon.
The company slipped on Wednesday, Oct. 31, after Moody's Investors Service downgraded GE and GE Capital's ratings to Baa1 from A2.
"The downgrade reflects Moody's view that the adverse impact on GE's cash flows from the deteriorating performance of the Power business will be considerable and could last some time," Moody's said. "The weaker than expected performance at Power is not only attributable to a considerable drop in market demand and ensuing heightened competition, but also to GE's misjudgment of financial prospects and operational missteps."
While GE's decision to cut the dividend to a penny signals the company's objective to prioritize financial flexibility and strengthening its balance sheet, Moody's expects "GE's free cash flow (after dividends) will likely be very weak in 2018, even with good performance at GE Aviation and GE Healthcare."
Moody's noted that this concludes the review for a downgrade that was initiated on Oct. 2.
The news will disappoint investors and management, as GE said on Tuesday, Oct. 30, that it targets a sustainable credit rating in the "single A range."
Yikes.
Ask Jim
Curious about the market? Tweet at @KatherineRooss or email katherine.ross@thestreet.com with questions
Submitted questions will be asked in the Ask Jim segment during the Facebook Live broadcast, which happens every weekday morning at 10 a.m. ET.
Maybe not the brightest note to end on, but hey -- not all news is good news, right?
Anyway, that's a wrap. Enjoy Halloween and try not to spook yourselves too much.