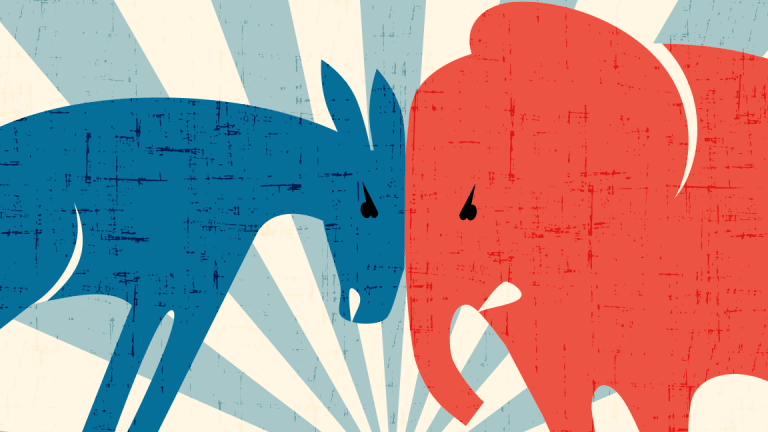 Wednesday Political Wrap-Up: What Investors Need to Know
It's time to discuss the top political stories that investors should keep an eye on.
It's hump day. 
One day closer to the weekend, right?
Today, we're going to focus on politics. More importantly, the top political stories that investors should be keeping an eye on.
There's a lot to go through. First, there's President Donald Trump's tweets, but that's old news by now, right? Just in case you didn't see it, the president tweeted out that he was unhappy about the press coverage of the first lady—who hadn't made an appearance since her surgery, nearly a month ago. 
There has been widespread media speculation about her disappearance. 
But, let's focus on the other things. You know, the things that investors should be looking into. 
3 Big Things to Watch for at the G-7 Summit This Week
The first article is from TheStreet's Kinsey Grant. 
Um, tariffs. That should be a very obvious one. There's already rumors that Angela Merkel plans on cornering Trump about his European tariffs. Yikes. 
Justin Trudeau also responded to the tariffs, in Trump's own style—on Twitter. 
But tariffs aren't the only reason that global leaders what to have a word with Trump. Nafta is also a cause for concern. Trump has been putting off the negotiations for some time. 
North Korea is also going to be an important talking point. The meeting will also occur a couple of days prior to the infamous meeting between the U.S., North Korea and...Dennis Rodman?
The former NBA player has held a friendship with North Korean leader Kim Jung-Un for a while and will apparently be in Singapore, where the meeting is to take place, when Trump and Kim finally meet. 
But, not everyone is psyched about this meeting. Leaders have expressed concern about Trump's usual approach to meetings which is, of course, winging it. 
Global instability is one thing that leaders around the world would like to discuss. With Italy's recent instability and Brexit, it's no wonder that leaders want to hash out some ways to restabilize the geopolitical climate. 
Grant takes a more in-depth look at the most important things to keep an eye on. But with all this geopolitical risk, why not trade defense stock such as Boeing (BA) - Get Free Report and Action Alerts PLUS holding Raytheon (RTN) - Get Free Report ?
TheStreet's Executive Editor Brian Sozzi looks at why Boeing's stock has been on fire. 
Trump Seeks to Reorganize the Federal Government
Oh, boy. 
Politico takes on a report that has yet to be released. 
"The report, which is expected to recommend big changes at many federal agencies, is almost complete and is expected to be introduced this month, according to one administration official. Sources in and outside the government have been told the rollout will happen in late June. The plan is still being finalized and some of the details could change, but one of the people familiar with the report said the proposal to reorganize HHS has widespread buy-in at OMB," reported Politico.
"White House officials have been working on their bid to reorganize the government for months—all while keeping an unusually tight lid on the plan. The effort stems from an executive order President Donald Trump signed in March of last year directing OMB to come up with a plan to overhaul the government to make it more efficient. Only recently have some of the ideas begun to circulate outside of OMB," said Politico.
GOP Senators to Meet With Trump to Push Back on Tariffs
Trump has also discussed imposing tariffs on imports of foreign cars. Wonder how Fiat Chrysler (FCAU) - Get Free Report and Mercedez-Benz feel about this one. 
TheHill reported: "If the president can get a better deal, I'm for a better deal, but you've got to understand that if you fail and there's retaliation, agriculture is the first that's retaliated against," said Sen. Chuck Grassley, R-Iowa, who represents a state where agriculture is dominant.
"The president also appears to be growing more concerned about GOP support for a bill sponsored by Sen. Bob Corker ,R-Tenn., that would require him to get congressional approval before imposing new tariffs justified by national security concerns," said TheHill.
Looks like there's some stuff that everyone needs to figure out. 
Alright, that's a wrap on the three most important political stories that investors need to know today.