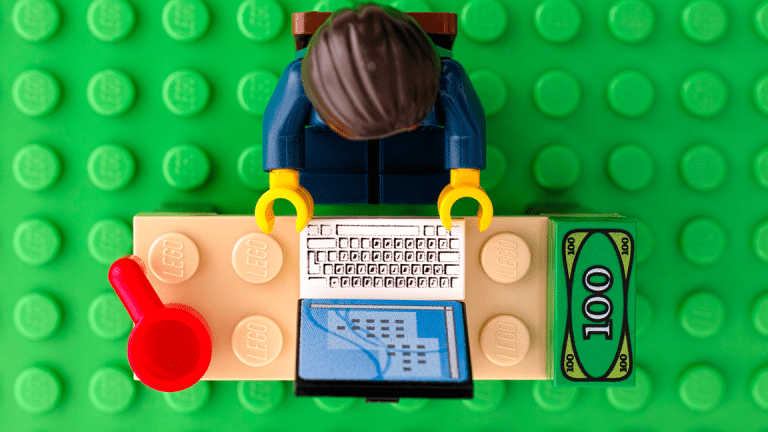 Wednesday Wrap-Up: Hey, Tim Cook, Share a Piece of That Pie?
Here's what you're missing on TheStreet.
Happy hump day!
What have you missed on TheStreet?
Here are the top stories on Wednesday, Aug. 29. 
Tim Cook Has a Payday Coming Up
TheStreet's Brian Sozzi breaks down Tim Cook's upcoming payday.
On Friday, Tim Cook, Apple's CEO, will add another #FTW (for the win) to his long list: a $120 million payday. Cook will earn a cool 560,000 shares of Apple on Friday. Recall that Cook was given the restricted stock award when he assumed the CEO position from Steve Jobs in 2011. One can easily debate whether a CEO deserves this type of payday, but the bottom line is that Cook has earned the reward by keeping Apple focused on Jobs' mission (which has helped him hit the award's targets).
Investors must now closely watch what Cook does with these shares. He could seek to diversify his personal portfolio and sell the stock in steady chunks. Doing so, though, may send a negative signal to the market on a peak in the Apple story. 
Hey, it's tough getting $120 million as a public company CEO.
Also, Apple's stock is a long-time holding in Jim Cramer's Action Alerts PLUS member club (the selection here doesn't come easily), and, Cook, of course, leads one of the most successful companies on the planet. Not bad.
Hey, Cook, share a piece of that pie?
Hey, Trump, Google Isn't Rigged
TheStreet's Annie Gaus breaks down how Alphabet's Google GOOGL search engine really works. And, guess what, it's not rigged. But, hey, don't take my word on it, Gaus is the tech reporter. 
In a tweet sent at 8:02 AM on Tuesday, President Trump ranted that "they [Google] have it RIGGED, for me & others, so that almost all stories & news is BAD."
Later in the morning, he took aim at Big Tech more generally in comments to reporters at the Oval Office, saying: "I think that Google and Twitter Inc. (TWTR - Get Report) and Facebook Inc. (FB - Get Report), they are really treading on very, very troubled territory and they have to be careful. It is not fair to large portions of the population."
President Trump's complaints surrounded what he views as bias against conservative news on the part of Alphabet, Facebook, and Twitter. Although the three platforms surface content quite differently, Trump insinuated that the companies at large could be subject to government intervention for "hiding information and news that is good" as he put it in a tweet. 
In a statement, Alphabet clarified that Google search results do not take political orientation into account. "When users type queries into the Google Search bar, our goal is to make sure they receive the most relevant answers in a matter of seconds. Search is not used to set a political agenda and we don't bias our results toward any political ideology," the company said in the statement. "Every year, we issue hundreds of improvements to our algorithms to ensure they surface high-quality content in response to users' queries. We continually work to improve Google Search and we never rank search results to manipulate political sentiment."
That doesn't mean Google Search results are infallible, or even close: In fact, Google makes thousands of tweaks per year to its search algorithm, along with more extensive overhauls once every few months.
Gaus dives more in-depth on the search algorithm here. 
Auto Sales are Slowing in China
TheStreet's Anders Keitz breaks down the slowdown of auto sales in China.
Light vehicle global sales for July grew by 1.9% year over year, "but the selling rate continued to fall back from recent highs, down to 96.1 million units per year, from 96.8 million units per year in June," according to a report by automotive forecasting firm LMC Automotive. Light vehicle sales refer to the number of cars, sport utility vehicles and light trucks, including pickup trucks, sold over a specified period.
China's auto industry, which had been rapidly developing over the last decade, is slowing. LMC Automotive noted the July selling rate of 28.4 million units per year was down 1.5% from June and represented the third consecutive month over month decline as trade tensions between the U.S. and China escalated.
"In order to bolster the already slowing economy, the government has announced fiscal stimulus measures and the central bank has shifted to monetary easing, which could possibly help support vehicle sales in the short run," LMC said in its report. "The looser policies, however, go against the government's campaign to rein in excessive borrowing, and thus raise a risk in the long-term economic and vehicle sales outlooks."
Separately, axle manufacturer for light vehicles Dana Inc.'s (DAN - Get Report) CEO Jim Kamsickas told TheStreet's Brian Sozzi that car, SUV and truck prices "are on their way up" due to tariffs. GM in June cautioned that U.S. tariffs on imported vehicles could lead to "a smaller GM" and fewer jobs. 
"There are a lot of things working against the automotive market right now: Incentive spending is maxed out, interest rates are rising, and vehicle prices are reaching record highs," said Acevedo. "Add to that the uncertainty that comes with renegotiating NAFTA and tariff talks and it amounts to what could be a challenging back half of the year for automakers."
And that's a wrap for today. Stick with TheStreet through the rest of the week. And, hey, only a couple of days until Labor Day weekend.