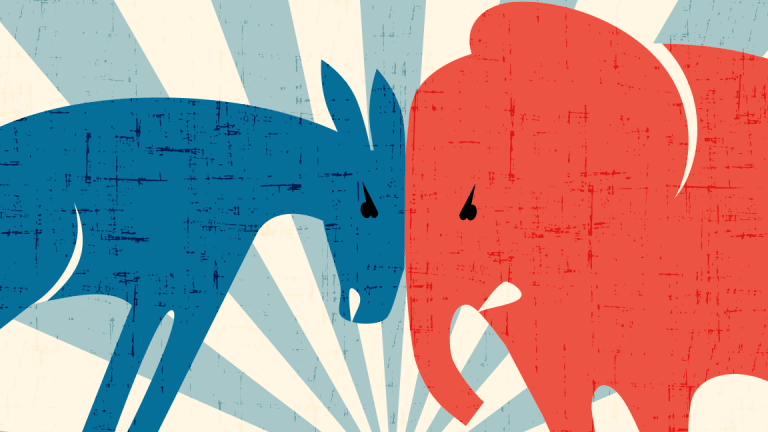 Wednesday Politics Wrap-Up: Beyonce Is Right, Girls Run the World
Let's go over the top stories in politics from Wednesday.
Let's go over the top stories in politics from Wednesday.
It's one day closer to the weekend. 
With all of the hullabaloo around the Federal Reserve's rate hike, you might have missed the top stories in politics from today. So get caught up here.
You Can Sleep Safe Tonight
Well, at least that's what Donald Trump says. 
The president went on one of his famous tweetrums on Wednesday, June 12. 
Trump kicked off Wednesday morning by tweeting that the "World" is no longer in danger of an imminent nuclear catastrophe. He said "No more rocket launches, nuclear testing or research!" While that sounds fantastic, it has not been proven just yet. Trump took a picture with a document, saying that it was the one that he and Kim Jong Un signed at the summit, but it hasn't been proven that the pictured document is the one signed. 
He then took some shots at Robert De Niro (who didn't have great things to say about Trump at the Tony Awards) and congratulated some Republicans on winning their primaries on Tuesday night.
Trump followed that up by suggesting that everyone "sleep well tonight!" 
America is no longer at risk of war with North Korea. Phew.
Trump said "not good!" to the rising oil prices.
Ah, but we can't wrap up the day without going through Trump's anger at the media. 
Women are Winning
The Tuesday night primaries were a major win for women. 
According to the Center for American Women and Politics, 456 women have run for seats in the House so far in 2018. Of those women, 128 have won primaries as of Wednesday, June 13.
Virginia saw the most wins for women. In all four of Virginia's House races, there will be a Democratic woman in the running. Elaine Luria, Abigail Spanberger, and Jennifer Wexton were the winners in Tuesday night's primary. Leslie Cockburn is the Democratic nominee for Virginia's 5th Congressional district.
This comes after a battle between two Staceys for the Democratic nominee for the Georgia governorship in May. 
Who run the world? Girls. Thanks, Queen Bey.
Michael Cohen Is Feeling the Heat
On Wednesday morning, ABC News broke the story that Michael Cohen, the infamous ex-Trump lawyer, is planning on cooperating with Mueller's investigation. 
Then Cohen dropped the bomb. He split from his legal team.
Cohen was being represented by Stephen Ryan and Todd Harrison, who work for McDermott, Will & Emery LLP.
Rudy Giuliani announced that Cohen was no longer representing Trump in May. Cohen's hotel room, home and office were raided on April 9 by federal authorities.
In January, news broke that Cohen had paid Stormy Daniels to keep quiet about her alleged affair with President Trump in 2006.
No other firms have been named to replace McDermott, Will & Emery.
Welp. 
Happy hump day, y'all.