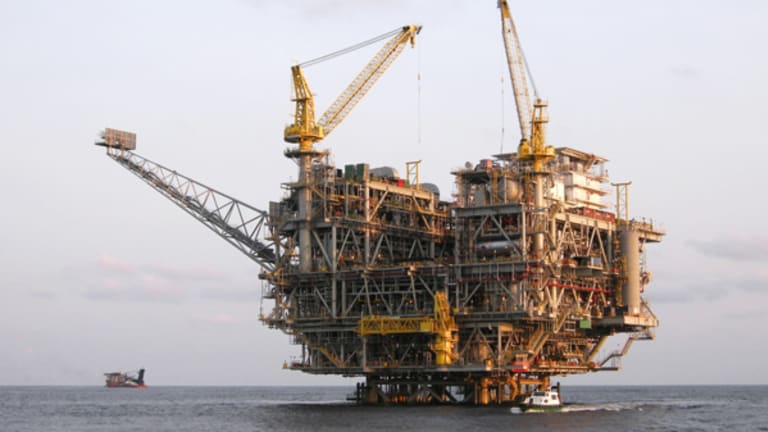 Publish date:
Weatherford Dumps Ballast: Should You Buy Now?
Weatherford has settled charges against its foreign operations and set a major divestiture of assets to reduce debt. Time to buy?
Weatherford has settled charges against its foreign operations and set a major divestiture of assets to reduce debt. Time to buy?
NEW YORK (TheStreet) -- Weatherford International (WFT) - Get Report shares have done pretty well, rising 40% so far this year. That's better than the S&P 500's 27% gain, and better than most of Weatherford's peers in the oil-service business.
But the company built by Bernard Duroc-Danner is not out of the financial woods. It has more than $1 in debt for each $3 in assets, its cash position is poor and its profit margin hovers around zero.
The shares are rising because earlier this month it announced a divestiture plan aimed at reducing debt by $3 billion to $5 billion by the end of 2015. Also, this week the company settled foreign bribery charges, deferring two prosecutions and settling a civil case for $253 million. The company last year had earmarked $100 million to settle some charges.
The sales should cut Weatherford's debt by about half. The fines would nearly wipe out a cash position that stood at $316 million at the end of September.
[Read: How to Profit From Nuance's Crash]
Weatherford operates out of Houston, but it's technically based in Switzerland, having moved there in 2009 when Transocean (RIG) - Get Report was also moving to Switzerland and Halliburton (HAL) - Get Report was creating a joint headquarters in Dubai.
At the time there was great fear in the oil patch that the incoming Obama administration would be bad for the oil-service business. In fact, the U.S. oil business has boomed since that time, and this country is on track to become self-sufficient in oil.
The charges alleged by the government include bribery of Middle Eastern and African officials, including abuse of the United Nations' oil-for-food program, with lax controls that included falsified records. Duroc-Danner said after the settlement was announced this week that the charges are now behind the company.
I slammed Duroc-Danner's record one year ago, after the stock fell from a high of more than $25 to a 2012 low of less than $10. It reported $500 in tax errors during 2011, which it called an "honest mistake," then got a new chief financial officer.
[Read: Time to Consider Tesla, Warts and All]
The latest settlement also follows replacement of a chief financial officer. The new CFO, Krishna Shivram, came from Schlumberger (SLB) - Get Report. Predecessor Dharmesh Mehta is now Weatherford's chief operating officer.
Beyond the charges against the company, what's most striking about Weatherford is that it has mostly missed the U.S. oil boom, and may keep on missing it. The units it's divesting include its land rigs business, which will be spun out in an IPO late next year, according to Duroc-Danner, and four smaller businesses it will auction off earlier in the year.
[Read: Hosting Guests on the Cheap Without Appearing Cheap]
The land rig business includes 183 drilling rigs, 284 workover rigs and around 14,000 employees, with revenue of between $1.8 billion and $2 billion. The other businesses being sold include drilling fluids, pipeline and specialty services, testing and production services and wellheads, which had total revenue of about $1.2 billion, the company said.
What will be left should be a company with roughly $12 billion in 2013 revenue engaged in well construction, reservoir completion, production services and reservoir evaluation, the company said in announcing the divestitures. Duroc-Danner said these are the more technologically sophisticated businesses in Weatherford's portfolio.
Some 29 analysts are currently following the company, with 11 holding buy recommendations and 4 more calling it overweight. The bulls apparently think the worst is behind the company and, if peace with Iran is coming, perhaps Weatherford is well-positioned to take advantage.
But it has mostly missed one of the biggest booms in the history of the oil business, and personally I would not want to touch such a company with a barge pole.
At the time of publication the author had no investments in the companies mentioned in this article.

This article is commentary by an independent contributor, separate from TheStreet's regular news coverage.