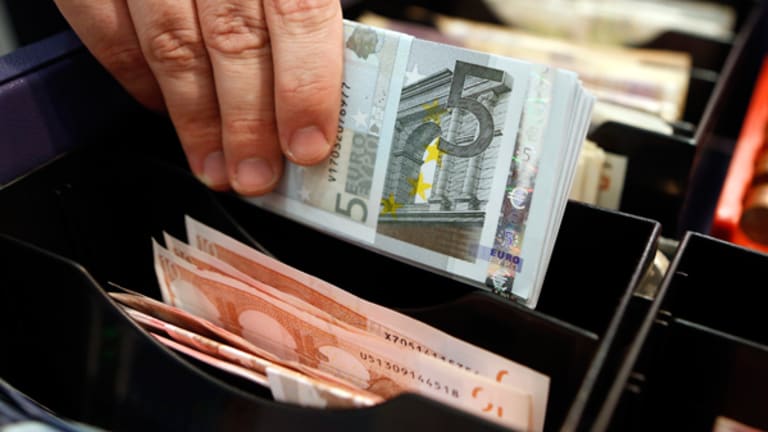 Weaker Euro May Be Good News for Draghi, European Central Bank
Europe hasn't had much good news lately. But now that the euro has dropped below $1.32, Matteo Renzi is getting Italy going and France's Hollande is forming a new government.
NEW YORK (TheStreet) -- The good news for Mario Draghi, president of the European Central Bank, is that the value of the euro dropped has dropped below $1.32. In May, the Euro was trading above $1.39.
Investors are expecting that the euro will fall further, now placing more bets in the futures market that the Euro will decline than at any time in the past two years.
Although Draghi has resisted moving to any form of quantitative easing, he made some remarks at the Federal Reserve's Jackson Hole meeting that the market has interpreted as a sign that he is giving more consideration to such a policy in the future.
As I have written before, it would not be surprising if, in the current situation, the value of the euro fell below $1.30 before the end of the year. This would represent a drop of almost 7% from its May highs.
Draghi has been reluctant to move toward a policy of quantitative easing, even though he has faced tremendous pressure to do so, basically because the evidence from the U.S. experiment has not been that encouraging when it comes to achieving faster economic growth.
There is one aspect of the American quantitative easing effort that might be of interest to Draghi at this time. Quantitative easing in the U.S. provided a massive amount of liquidity to the financial markets, making it easier for banks with underwater assets to hang on until they could unload securities or be closed or merged in an orderly fashion.
Currently, European banks are not as healthy as banks in the U.S. For various reasons, bankers in Europe have not cleaned out their portfolios as well as their counterparts in the U.S., and according to many reports feel that they are now in a position to get rid of a lot of undesirable securities so as to strengthen their portfolios and capital positions.
And this appears to be a good time for such a restructuring, as yields on a great deal of European debt are at historic lows. The 10-year German Bund closed to yield 0.94% yesterday. The 10-year Italian bond closed only 153 basis points above that, a spread that was a post-crisis low and with a total yield of 2.47%, an historical low since the eurozone was formed.
However, if banks began to "dump" securities at this time, there could be some upward reaction in interest rates. Draghi might want to assure investors that such sales would not cause market disruptions that would upset these portfolio adjustments. Some form of quantitative easing might provide the appropriate assurance.
Draghi also talked at Jackson Hole about the need for eurozone countries to make structural reforms to make themselves more competitive in world markets. This seems to be happening.
Matteo Renzi, the Italian prime minister just returning from vacation, tweeted that he was getting back to his post-holiday to-do list. One item was to privatize some of Italy's assets. Renzi has positioned himself as a leader of European economic reform. His plans for privatizing assets has evolved into the effort to restructure entities like the national postal service, the state-run ship-builder, and companies in the energy and utilities field, before selling off parts of them to the private sector. These efforts are being well received.
What Renzi is doing can also serve as an example to others... especially to France. Yesterday, Francois Hollande, the French president, asked his prime minister Manuel Valls to form a new government after some heavy criticism from his economics minister. It is expected that the new government will lean more to the center of the political spectrum and act more pragmatically in devising an economic program that will fight the economic stagnation of the country and produce more reforms to France's structural problems. It will be helpful to have a successful Italy leading the way.
Draghi should be take a little comfort from these developments. These are the most optimistic things that have happened in the eurozone in some time.
At the time of publication, the author held no positions in any of the stocks mentioned.
This article is commentary by an independent contributor, separate from TheStreet's regular news coverage.