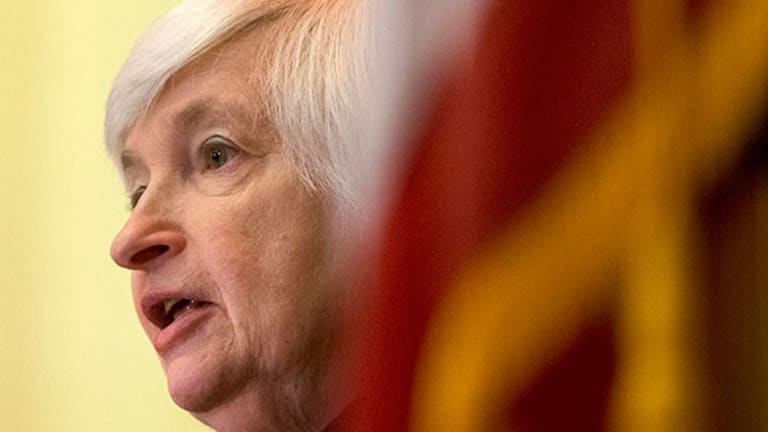 Weak 2Q GDP Means No Fed Rate Hike but Election Uncertainty
Weak growth means no Fed rate hike in December, but which presidential candidate will be helped in November?
Weak growth means no Fed rate hike in December, but which presidential candidate will be helped in November?
The U.S. economy grew at an annual 1.2% rate in the second quarter, undoing some of the groundwork for the Federal Reserve to resume raising interest rates after the presidential election in 101 days, and doing little to clarify whether Republican Donald Trump or Democrat Hillary Clinton will claim the prize.
The second-quarter GDP report fell well short of the mean prediction of 2.6% annualized growth, as reported in a Wall Street Journal survey of economic forecasters. Some forecasts had been slipping in the days leading up to the report, as data on durable goods orders came in well short of expectations on Thursday. Moody's Analytics, the nation's largest forecasting firm, had gone from a 2.8% tracking forecast to 2.1%.
Consumer spending, the largest part of the economy, rose at a healthy 4.2% clip during the quarter, indicating that consumers aren't disturbed by the political campaign or worries about terrorism -- a good sign for Clinton. But CEOs, who have been openly wary of Trump, curled up in a ball -- gross private investment dropped at a 9.7% annual rate, including a 6.1% drop in residential investment and a 7.3% annualized drop in business structures like offices and factories. Government spending dipped at a 0.9% annual rate. Shrinking inventories subtracted 1.16 percentage points from the growth rate, suggesting that the third quarter will see a rebound in growth as inventories revert to the mean.
"The problem, at least the potential problem, is that consumer spending and investment do not exist in isolation from each other," Regions Financial (RF) - Get Report Chief Economist Richard Moody said. "The concern is whether flagging business investment will at some point translate into slower hiring if not layoffs, in which case the consumer number goes from 'banging' to softly tapping."
The strong consumer numbers point to good times for food companies such as Pepsico (PEP) - Get Report and Kellogg (K) - Get Report  because food sales for home consumption grew especially strongly, and a mixed bag for housing and home-improvement related shares including Home Depot (HD) - Get Report and D.R. Horton (DHI) - Get Report . The investment numbers point to soft conditions for a wide range of blue-chip companies, from Boeing (BA) - Get Report to Caterpillar (CAT) - Get Report .
"I don't know what to make of the number given that no one is saying housing construction is cratering or that the government has shut down again," said Joel Naroff, president of Naroff Economic Advisers.
The numbers weaken the case for a December rate hike by the Federal Reserve, which futures markets  have already been seeing as slightly less likely in recent days. The chance of a December hike is now only aboout 35%, down seven percentage points since early Friday, according to CME FedWatch. Indeed, futures prices now assume a 53% probability that the Fed funds rate will stay at its current 0.25% to 0.5% target range through at least next June.
"Obviously it's not what they (the Fed) were expecting either," Moody said. "Like the rest of us they will look beyond the noise in the inventory numbers and they will see pretty much the same thing - solid consumer spending, flagging business investment. I'd say the two employment reports they will see before they meet in September are what will carry the most weight."
To the extent the economy influences presidential elections, it's hard to tell what today's report means. Of the two most prominent election forecasting models, one would take this as good news for Clinton, while the other would see it as confirmation of a pattern in which sluggish growth favors the Republican as the nominee of the out-of-power party.
Moody's Analytics' election model, which has been forecasting a comfortable Clinton win, relies mostly on consumer indicators whose strength is bolstered by today's report and other recent data. It weighs on high-profile pocketbook issues such as gasoline prices and housing appreciation. The report showed consumers spending freely on housing-related goods and on health care, even as spending on gasoline shaved a couple of hundredths of a percentage point off the economy's growth rate.
Yale economist Ray Fair's model heavily weighs the number of quarters in the years before an election in which the economy grows faster than a 3.2% annual rate. The tepid second-quarter growth rate reinforces the Fair model's prediction for a GOP win.
The government also released a series of revisions to past growth estimates. The economy grew slower than expected in the first quarter, expanding at a 0.8% rate rather than the 1.1% previously estimated. But the economy grew at a 2.6% rate in 2015, which is 0.2 percentage points faster than previous estimates.
This article is commentary by an independent contributor. At the time of publication, the author held no positions in the stocks mentioned.