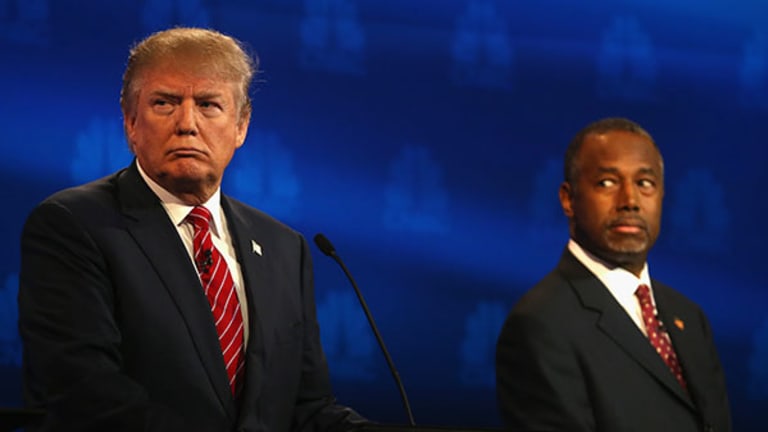 We've Reached Peak Presidential Debate -- It's Time For the RNC to Cancel the Rest
The Republican National Committee should spare us any further debates. We've seen enough.
The most illuminating moment in the four presidential primary debates so far was also the dumbest.
In the second Republican debate, candidates were asked to give themselves a Secret Service code name. It was a silly question, packed into a too-long evening of canned policy speeches and petty bickering. But, unlike almost everything that preceded it, it was revealing. Donald Trump proved he was charming and self-aware (code name: "Humble"); Rand Paul proved that he takes himself more seriously than anyone else does ("Justice Never Sleeps"); and Jeb Bush proved that he is, indeed, the RC Cola of candidates ("Eveready," a rejoinder to Trump's calling him "low energy," as well as the also-ran battery to the more recognizable brands -- Energizer and Duracell). It was the only time that the candidates really had to think on their feet.
If you had fallen asleep by that point -- deep into the third hour of the night that inspired Trump to demand that the following Republican debate be just two hours -- you could be forgiven. Nothing much happened and little was learned. I challenge anyone reading this to conjure from memory anything that happened beyond what I described above. (The Jeb-Trump awkward five? That was during the Secret Service code name question.)
The fact is, in the age of social media and 24/7, 360-degree news coverage of the candidates and campaign media machines, these televised debates have outlived their usefulness.
The first-ever televised presidential debate in 1960 was a watershed moment in both political history and television history. While it will always be remembered for Richard Nixon's sweat, it was also a key moment for the suave, confident John F. Kennedy, and many credited Kennedy's poise and Nixon's shvitz in helping propel Kennedy to the White House. It was a new medium for the election and it showed Americans something that they hadn't gotten from anywhere else: that they wanted to be or be with Kennedy and that Nixon probably smelled. Seduce me, and you have my vote; please back away, Mr. Nixon.
While that's the enduring lesson, it's not what I took from actually watching segments of the 1960 debate recently. Opening statements were nearly 10 minutes, with both candidates laying out detailed policy plans; and it went on from there, with each candidate talking for many minutes to answer questions as if they were reading from policy briefings. Both Kennedy and Nixon are wooden and overly formal by today's standards. And both delivered something that couldn't be gotten elsewhere at the time: a detailed, side-by-side comparison of the candidates...and, of course, the sweat that tipped the election. 
With its terrifying power so firmly established, there wasn't another election cycle with a televised debate until 1976.
Since then, it's been a tradition, one that has reached its absurd apex in the last two election cycles. There were 20 Republican debates last election cycle and there are nearly a dozen scheduled this time around, including the three we've already had. The Democrats have scheduled six.
The Republicans -- and, why not, the Democrats, too -- should cancel all upcoming debates. We don't need them and, obviously, they're only hurting the candidates' credibility. Take, for instance, the ugly moment in the last Republican debate when Bush and Rubio finally started going after each other. It was a moment that everyone knew was coming, it just didn't have to happen on live television, when emotions were running hot. Both candidates came out of it looking bad -- Bush because Rubio owned him and Rubio because it shined more light on his unflattering relationship with the Senate. Either could end up being the nominee and that confrontation could come back to bite them.
Want to learn about a candidate's policy positions (the ostensible purpose of these debates)? Check their official Web sites, where all their positions are spelled out. Sure, moderators can push for more details or challenge assertions, but the candidates often don't answer the questions. 
Want the filter and fact-checking that the news media provide? There are hundreds of reporters and commentators and dozens of online, television and print outlets that cover every candidate hiccup and sneeze.
How about candid moments? Check the candidates' Twitter, Facebook, Instagram and Pinterest pages. There you can see Ben Carson eating veggie pizza (his fave), Ted Cruz enjoy exercising his second amendment rights, and Carly Fiorina hold a Reece's Peanut Butter Cup (ingestion unconfirmed). This gives voters more than enough to know if they want to have a beer with one of them, truly the ultimate determinant when it comes to what Americans will do behind closed curtains on Nov. 8, 2016. (Here's a decent round up.) The social media of fans and observers often fill in the blanks left by the official accounts of the candidates. Some of the roughly infinity photos taken by amateurs of candidates being candidates: Mike Huckabee jamming; Rick Santorum on hay; Rand Paul looking cool; Ben Carson, in a nameless hotel ballroom. 
No doubt, the media, who the Republicans already don't like (and the feeling is probably mutual), will not be in favor of this idea. Fox, CNN and CNBC have profited richly from outsized debate audiences that rival those seen for major sporting events like marquee NFL games. (If this last tidbit gives you encouragement that the American electorate is becoming more interested in politics, relax; it's likely driven by the spectacle of Trump.)
Further, with less media exposure, it's possible we would be doing a disservice to our democracy; but is more really the answer?
Probably not for Carson, who doesn't much seem to like being under the microscope. Fiorina shot to popularity at the first Republican debate but her poll numbers have dropped following the added scrutiny that comes with good poll numbers. Perhaps only Trump benefits from the attention the debates bring. The more the Republican establishment wants a Trump presidency, the more it should promote the debates. 
It's ludicrous to argue that the debates give us more information about the candidates than what we already know. In 1960, before the World Wide Web, CNN and Facebook, television was the only way we could see the candidates sweat. If anything, we need less sweat.
The next Republican Presidential debate starts at 9 p.m. ET this Tuesday, 11/10. Join TheStreet.com for live coverage of the event, starting with the under-card debate at 7 p.m. Tune in for stories, videos, and more, and make sure to follow us at @TheStreet on Twitter for live commentary by TheStreet Editor-in-Chief Jeffrey Kanige during the debate.