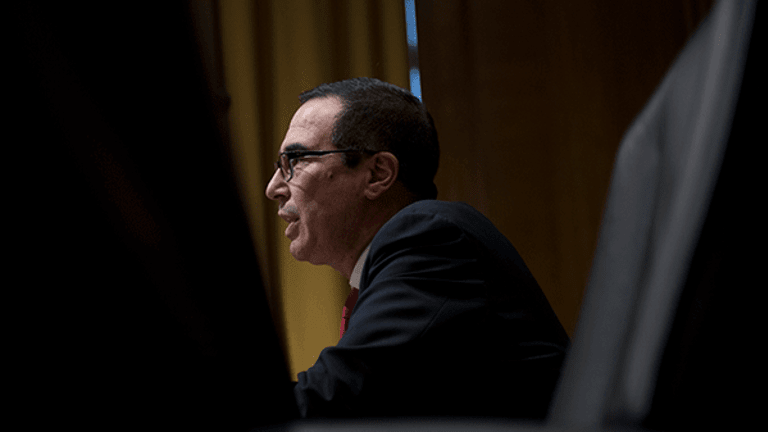 We're Seeing the First Signs of Serious Efforts on Tax Reform: Market Recon
Renewed hope for tax reform, also known as tax cuts, permeated the marketplace.
"Never let yourself get fooled by the same pitcher on the same pitch on the same day." -- George Kell "Hmmm..." -- Your pal.
The Big Six
There are a number of valid reasons that a storyteller may offer for Tuesday's broad rally in U.S. equity markets. The president's address to the nation on Monday night regarding the immediate future of Afghanistan was certainly a major catalyst. Defense and aerospace names did outperform the S&P 500, but the move higher was a well-rounded one. The index picked up nearly a full percent, while six of its 11 sectors actually did so. Copper is undeniably hot, trading at the highest levels seen since 2014. Chinese growth? Something's cooking. Just an "up day" in a down channel? Could be. I'll let you know down the road.
The primary catalyst for the support found in the marketplace on Tuesday was undeniable. The street, in general, had a rebirth. A rebirth? Indeed. Renewed hope for tax reform, also known as tax cuts, permeated the marketplace. After traders, investors, and algorithms had all but priced out anything considered to be part of the Trump agenda, there was a sudden rush to price back in at least part of that story, based increased military spending, and, yes, tax reform. Did you notice last week, when National Economic Council Director Gary Cohn said "We've got a great, I would say, 'skeleton' for tax reform"? Seemed routine at the time -- not the sort of item that would gather much attention, after the much-jeered outline of some sort of tax plan made negative headlines in July and forced doubts about the administration's ability to get this done to find their way into price discovery.
Not so fast, my friends. Nancy Cook's article in Politico rattled around Wall Street throughout the day. Traders e-mailed the story back and forth. What had seemed dead only a week earlier was rising from the grave faster than an angry guy with a hockey mask and a machete. For those needing more background info, after Gary Cohn, the rest of the "Big Six" would include Treasury Secretary Steve Mnuchin, Senate Majority Leader Mitch McConnell, House Speaker Paul Ryan, Senate Finance Chair Orrin Hatch, and Ways & Means Committee Chair Kevin Brady. It appears that this group is finding ways to make progress toward compromise. "We will be open to losing tax revenue in the early years" said Kevin Brady. That's encouraging to some, scary to others. The group is considering several ways to pay for possible tax cuts in order to grease its passage once such a plan stops being an idea, and becomes legislation.
What Is on the Table?
Apparently, everything including the kitchen sink. Permanent or temporary? Too early. Capping the mortgage interest deduction. That's a little scary for the average American. Doing away with State and local tax deductions. Again, scary. Eliminating interest deductions on business loans? That one would put small businesses in an even tougher spot than they are now, if "full expensing" was not also under consideration. That last item would allow small businesses to immediately deduct capital spending, and is intended to ease some of this pain.
The corporate tax rate is said to likely fall between 22% and 25%, according to the Politico article. I have heard 20% elsewhere. President Trump has asked for 15%. The final level will obviously be reliant upon how much of the above-mentioned benefits now enjoyed actually make it into any tax reform bill. Then there's the $2 trillion hoard of cash stashed overseas by U.S. multinational corporations. What rate attracts most of that money home? Can it come home? How much of that money is in effect already here, through its use as collateral in corporate usage of debt as a way to pay for things like dividends and share repurchase programs? Good question. Don't know the answer.
What we are seeing are the first signs of serious effort and compromise in this space. If you read Market Recon often, then you know that we warned you to avoid panic after last week's selloff. We mentioned that the Republicans, with their backs against the wall, might just come out with renewed vigor. There is so much to work out. This will not be easy, and every headline will create volatility in the marketplace, as we have just seen. Long way to go. After being sacked on first down, the administration seems to have completed a short pass in order to make a conversion on third down possible. That's all it is right now. Possible.
Won't Be Fooled Again
The problem begins with the 12 days in September that both houses of our Legislative Branch of government will spend in session. Nobody has ever marveled in awe at the undying work ethic of our elected representatives. I find it unlikely that they ever will. Steve Mnuchin, Secretary of the Treasury, has already indicated that the Federal government may go bust by the end of September without an increase in the debt limit. The U.S. government would at that time either have to default (not likely), or have to broadly shut down in order to avoid any non-essential spending (much more likely).
Senate Majority Leader Mitch McConnell spoke from Louisville, Kentucky on Monday. He said: "There is zero chance, no chance we won't raise the debt ceiling." This particular nugget of information also had a positive impact on Tuesday's trade in addition to all of the above. Really? I may not be from Missouri, but Mitch, with your history, you are going to have to show me. We have a serious history with this individual of overpromising and underdelivering. With all due respect, Sir.... How about you keep that pie hole shut, and just get the job done? Got it?
The Creeper
Anyone else notice yields for 10-year paper inching higher, or, for those not familiar with yields, prices for 10-year paper inching lower? Just Friday, the U.S. 10-year at one point was giving up less than 2.17%. This morning? Above 2.22%. That's mildly significant. The two-year/10-year spread is trading at 0.888% this morning. I would feel a little better about the financial sector, and the banks in specific if we could see a return to something like 0.92% in the near term.
Still, this kind of movement can't be ignored with the doctor, Janet Yellen, warming up in the on-deck circle at the Kansas City Fed's Jackson Hole economic symposium. Don't forget, the Fed Chair speaks Friday, as does ECB President Mario Draghi. Draghi's crew has already indicated that there will be no surprises coming from his corner. How about Yellen? She was added to the program late. Does she have something to say that she has not already made public? Know what? I'll let you know this Friday, but keep that thought in your head. The CME's website is currently showing the probability of another rate hike this year (as price in by the futures market) at 42%. By the way, those same markets are pricing in a 2% chance of a rate cut.
The new Samsung Note is unveiled today. 
Macro
09:45 - Markit Manufacturing PMI Flash (August):Expecting 53.3, July 53.3.
09:45 - Markit Services PMI Flash (August):Expecting 54.9, July 54.7. As far as the Markit data goes, for July both the manufacturing and service sector PMIs printed at their respective highest levels since much earlier in the year. For the marketplace, that is truly neither here nor there. The markets just do not focus on anything released by Markit in this country. You'll have to wait until the ISM numbers hit the tape late next week.
10:00 - New Home Sales (July):Expecting 611,000, June 610,000 SAAR. New home sales have been screaming. Three of the last four monthly prints have hit the tape above the 600,000 mark on an annualized and seasonally adjusted basis. Supply appears to have stabilized this year between 5.3 and 5.5 months' worth. Barring an absolute surprise for the weekly oil number, this will be your macro event of the day.
10:30 - Oil Inventories (Weekly):API -3.6 million, Last Week -8.945 million barrels.
10:30 - Gasoline Stocks (Weekly):API +1.4 million, Last Week +22,000 barrels. The draw reported by the American Petroleum Institute last night was very close to consensus expectations, but the build for gasoline was a little higher than I was looking for. Crude futures spiked in both directions immediately after the API data was reported, but the price quickly stabilized close to where it was prior.
13:05 - Fed Speaker.Dallas Fed Pres. Robert Kaplan will speak this afternoon from Midland, Texas. Kaplan does vote on policy this year, and after a hawkish start to his tenure, he has softened his stance greatly in response to the overbearing lack of consumer level inflation. Kaplan will open himself up to questions at this event, and as a side dish, he'll be speaking to an oil crowd, so an energy based theme will likely arise at some point.
Sarge's Trading Levels
These are my levels to watch today for where I think that the S&P 500, and the Russell 2000 might either pause or turn.
SPX: 2469, 2463, 2456, 2448, 2440, 2431
RUT: 1391, 1385, 1376, 1369, 1361, 1352
Today's Earnings Highlights (Consensus EPS Expectations)
After the Close: (GES) - Get Guess?, Inc. Report ($0.10), (HPQ) - Get HP Inc. (HPQ) Report ($0.42), (PVH) - Get PVH Corp. Report ($1.63), (WSM) - Get Williams-Sonoma, Inc. Report ($0.59)
Get Morning Recon delivered directly to your inbox each market day. Click here to sign up for e-mail delivery of Stephen "Sarge" Guilfoyle's Morning Recon, Jim Cramer's Daily Booyah! or other great free newsletters from TheStreet.
Don't miss these top stories on TheStreet:
At the time of publication, Stephen Guilfoyle had no positions in the stocks mentioned.