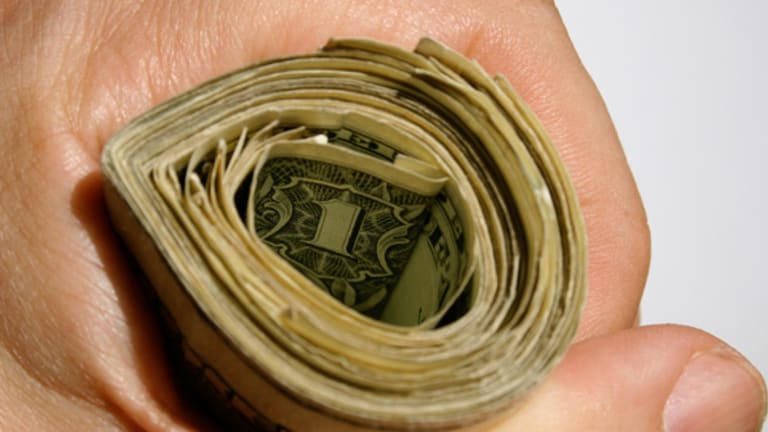 We Knew First-Quarter GDP Report Would Be Ugly, but It Was Hideous
Janet Yellen and the Fed are stymied after final data show the economy shrank 2.9% in the first quarter. The second quarter looks iffy too.
NEW YORK (TheStreet) -- We knew the government's last number on first-quarter economic growth would be ugly -- and it surely was. But buried in the details of short-term miasma is some sure-to-be-overlooked information that points to a brighter tomorrow.
The economy shrank at a 2.9% annual rate between January and March, mostly because of the now-infamous polar vortex that took over most of the eastern U.S. beginning, oh, about last August (not that I'm bitter). Consumer spending was much worse than previously reported, rising at a 1.0% clip instead of the 3.1% the Commerce Department said last month. Gross private investment fell at the same 11.7% annual clip reported in May, and government spending dipped at a 0.8% rate.
The more interesting part was the distribution in the decline in corporate profits. While relatively little coverage will focus on this part of the report, it's the part that may matter most when all is said and done.
The government said profits of financial corporations decreased $52.6 billion in the first quarter, in contrast to an increase of $6.1 billion in the fourth quarter. Profits of nonfinancial corporations increased $75.4 billion, compared with an increase of $19.5 billion. This increase primarily reflected increases in utilities industries, durable-goods manufacturing industries, and information industries, partly offset by lower profits in some non-durable goods manufacturing.
The government also noted that unit profits fell because of rising unit labor costs. Now, this might get the inflation hawks yelling that the Federal Reserve should hike interest rates sooner than we expect. They're wrong, and here's why.
First, if profits are really moving into the productive sectors of the economy from the financial sector, this is a good thing. There's little doubt the rewards of the capitalist game became overconcentrated in finance over the 25 years before 2008, with disastrous results. After all, Google (GOOG) - Get Alphabet Inc. Report and Apple (AAPL) - Get Apple Inc. Report each created more jobs in the last decade than the entire U.S. securities industry. (I compared their filings, which report the number of workers, to Labor Department data on securities employment). And you can say that those two are outliers. But it's also true that the sum of Expedia (EXPE) - Get Expedia Group Inc. Report and Salesforce.com (CRM) - Get Salesforce Inc. Report, much more prosaic names, also created more jobs than all the king's buyout groups and all the king's hedge funds.
If the model where Wall Street gets the lion's share of the economy's rewards is really on its way down or out, that is a good thing. Other industries will do more with it. That it may be happening with little to no nudge from policymakers is even better. The other reason the Fed should stand pat on rates is to boost pressure on companies to invest more.
At midyear and beyond, there's little doubt that the dip in consumer spending growth will go away -- what may persist, and needs to be addressed, is business' continuing reluctance to invest and boost productivity growth.
This is not a problem that policymakers created under Barack Obama -- I wrote about it as long ago as 2006. It has been a persistent issue, with some interruption during the best part of the last expansion, since the Web bubble popped in 2000.
The trouble is that using tight money as a cudgel against wage inflation, a course many economists still want the Federal Reserve to follow,  has given business an easy out. If Giant Corporation X knows Washington will make sure workers' financial ambitions are kept in check by tightening money when raises loom, then the cycle of underinvestment may continue indefinitely. It's always cheaper and easier to do nothing.
Don't forget: The Business Roundtable got more than $2 trillion of deficit reduction it sought between 2011 and 2013, which it said would boost business confidence. Then corporations boosted investment even more sluggishly, while the drag on consumer spending from budget cuts held back the recovery.
One reason money should stay loose is so corporations can invest cheaply in equipment and innovation. The other reason for loose money now is so businesses will have to invest -- because the Fed is rightly determined to let the recovery ride until workers begin to get raises again. A world where the best way to build profits is to invest, is a world where companies will invest.
So, sure, look at this morning's number and note that it's even worse than forecast -- which it is. But growth at midyear will offset it, and most of the problem was weather anyway.  The Fed is steady enough to stick to Chair Janet Yellen's emphasis on more jobs and higher wages, and keep interest rates low to make the recovery keep coming.
Below the surface, that the economy may be doing more to reward people who make things and less to reward those who skim from the top is likely to prove a very good piece of news indeed. And it will keep paying dividends long after everyone forgets today's headline.
This article represents the opinion of a contributor and not necessarily that of TheStreet or its editorial staff.
Flying Between the U.S. and China Is Booming; Too Bad It's Not Profitable