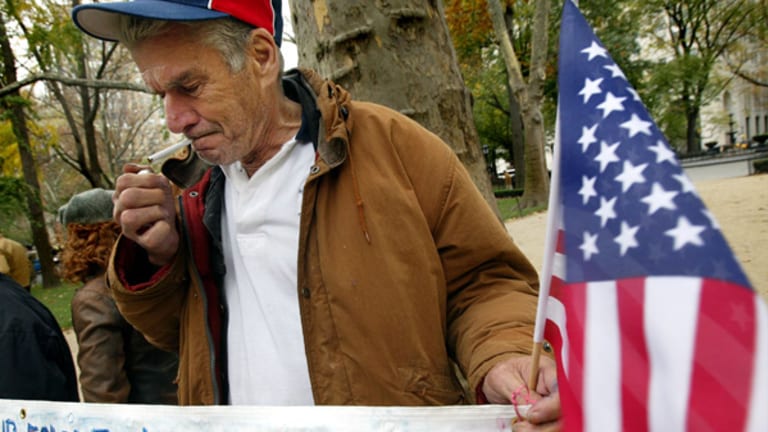 We Keep Paying the Cost of Our Wars
Veterans' suicides have outpaced combat deaths and an increasing number of veterans deal with mental illness and homelessness.
PORTLAND, Ore. (TheStreet) -- Four years ago, I told the story of 23-year-old Marine Lance Corporal Jeffrey Michael Lucey of Belchertown, Mass. -- an Iraq veteran who committed suicide after struggling with post-traumatic stress disorder -- as a means of explaining what was then a recent spike in military suicides.
Next year will be the 10th anniversary of Lance Corporal Lucey's death. In that decade, the number of suicides among active members of the military and veterans hasn't abated. In fact the 349 military suicides in 2012 exceeded the 295 U.S. military members who died in combat in Afghanistan last year. Most suicides occurred among personnel between 18 and 24 years old. Meanwhile, roughly
6,500 former military personnel
killed themselves last year, which equates to one suicide every 80 minutes.
The June 2012
Monthly Medical Surveillance Report
published by the Armed Forces Health Surveillance Center directly addresses military suicide and notes that annual incident diagnoses of mental disorders among active service members have increased by roughly 65% percent in the last 12 years. That doesn't just go away when service members are discharged, either. The Department of Veterans Affairs estimates that roughly
13% of the overall U.S. homeless population are veterans
, with 50% experiencing severe mental illness and 75% struggling with substance abuse.
Younger vets from recent wars make up approximately 10% of that veteran homeless population and 31% of all veteran suicides. As we mentioned three years ago while telling the story of
21-year-old Army Specialist Adam Kuligowski
-- who took his rifle into a bathroom stall at Bagram Air Base in Afghanistan and shot himself on on April 6, 2009 -- often the very drugs soldiers are using to combat depression, insomnia and post-traumatic stress disorder are the ones interacting with other drugs and pushing military personnel toward suicide.
This is what those who've fought our nation's most recent wars have had to deal with. This is the collective price they pay, and it hasn't diminished in recent years. On this Veterans Day and every other within the last decade or so, an increasing number of veterans are finding themselves pushed to the brink as the infrastructure of VA facilities, clinics, doctors, shelters, safe house and other facilities do what they can to keep them stable or, at the very least, alive.
Within the last decade, the budget for Veterans Affairs has increased from $59.7 billion to $125.3 billion. VA used $40 million in extra Congressional funding earmarked for military suicide prevention to establish
a new crisis line (1-800-273-8255) and Web site
that gives vets non-phone options including text and online chat to reach out if they're contemplating suicide. President Obama signed an executive order in August authorizing the VA to hire additional staff and double the capacity of the crisis line to increase its accessibility.
Congress, meanwhile, has finally realized that doctors can't medicate away a veteran's problems and passed legislation a year ago authorizing more money for peer counseling that would pair returning service personnel with veterans who have made the transition to civilian life. In each story of both military and veteran suicides, a common theme and complaint is that military personnel are either afraid to seek help with PTSD or other ailments because of the stigma attached to such pleas -- the fear that they'll be considered soft or cowardly -- and that veterans often feel isolated when there's nobody around that they feel can relate to their experiences. Having a friendly, empathetic face who's been in similar situations has proven far more effective than popping pills and going straight back to civilian life.
What doesn't help are short-sighted comparisons to the overall national suicide rate that doesn't account for the much younger average age of military personnel and recent veterans. Similarly unhelpful is a military culture in which seeking mental health or substance abuse treatment is viewed as a career risk and confidentiality for records of said treatment isn't an option. When your commanding officer can peek in on whatever aspect of your medical records he or she pleases, your private concerns tend to become an embarrassing public matter and a handful of pills become preferable.
This is what active-duty military and veterans are still up against. This is the collective price they continue to pay for their service and for our nation's last decade at war. They should see a whole lot more return on it than what they're getting.
Recent strides are helpful, but the last four years have made plain that there are still a lot of folks like Lucey and Kuligowski out there. They're people who could really use an ear willing to listen, a face that understands and a home that makes sense to them. Some of them are your neighbors on line at the supermarket, some of them are waiting in line for a bed at the local mission or shelter. The price paid for helping them is high, but the price they pay when that help doesn't come is even higher.
-- Written by Jason Notte in Portland, Ore.
>To contact the writer of this article, click here:
Jason Notte
.
>To follow the writer on Twitter, go to
.
>To submit a news tip, send an email to:
.
RELATED STORIES:
>>Toxic Cocktail: Army Struggles With Mental Health Care
>>Veterans To Get More Small Business Loans
Jason Notte is a reporter for TheStreet. His writing has appeared in The New York Times, The Huffington Post, Esquire.com, Time Out New York, the Boston Herald, the Boston Phoenix, the Metro newspaper and the Colorado Springs Independent. He previously served as the political and global affairs editor for Metro U.S., layout editor for Boston Now, assistant news editor for the Herald News of West Paterson, N.J., editor of Go Out! Magazine in Hoboken, N.J., and copy editor and lifestyle editor at the Jersey Journal in Jersey City, N.J.