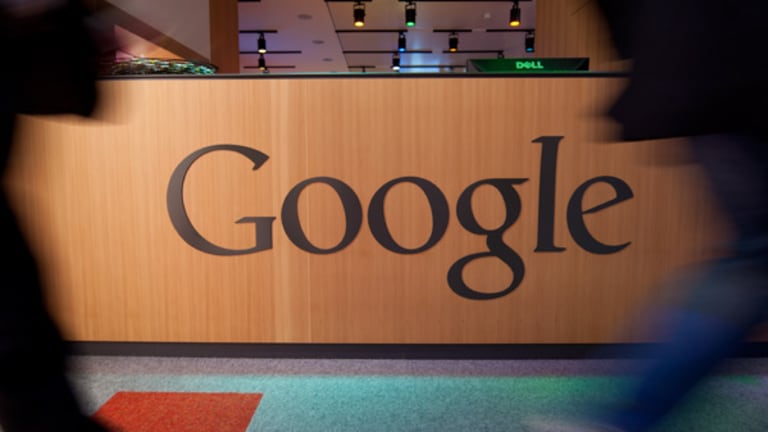 We Interrupt This Program to Tell You About Google's Stock Split
They said it wouldn't happen.
NEW YORK (TheStreet) -- Some news is so important that the media has to change its plans on what to write about. That's what just happened to me after reading that Google (GOOG) - Get Alphabet Inc. Class C Report is actually going to split its stock for the first time since its initial public offering.
This is a huge shift in the shareholder-friendly company's plans, and the stock in after-hours trading is up more than 4% to a new high of $1,183.
As I reported Thursday, GOOG is the best tech company in the world today, bar none. But for the past three years co-founders Larry Page and Sergey Brin have bristled at any stock split arrangement that would weaken their control over the destiny of the company they founded in a garage more than 15 years ago.
According to an Associated Press report, the stock split is scheduled to take place on April 2. "It had been delayed because of staunch resistance from other Google Inc. shareholders, who feared the maneuver would unfairly benefit Page and Brin at the expense of just about everyone else," according to the report.
Apparently that concern is now a thing of the past. To make the stock split possible the company settled a shareholders lawsuit and - are you sitting down -- agreed to pay up to $7.5 billion if the split doesn't work out well for shareholders like Google's officers imagine.
Google's plan will create a new class of "C'' share that has no voting power. As reported, tne share of C stock will be distributed for each share of voting Class A stock owned as of March 27. To begin with the value of the current stock will be divided equally between the two types of shares.
Both classes of stock will then trade separately with different ticker symbols. Class C shares will still use the company's existing "GOOG" ticker symbol, while Class A stock will use the symbol "GOOGL." Will the co-founders still be able to dominate and rule this most powerful of technology titans after the split?

Oh yes they will because Page and Brin own mostly Google's Class B shares. This supposedly gives them 10 times the voting power of each Class A share. Somehow this all works out so the Google founders control 56% of the shareholder votes, even though they own less than 15% of the stock issued.
Not wanting to split hairs (just shares), a new class of non-voting stock allows Google to continue to give shares to its nearly 44,000 workers without diluting the co-founders' control. As with any stock split, it dilutes the share price of authorized stock that trades on the Stock Market simply because there will then be a doubling in the outstanding shares.
To help offset this dilution factor the company will be distributing about 277 million shares of Class C stock to shareholders based on how many Class A shares had been issued as of late last year. If Google's shares react like other 2-for-1 splits, the stock's price would be halved from its current level of more than $1,140.
Shareholders will have twice as many shares at half the price, so Google's market value should theoretically remain the same at nearly $385 billion. Now let's review the way the AP explained the shareholder lawsuit and its history.
There were and still are a group of shareholders who "... suspect the non-voting status of the Class C stock will cause those shares to trade at a significant discount to the Class A stock once the new stock is issued. The concerns led to a class-action lawsuit in Delaware chancery court filed shortly after Google announced its plans for the split in April 2012."
Now we understand why Google delayed the stock split until the lawsuit was resolved. To avoid a long and costly lawsuit Google settled evidently to the satisfaction of the shareholders. The Court approved the settlement three months ago.
That settlement means Google will have to pay the Class C shareholders, "... if the average price of their stock is at least 1% below the Class A shares during the first year after the split. The size of the payments will escalate as the gap widens, with the maximum payout required if the gap between the average prices of the Class C and Class A shares is 5% or more."
There's also a more drastic and costly component of this settlement. It calls for Google shareholders and tje Class C stockholders getting 5% of the average trading price of the Class A shares. "So if the Class A stock has an average trading price of $600 during the first year after the split while the Class C stock averages $565, Google would have to pay $30 per share in cash or additional stock." the AP said.

The news of the complicated stock split and the settled lawsuit helped to offset earlier announcements that Google's fourth-quarter earnings rose 17% despite an ongoing shrinkage in its online ad revenue. Advertisers haven't been willing to pay as much to lure prospective customers on tinier smartphone screens and the somewhat bigger screens of tablets.
GOOG has been modifying its digital marketing system with the aim of bundling together mobile and PC ad campaigns. This way Google believes that advertisers will eventually see the advantages of connecting with users who depend on mobile devices. Then, slowly but surely, advertisers will supposedly start to pay the higher prices for marketing products and services on all kinds of devices.
Even though Google's average ad rate, also known as "cost per click," went down from the previous year, the good news is that the total number of paid ad clicks increased by 31% from the year-ago period. All this and much better demand for the company's products and services added up to Google earning $3.4 billion, or $9.90 per share, in the October-December period. That compares quite favorably to the $2.9 billion, $8.62 per share, the year before.
Now all shareholders have to do is keep a watchful eye and a keen ear open to the rest of the details concerning the stock split. Usually the devil is in the details, but in this case there are too many "angels" (and angel investors) behind this outcome to assure that investors will be smiling starting now!

At the time of publication the author had positions in GOOG.

This article represents the opinion of a contributor and not necessarily that of TheStreet or its editorial staff.
Marc Courtenay is the founder and owner of Advanced Investor Technologies, LLC, as well as the publisher and editor of www.ChecktheMarkets.com.
Courtenay holds a Master's of Science degree in Psychology from California Polytechnic State University, and is a former senior vice-president of Investments for two major brokerage firms. He's been a fiercely independent investment "investigator" and a consulting contributor to the investment publishing world for over 30 years. In addition to his role as an investment publisher and analyst, he serves as a marketing consultant to the investment media industries.
In his role as a financial writer and editor, he specializes in unique investment strategies, growth with income stocks, overlooked investment themes, tax-advantaged themes, risk management, technologies to capture gains and reduce losses, real estate related opportunities,effective wealth preservation techniques, and the use of ETFs for diversification and asset allocation. He also follows and frequently writes about technology, health sciences, energy and resource companies. Because of his training and background in Clinical Counseling and Psychology, he enjoys writing about investor behavior, the herd mentality, how to turn investment mistakes into investment breakthroughs and the stock market's behavioral trends and patterns.