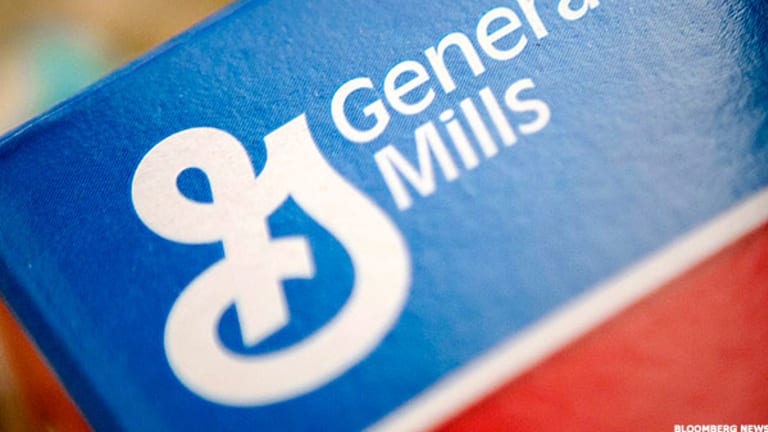 Ways General Mills, Clorox, Kellogg's Are Saving Big Money on Favorite Brands
Major consumer product companies are getting very creative in cutting costs on brands like Haagen-Dazs, Hamburger Helper and Glad trash bags. Brian Sozzi exposes the most creative.
NEW YORK (TheStreet) -- To combat pesky inflation and intense price competition in the aisles of Walmart (WMT) - Get Walmart Inc. Report and Target (TGT) - Get Target Corporation Report, major consumer products companies are finding ingenious ways to save money in their operations. The cost savings are starting to really add up.
Often branded with a geeky corporate title, the money saved from restructuring programs are being reinvested into improved marketing messages and packaging, as well as developing new innovations. Take for instance General Mills' (GIS) - Get General Mills, Inc. Report "Holistic Margin Management", or HMM, initiative. According to a May 14 blog post by General Mill's Public Relations Manager Bridget Christensen, this program is "one of General Mills' strategies to offset rising input costs." In fiscal year 2015 alone, this program "is targeting more than $400 million in cost of goods sold" savings noted General Mills Executive Vice President and CFO Donald Mulligan on the company's most recent earnings call. By 2020, General Mills is expecting to realize $4 billion in costs savings from HMM.
The key to bringing these lower costs to life? It starts, per Christenson's blog post, by "understanding the drivers of value in our business and to eliminate non-value added costs and activities." Some of the more creative actions by General Mills include: using 10 pasta shapes in Hamburger Helper as opposed to 20, reducing the size of several Helper packages by 20% while keeping the same amount of product in each box, and installing "scoop showers" in over 250 Haagen-Dazs stores to save water and money. "Scoop showers" are designed to maintain ice cream scooper cleanliness without running water for an extended period. All told, the annual savings from this scoop shower maneuver: $1 million.
In an emailed statement, Christensen provided further color on unique ways that General Mills is removing costs from its business.
In 2013, we continued to improve transportation efficiency by shifting loads from trucks to rail and optimizing trailer space and weight. By using trucks with lighter-weight cabs, we were able to place additional pallets on each truckload. These changes, combined with greater fuel efficiency, helped us save US$27.2 million in 2013.

We redesigned our Pillsbury biscuit dough can pallets in 2013 to increase the number of cans per pallet. The redesigned pallets also offer better protection during shipping, thereby reducing waste from damaged products. Through a one-time investment to change pallet configurations, we saved US$192,000 in logistics annually through optimization of truck transportation plus an additional US$780,000 savings from reducing the amount of unsalable products damaged during shipping. Preventing damage during shipping also saves the resources and materials used in making the product.
Then there is cereal legend Kellogg's (K) - Get Kellogg Company Report, which in November 2013 announced a global, four-year efficiency and effectiveness program dubbed "Project K." As outlined in Kellogg's annual report, the "focus of Project K will be to strengthen existing businesses in core markets, increase growth in developing and emerging markets, and drive an increased level of value added innovation." In the company's annual report footnotes, Project K's goals become clearer, stating that savings will be "reinvested in advertising, in store execution, and in the design and quality of products.
Total cost savings from Project K actions by 2018: $425 million to $475 million ($50 million to $60 million in 2014), two-thirds of which will come from the cost of goods sold line.
Kellogg's did not return messages for additional specifics on Project K.
Clorox (CLX) - Get Clorox Company Report, shepherd of top-of-mind household brands Glad and its namesake clothing bleach, is also involved in the great race to extract efficiencies from its operations. When reached for comment, Clorox spokeswoman Lauren Young detailed the actions the company is taking to more tightly manage the business.
Concentrated Clorox Bleach: Our transition to concentrated Clorox® bleach saves resources across the life cycle of the product, from raw materials through manufacturing and shipping, to even when the consumer recycles the bottle. The savings add up to 225,000 megawatt hours of electricity, 196 million gallons of water, 16 million pounds of paper and 10 million pounds of plastic annually.

Smart Tube Technology: Clorox has recently launched the largest innovation to spray technology in the last 20 years with the introduction of SmartTube technology. It's a built-in tube within the bottle that allows the consumer to spray every last drop. Now consumers can use all of the liquid product in the package rather than sending it to landfill. This results in a net projected reduction in waste of 81,000 gallons of formula each year. The trigger is now also made with all plastic components which enables recycling. In addition, the trigger now functions through a greater number of refill cycles allowing for more re-use after purchase.

Glad Trash Bags Made With Less Plastic: In recent years, we introduced stronger Glad trash bags made with less plastic, which saves around 6.5 million pounds of plastic each year, or the equivalent of 140 million trash bags.

Heavy Product Hauls: One of the largest components of Clorox's cost of goods sold is transportation. More than 400 trucks leave our plants and distribution centers daily with finished product. Because Clorox products are heavy, we generally reach the legal weight limit before a trailer is full. Clorox employees created a program that allows us to transport approximately 10 percent more product by using lightweight tractors and trailers. As of fiscal year 203, the program is projected to annually save more than $1 million, remove 2,000-plus trucks from the road and reduce CO2 emissions by 3 million pounds.
What, you thought Apple (AAPL) - Get Apple Inc. Report was the only company that could innovate?
Seeing this Innovation in Real-Time
Here are self-produced Vines showing exactly what General Mills, Kellogg's, and Clorox discussed above.
General Mills' Helper
Kellogg Corn Flake Box
Clorox Smart Tube Technology
Planet Fitness' Domination has Only Just Begun
3 Jaw Dropping Secrets Behind the Success of Planet Fitness
-- By Brian Sozzi CEO of Belus Capital Advisors, analyst to TheStreet. This article represents the opinion of a contributor and not necessarily that of TheStreet or its editorial staff. At the time of this publication, Belus Capital Advisors rated Walmart and Target at sell. Brian Sozzi is the CEO and Chief Equities Strategist of
. He is responsible for developing and managing an equities portfolio of mid- and large-cap positions, in addition to leading the firm's digital content initiatives. He is also a personal finance columnist for
Men's Health
magazine.