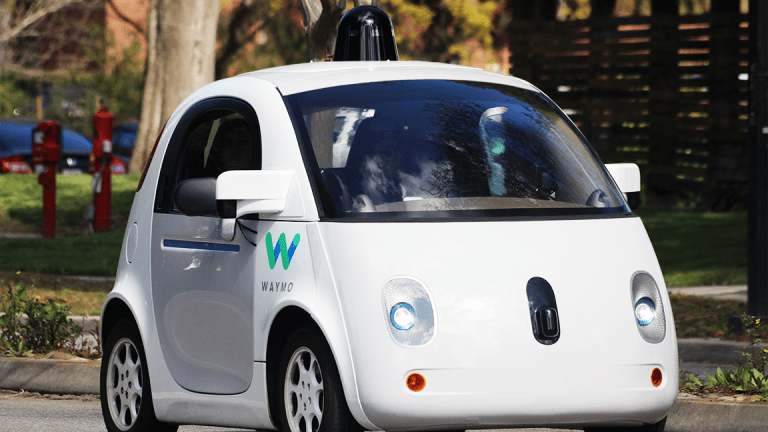 Waymo's Service Launch Highlights Its Lead -- and How Much Farther It Has to Go
Alphabet's self-driving unit has begun charging some passengers for rides in the Phoenix area. Rivals and top automakers are bound to take notice.
There's a decent amount of fine print attached to Waymo's launch of a commercial self-driving service in Phoenix, and little is known for now about how rapidly it will expand.
Still, it's hard not to be impressed by what Alphabet's  (GOOGL) - Get Report self-driving unit has pulled off. And unless rival self-driving initiatives show signs of at least narrowing the lead that Waymo has built up, some of the automakers that have been unwilling to form a close partnership with Waymo are likely to rethink their stances.
About 20 months after starting an "Early Rider" program that began providing rides in self-driving minivans to select people in the Phoenix metro area, Waymo has launched a commercial service called Waymo One. Much like with Uber or Lyft, Waymo One users share their credit card number through a mobile app and subsequently use the app to hail rides, which they're billed for afterwards.
On the whole, initial reviews of the service are encouraging. Though some reviewers have reported experiencing an unsettling moment or two (for example, a sudden lane change), rides have largely been described as uneventful. Indeed, much of the criticism of Waymo's cars, which are fitted with touchscreens that let users monitor their rides and buttons that allow them to quickly get help if needed, center around the cars driving too cautiously, rather than of putting passengers in danger.
Alphabet is a holding in Jim Cramer's Action Alerts PLUS member club. Want to be alerted before Jim Cramer buys or sells GOOGL? Learn more now.
Likewise, much of the feedback from Early Rider program members has been positive. Notably, some Early Riders have reported that Waymo's systems have gotten better at handling difficult or confusing driving situations following user feedback. An August report from The Information indicated Waymo's cars could struggle with navigating T-intersections, as well as predicting how groups of pedestrians will act.
But positive reviews or not, Waymo One is for now only available to "hundreds" of Early Rider program members, and restricted to a 100-square-mile zone. And outside of some trips taken in the Phoenix suburb of Chandler, Waymo One trips feature a "safety driver" who is able to take the wheel if needed.
It's also worth keeping in mind that the Phoenix area, with its lack of snow, limited rainfall, wide streets and relatively low population density, makes for a near-ideal urban testbed for an autonomous ride-hailing service. A service that generally works well in Phoenix might have a harder time, however, in, say, Manhattan or Minneapolis.
Also, until self-driving systems advance to the point where a safety driver is no longer needed, the presence of one undercuts the economic argument for autonomous ride-hailing services. That argument has revolved around offsetting the considerable cost of such systems --Waymo's are powered by Intel (INTC) - Get Report Xeon CPUs, which are most commonly found inside of servers and workstations -- by removing the need to pay a human driver. Until safety drivers are unnecessary, it's hard to imagine Waymo turning a profit on its service while charging rates similar to Uber and Lyft's.
Nonetheless, with an announcement like this, it's important to step back and look at the big picture. For a select group of people, a service involving cars that can drive themselves is available in a 100-square-mile zone. And its provider is confident enough about the service's utility and reliability to start charging for it.
The fact that Waymo has made it this far says a lot about the payoff Alphabet has received from the billions in R&D investments it's believed to have spent on Waymo since 2009. These R&D investments include driving over 10 million test miles on public roads, simulating billions of additional miles within data centers, creating advanced maps, developing low-cost LIDAR arrays and much else.
For the moment, it's not clear that any rival is close to launching a Waymo One-like service. General Motors' (GM) - Get Report Cruise, which recently scored a large investment from Honda, has talked about launching a driverless taxi service at some point in 2019. However, an October report from Reuters stated that it's now "looking highly unlikely" that Cruise's cars will be deployed on a large scale next year, following the emergence of "unexpected technical challenges."
In spite of its lead, Waymo has had a hard time winning over the auto industry. While the company has struck deals with a pair of major automakers -- namely, Fiat Chrysler (FCAU) - Get Report  and Jaguar Land Rover -- to potentially buy and retrofit tens of thousands of cars for its own use, it hasn't yet inked a deal through which a top automaker has agreed to adopt Waymo's technology for use within cars that it would sell to either consumers or third-party ride-hailing services. Given that self-driving systems are expected to cost several thousand dollars even after volumes ramp, this is probably a bigger long-term opportunity than directly providing driverless ride-hailing services.
Thus far, only one major automaker, Fiat, has even said that it's in talks with Waymo about a deal to use its technology within cars that it would sell. From all indications, the wariness on the part of car makers to draw too close to Waymo has much to do with a fear of surrendering control of the user experience to a third party.
However, if Waymo remains soundly ahead of Cruise and other rivals in the race to commercialize truly driverless cars, odds are good that at least one or two major automakers will eventually put their misgivings aside.