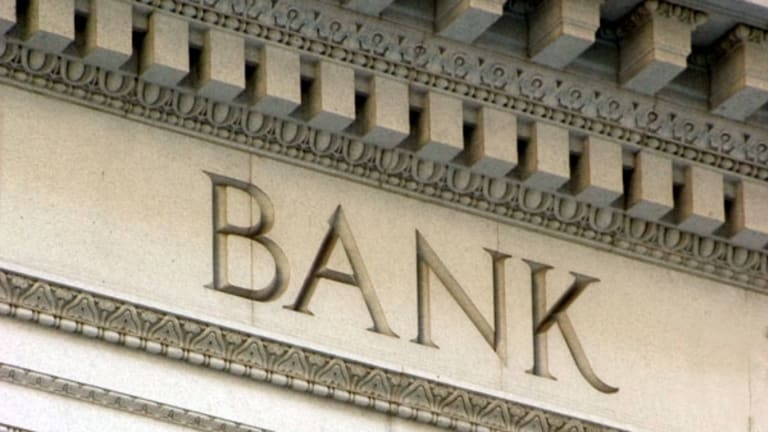 Watching the Banks for Signs of Trouble
The consumer goods sector isn't sacrosanct in today's economic climate.The same is true for banking stocks and the financial sector.
NEW YORK (TheStreet) -- As I opined in an article yesterday, even the treasured consumer goods sector isn't sacrosanct in today's economic climate.
The same is true for the banking stocks and the financial sector. Some meaningful headwinds like higher mortgage rates, a spike in the price of oil and the persistent rumors of a global slowdown linger on.
TheStreet's
Jim Cramer commented on Wednesday about the current interest rate scenario and what may be on the horizon. His view is a temporarily disturbing one that holds true for all the big-name, dividend-paying stocks.
He wrote, "I think it says interest rates are still going higher and today's climb back up is for real. These stocks
consumer goods in particular are all part of that bond market equivalent trade and they failed to rally when rates dipped back down the other day. This tells me that the decline in rates isn't for real and we will soon see 3% on the 10 year Treasury note, about a quarter of a point from where it is now."
Jim has a gift for saying a lot in just a few lines. If his predicative gifts are as well honed, we'd be smart to keep an eye on this situation. How will that "bond market equivalent trade" affect other sectors?
The big banks, including investment banks and the more traditional ones, could be the next canary in the coal mine. Rising interest rates can positively impact upon the sector's "carry trade" but...
Borrowing costs can really put the kibosh to the financial sector's lending business. I'm in the camp that doesn't believe the
Federal Reserve
is going to sit idly by and let its "children" suffer, so I remain optimistic.
If we look at the
iShares Dow Jones U.S. Financial Services ETF
(IYG) - Get iShares US Financial Services ETF Report
on a one-year basis we can see some clues concerning what may be unfolding.
The ETF has almost 33% of its weighted holdings in three banking Goliaths:
Wells Fargo
(WFC) - Get Wells Fargo & Company Report
,
JPMorgan Chase
(JPM) - Get JP Morgan Chase & Co. Report
and
Citigroup
(C) - Get Citigroup Inc. Report
.
data by
IYG has had a breath-taking 10-month rally from November 2012 to the peak earlier this month. The same could be said for the three largest holdings, as illustrated in the one-year chart below.
data by
The epic run-up of these companies has pushed the dividend yield-to-price downward. WFC currently yields 2.91%, JPM is slightly better at 3% and C pays 4 cents per year -- and perhaps it's the federal government's involvement in the stock that keeps it at current levels.
But as we stare at these charts, all seasoned investors may be concluding, "What goes way up must come way down." At some point that may happen, but not while current Fed policies remain in place.
Also, keep in mind that the big banks are selling at low forward (one-year) PE multiples. Citigroup's forward PE is less than 9. JPM's current and forward PE is slightly above 8. Wells Fargo is trading at the richest multiple with a current PE of about 11 and a forward PE of slightly above 10.
As
Real Money
analyst Sham Gad confessed Wednesday, "I can't seem to figure out why the financial industry still remains so shunned by a large part of the investment community. You can't blame one industry or group for the Great Recession; an economic calamity requires multiple constituents. And banks are again making gobs of money and isn't that what investors really want to see anyway?"
Perhaps so, but investors also want to buy at lower prices. That's why I'd recommend the possibility of a return to price levels we experienced in the "June swoon."
On June 24, IYG traded at an intraday low of $68.76. WFC corrected on the same day to as low as $39.40. JPM went down to $50.11, just below where it traded on Wednesday.
And the government's step-child, Citigroup, pulled back to $45.06, about 6.7% below Wednesday's closing price of $48.31.
So keep in mind we may have a short-term "perfect storm" that includes the worst-case-scenario about the escalating situation in Syria. Plus, a lot of investors and traders are still out on vacation.
This reminds me of other temporary high-risk, high-anxiety times when the stock market needed a good cooling down before the next move higher.
The financial sector should be a good harbinger if that's what's coming. My mentors have always discouraged being a bettor when tensions and uncertainties are as high as they are now.
One seasoned colleague said today, "This isn't a time for big bets, but for careful preparation for possible buying opportunities. What's unfolding before our eyes is about politics, power struggles, reactive fear and not investing." I would agree!
He also defined in his opinion what investing is all about: "Investing is about growth, valuations, expanding economies, increasing profits, and a rise in spending trends." Hopefully the Fed and the FOMC are watching carefully and will keep the markets in check.
As we have watched the big dividend-paying consumer goods sector correct sharply, we get a taste as to what can happen to other sectors. Watch the big bank stocks for signs of a malaise that may go viral.
At the time of publication the author had no position in any of the stocks mentioned.
This article was written by an independent contributor, separate from TheStreet's regular news coverage.
Marc Courtenay is the founder and owner of Advanced Investor Technologies, LLC, as well as the publisher and editor of www.ChecktheMarkets.com.
Courtenay holds a Master's of Science degree in Psychology from California Polytechnic State University, and is a former senior vice-president of Investments for two major brokerage firms. He's been a fiercely independent investment "investigator" and a consulting contributor to the investment publishing world for over 30 years. In addition to his role as an investment publisher and analyst, he serves as a marketing consultant to the investment media industries.
In his role as a financial editor, he specializes in unique investment strategies, overlooked stock investments, energy and resource companies, precious metals, emerging growth companies, the prudent use of option strategies,real estate related opportunities,wealth preservation, money-saving offers, risk management, tax issues, as well as "the psychology of investing". Because of his training and background in Clinical Counseling and Psychology, he enjoys writing about investor behavior, the ¿herd mentality, how to turn investment mistakes into investment breakthroughs and the stock market's behavioral trends and patterns.