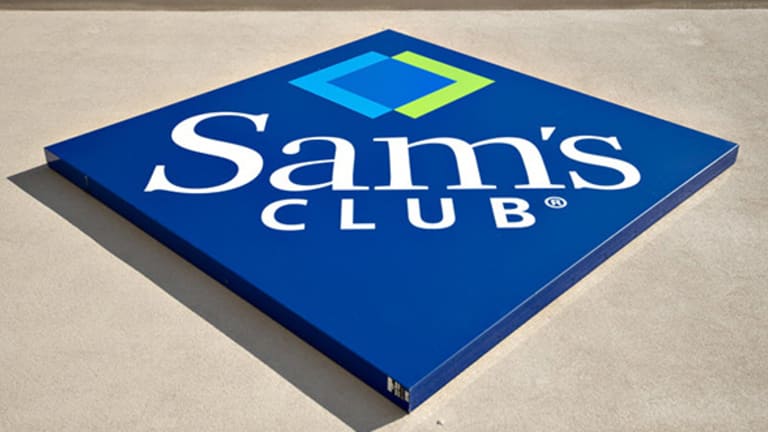 Watch Out Staples and Office Depot, Walmart Is Launching Office Supplies Delivery
Walmart's Sam's Club business is about to launch a test of office supplies delivery.
In the wake of the failed merger of Staples (SPLS) and Office Depot (ODP) - Get Report -- which has left each office supplies retailer in a weakened state -- Walmart (WMT) - Get Report is sensing an opportunity. 
"We will soon be piloting the delivery of office supplies," Tracey Brown, chief member officer of Sam's Club, told TheStreet at a tour of a Sam's Club location Thursday ahead of Walmart's annual meeting. Brown didn't disclose when the pilot would begin, or where. Nor did she say whether it would be contract-based like the delivery services offered by Office Depot and Staples.
Delivering office supplies makes perfect sense for Sam's Club given the composition of its member base.
A good portion of the member base at Sam's Club are small-business owners that visit the warehouse club operator to buy products such as bulk oil for their restaurant or office supplies for the supply closet. Sam's Club has two types of business memberships. For a $100 annual fee, a business member could add up to 16 members to the account for $45 a person. This higher premium option is eligible for cash rewards based on how much is spent in a given year. The other membership option costs $45 a year and only allows for eight add-on members and doesn't offer cash rewards. 
Sales among business members at Sam's Club have been mixed over the past year as small- and medium-sized businesses across the country have focused on cutting costs, such as stocking fewer items in cupboards and supply closets.
So entering office supplies delivery could be a way for Sam's Club to reinvigorate sales from business members and gain a little loyalty by making shopping for them easier. At the very least, it's not a bad idea by Brown's team in light of the disruption to similar businesses at Office Depot and Staples. 
At Office Depot's North American business solutions segment, which primarily ships office supplies under contract to businesses, sales declined 7% in the first quarter when excluding the impact of the strong U.S. dollar. The sales decline was driven mostly by customer attrition and lower customer additions, primarily due to the substantial business disruption related to the thwarted takeover of Staples.
In a call with analysts last month after the deal with Staples was scuttled, Office Depot conceded it has lost significant talent in its business solutions segment, and was working to rebuild the talent pool in order to reignite sales. 
Meanwhile, Staples has fared slightly better with its delivery business, but isn't exactly setting the world afire on the top-line.
Sales for the company's North American commercial segment were unchanged in the first quarter vs. a year earlier. Operating income rose a measly $14 million year over year. Staples found the most success in promotional products, facilities supplies, and breakroom supplies, partially offset by declines in ink and toner, and paper.
"Our strongest momentum was in the mid-market, where sales were up in the mid-single-digits," said outgoing Staples CEO Ron Sargent to analysts on a May 18 call. Staples defines a mid-market business customer as one with 10 to 200 employees.
Sargent continued, "Improved customer acquisition and retention offset modestly lower sales through existing customers."
Ultimately, Sam's Club may want to consider quickly moving from the test phase to full scale rollout of office supplies delivery given the amount of sales being rung up by Office Depot and Staples each year. According to data compiled by TheStreet, both Staples and Office Depot have generated more than $28 billion in sales from their North American office supplies businesses in the past two years. 
Not too shabby.